With the passage of time number of android & smart phone is increasing day by day and people are using different type of Apps in their phone and WhatsApp is one of them. There are numerous users of WhatsApp in India and other country as via it we can send text, audio, video & other files as well. Instead of this in the updated version of whatsapp you can make call to someone without any charges you just need internet to use this call facility. As I said WhatsApp is very popular in India and via it we can send text messages to our contact list person. Most of us send messages in English but wanted to write messages in Hindi in WhatsApp but due to lack of sources or knowledge we are unable to do it right? Typing message in Hindi or our mother tongue is really an amazing experience which we can't feel in other languages.
If you are one of those who want to type messages in Hindi in WhatsApp then please read the complete post because I am sharing the detail information on how you can type in Hindi in WhatsApp and which app you should download and how to activate it to use because below by using below mentioned app you can type Hindi word by using English text keyboard for example if you have to write (हिन्दी मे कैसे लिखें) then you have to type "Hindi Me Kaise Likhen" for भारत "bharat" or any other word. So let's start.
Also Read: How to Add New Number in WhatsApp?
Typing in Hindi on WhatsApp by Using Google Hindi Input App
To type in Hindi you have to download the google app which is "Google Hindi Input". To download this app click on the given link below:

Download Google Hindi Input app from here "Google Hindi Input"
Activate Google Hindi Input Keyboard in Your Android Phone
As you have successfully installed the application in your mobile now it's time to activate it and after that you can use it so below are the steps to activate Google Hindi Input app.
Go to phone setting
Choose Language & Input
Click on the box for Google Hindi Input as shown in below image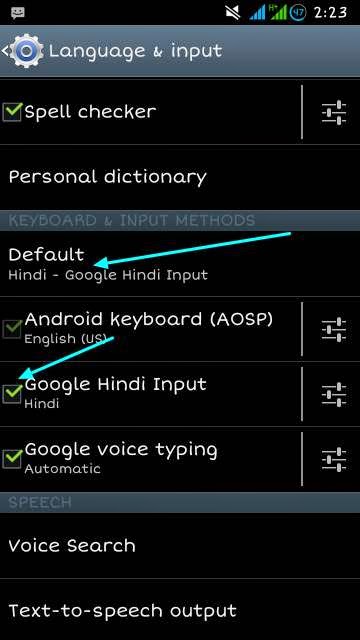 When typing in an input box, long press in the box and select "Input method" in the popup menu, then select "Google Hindi Input".
Typing in Hindi with Google Hindi Input Keyboard
Google Hindi Input has both the options you can use Hindi keyboard or use English keyboard (with transliteration tool).
When typing in an input box, select 'a>अ' to toggle the transliteration mode on/off. If it is off, it will write in English otherwise Hindi. You can also type in Hindi by taping on the Hindi fonts by selecting the globe icon on the keyboard. Press & hold the globe icon to set the default input method.
Instead of this toolbar you can use these2 application as well "Quillpad" & "Yahoo Transliteration"
Tags:
WhatsApp