List of Valentine Day Gift Ideas for Wife
Your wife is the most important woman in your life, as she is the one who dedicates her entire life to making a home out of your house. She is the one who makes your life worth living, which means that she needs to be appreciated once in a while. One such occasion to express your love and gratitude towards her is Valentine Day, when you can say it with a gift of love.
Here is a list of Best Valentine Day  Gift Ideas for your wife: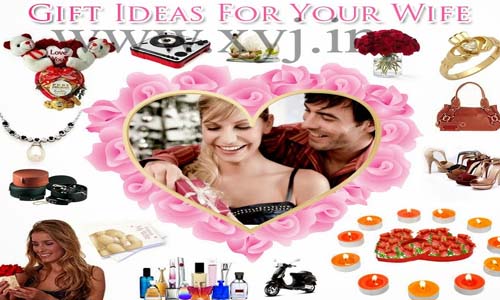 Jewelry
The best way to win her heart id to buy her Diamonds, if you can afford them. A beautiful diamond ring can remind her all over again how precious she is for you. In case you cannot buy her real diamonds, there are plenty of designer options available in imitation jewelry, and she would not mind getting one of those beautiful pieces. But if jewelry does not come within your budget, we have plenty of other options.
Outfit
Buy her a smart designer outfit, of her favorite color and brand. She would love to know that you want her to look beautiful even after years of your marriage. You can even get her some pretty lingerie or night wear.
Designer Bag
A designer bag from her favorite brand can be another cool gift for your wife on this Valentine Day. You can shop online for some fabulous discounts.
Watch
Another excellent Valentine Day gift idea for your wife is a designer watch from her favorite brand. Pick one of the latest models, depending upon your budget and her taste.
Dinner Date
Surprise her wife for a dinner date on this Valentine Day. Arrange a pool side table at her favorite restaurant, along with candles, flowers and romantic music. A bottle of champagne would definitely make the evening special for her. Another way to surprise her is bake for her a heart shaped cake with an "I Love You" icing over it.
Perfume
Buy her favorite perfume and gift it to her on this Valentine Day. The fragrance, and the fact that you remember her choice, will make her fall in love with you all over again.
Red Roses
In case you cannot spend much on a Valentine Day gift for your wife, buy her a bouquet of red roses and see the smile on her face. This simple expression of love will go a long way in touching her heart.
Movie Date
Make an advance booking for the latest romantic movie and surprise her by taking her out for a movie date on this Valentine Day. It will give the two of you some time together as well.
Books
In case your wife loves reading, buy her the latest book from one of her favorite writers. Do not forget to write a special note on the first page, to tell her how much she means to you.
Mobile Phone
You can also gift a latest mobile phone to your wife on this Valentine Day. Set a screen saver saying "I Love You" to make this gift even more special for her.
The best gift you can give to your wife is your attention and time. Do not let these precious moments go waste, just grab them and express your love for the most precious people in your life.