What are the Best-Selling AC Brands in India in 2023? – Eithers it's summer or winter air conditioner is always in Demand but if compare demand of ac in winter or summer than off-course AC demands high in summer seasons.
In today's article I am going to share you a comprehensive list of bestselling air conditioner brands in India and this list is made up by taking several online platform references which is based on market share, pricing, service and technology innovation they bring.
Once you view the list must consider these points before buying an AC for your home as its required a good amount to invest and one time investment so think and research about the product and it's service then go for the right one as per your need here is a quick buying guide for you as well.
Things to consider before buying AC
Room size: The size of the AC should be proportional to the size of the room. A small AC for a large room will not cool the space effectively, while a large AC for a small room will waste energy and money. Consider the area of the room and choose an AC with the appropriate cooling capacity in tons (e.g., 0.75 ton, 1 ton, 1.5 ton, 2 ton, etc.).
Energy efficiency: Look for an AC with a high star rating as it indicates the appliance's energy efficiency. A higher star rating means lower energy consumption and lower electricity bills in the long run.
Type of AC: There are two main types of ACs: window ACs and split ACs. Window ACs are compact and affordable but may be noisy and have limited cooling capacity. Split ACs are quieter and more efficient but require more installation work and cost more upfront.
Features: Look for features like an air filter for better indoor air quality, a dehumidifier to reduce moisture, and a remote control for convenience. Some ACs also come with additional features like smart connectivity, inverter technology, and adjustable fan speed.
Brand and service: Choose a reputable brand with good customer service and a reliable warranty. Check for service centers and authorized dealers in your area to ensure that you can get the AC serviced and repaired easily. And below is the list of the same so just have a glance on it.
Budget: Consider your budget and choose an AC that provides the best value for money based on your requirements.
Here is the list of best selling ac brands in India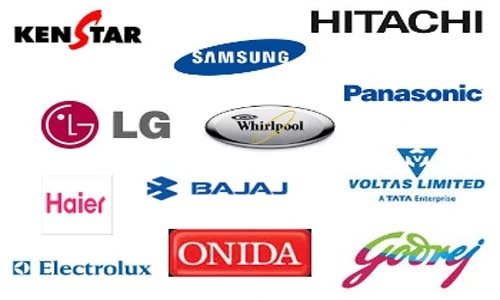 This list of best ac brands in India is based on the popularity of the brands in India with positive reviews of customers about the particular ac brands, which our team evaluated from different online sources. The purpose of this list is just to help to choose the best brand however popularity of ac is different from state to state in India. So also keep this thing in mind before buying the any AC.
10. Videocon
Videocon is well-known name in the consumer range of different products available in India, the company always try to enhance consumer's quality of products ranges with a smarter way of beating the heat waves this summer. In order to lead the market, the smartest Videocon AC offered by Videocon includes Wi-Fi AC. The different categories of AC options available as part of Videocon AC include Aryabot ACs, Penta Inverter ACs, and Split ACs.
9. Carrier
Carrier is one of the recent inclusion in the list, in the world Carrier is known as one of the leading names in the air conditioning and refrigeration solutions. The company offers AC under different classifications available as 2TR, 2.8TR, 3.5TR and 4.3TR. The key features of the AC part of Carrier AC are Economic Sleep Mode option, Auto Mode and Turbo Mode, Bio Filter and much more.
8. Samsung
Samsung in overall electrical and Home based appliances needs in India stands as the first spot, the AC offered by Samsung are accompanied with great looks and superior performances. The company boasts of offering best range of Air Solution that carries special prevention for H1N1 viruses. Some of the great features in top models includes Anti-Bacteria Filter, 5 Star ratings, and Tropicalized Compressor.
7. Mitsubishi
The Japanese Electrical based advanced quality company is famous for delivering high quality products with range of innovative options, the company offers the versatile range of air conditioning options that includes both Split and Window ACs. The company boasts of delivering the range of ACs with State of the Art technology.
6. O General
O General is one of the famous company that offers series of different available choices listed as different ACs. The list includes options as Window, Split, Cooling and Hot AC with special category recommended for the Inverter Split ACs. Key features included as part of the O General ACs carry Auto Restart and timer, Tropical Rotary Compressor, 4 Way Air Flow Direction and much more.
5. Blue Star
The company with name Blue Star shines as the India's largest and smartest central unit air conditioning company. Blue Star has fulfilled the air-conditioning demand in all leading sectors available as Business firms, corporate offices, and residential customers at reasonable costs. Key features of the Blue Star AC include Turbo Cooling, Sleep Mode, Anti-Freeze Thermostat and other popular features.
4. Hitachi
Hitachi is one of the famous Japanese brands available in India, top featured model combined with great performance is the top most priority of Hitachi range of Home and Electrical Appliances. Hitachi ACs are packed with the intelligent set of technology, smart features, auto climate control technology and silent cooling feature.
3. Daikin
One more Japanese Electrical Company in the list, Daikin can work in any extreme climate, the both way temperature controller offers hot and freeze temperature at the same time. These efficient ACs offers best of the control against heat waves and sweat, series of ACs are installed in home or offices.
2. LG
LG leads the race gaining the ace spot in the listing of all types AC in India, there are several available options available in different series as residential AC, Light Commercial Air Conditioner, and Multi V AC. LG offers highly demanded AC with superior looks and great performance, for a better set of investment all the ACs are guarded with 5 Star ratings.
1. Voltas
If you are one of those who prefer to buy Indian Products then, Voltas could be your first choice as it's a product TATA. The service after sale is really good of almost all brands, but Voltas get first place in our list as it has several positive consumer reviews. When it comes to air conditioner then Voltas get it's position on top selling ac brands in India. Voltas is offering series of options available ranging in Split, Window, Cassette and other AC types of models. Voltas AC uses the advanced features in both split and windows AC, some of the famous Split AC models are Executive, Classic, Delux, Magna, and Zenith.
Well these are the some most selling ac brands in India if you think any other brands should be in this list then let us know via the below comment section and also share how much this posts helps to choose the right one air conditioner.