MTV Roadies Season 12 Winner – Prince Narula – Year 2015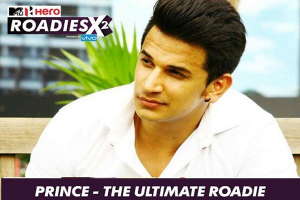 Finally today as on 27th June Prince Narula becomes the winner of MTV Roadies X2 and won the title of "Ultimate Roadie" instead of this he won a cash prize of Rs. 5 Lakh as being a roadie he also won the "Hero Karizma ZMR Bike".
Quick Overview of MTV Roadies of All Season
The quick overview of MTV Roadies of all season is includes the number of seasons, hosts name, judge and winners name.
MTV Roadies Seasons: 1,2,3,4,5,6,7,8,9,10,11,
MTV Roadies Host Name: Cyrus Sahukar (season 1), Rannvijay Singh (season 2-5), Ayushmann Khurrana (season 6), Siddharth (season 8), Bani (season 6-7, 9-present)
MTV Roadies Judges Name:  Raghu Ram (season 1-present), Rajiv Laxman (season 6-9), Nikhil Chinapa (season 3-5, 7), Cyrus Sahukar (season 7), Cyrus Broacha (season 7), Rannvijay Singh (season 8-present), Gulshan Grover (season 4), Vijender Singh (season 9,11)
MTV Roadies Winners Name:
| | | |
| --- | --- | --- |
| Season | Winner Name | Year |
| MTV Roadies Season 1 Winner | Rannvijay Singh | 2003 |
| MTV Roadies Season 2 Winner | Ayushmann Khurrana | 2004 |
| MTV Roadies Season 3 Winner | Parul Shahi | 2005 |
| MTV Roadies Season 4 Winner | Anthony Yeh | 2006 |
| MTV Roadies Season 5 Winner | Ashutosh Kaushik | 2007 |
| MTV Roadies Season 6 Winner | Nauman Sait | 2009 |
| MTV Roadies Season 7 Winner | Anwar Syed | 2010 |
| MTV Roadies Season 8 Winner | Aanchal Khuranna | 2011 |
| MTV Roadies Season 9 Winner | Vikas Khoker | 2012 |
| MTV Roadies Season 10 (X) Winner | Palak Johal | 2013 |
| MTV Roadies Season 11 (XI) Winner | Nikhil Sachdeva | 2014 |
| MTV Roadies Season 12 (X2) Winner | Prince Narula | 2015 |
| MTV Roadies Season 13 (X4) Winner | Balraj Singh Khehra | 2016 |