Every person needs water for the good health of body no matter what area or whether you live in. After coming from the scorching sun, drinking cold water gives a feeling of freshness. But the real problem starts when it is the responsibility of filling the bottle again and again and keeping it in the refrigerator and on the other hand, making tea in winter, to boil the water itself.
Therefore, a water dispenser can be kept in the house as a solution. It provides you with cold and hot water at the same time. Besides that, it reduces the risk of increasing bacteria and dust and provides clean water every time. If you've noticed that every Indian domicile, mall, institution centre, park, etc. are equipped with a water dispenser.
Best Selling Water Dispensers in India
But what if you will get various options in the water dispenser? Before making any final decision, you can check mentioned top three best selling water dispensers in India offering by different manufacturers.
1. Blue Star BWD3FMRGA Star Water Dispenser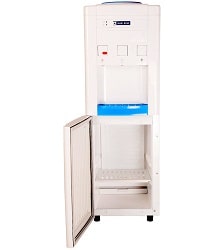 If you're seeking a versatile product for hot and normal water at a good price, Blue Star BWD3MRGA Star water dispenser is a wonderful option. It is ideally designed for both commercial and home use. To fulfil your workers drinking needs, you can install this water dispenser in your office.
The best thing about this product is it can be used to put tiffin boxes and water bottles as well. It plays a significant role to provide Normal, Cold, and Hot water as per your drinking need. It has a small 14 Litre refrigerator at its top and has plates to part the section.
You just need to tap the switches, and the heat, cold or normal water is ready to drink. Another impressive factor about the Blue Star water dispenser is it is made of ABS plastic ensure better performance and strength. Overall, this water dispenser is perfect in terms of functionality, durability, price range, performance and build quality.
| | |
| --- | --- |
| Pros | Cons |
| This water dispenser is made of ABS plastic. | The users are disappointed with the after-sale service. |
| It has three temperature press- Normal, Cold and Hot | |
| The product is great value for money. | |
| It consumes less electricity. | |
2. Voltas Plastic Pearl Water Dispenser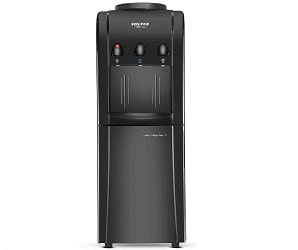 Voltas is a popular brand in India, known for their good quality products at reasonable prices. The company offers a wide range of home and office appliances and a pearl water dispenser is one of them. Pearl water dispenser from Voltas is an ideal option with a cooling cupboard.
It comes with cool compressors that provide cold water with a capacity of 3.2 litres. That means for office use, you can opt. for a peal water dispenser. Apart from that, it has a compressor along with a hot water capacity of 1 litre. Pearl water dispenser is a good combination of versatility, elegancy and capacity.
Talking about the appearance, the voltas water dispenser comes with a stylish and sleek design. Furthermore, it has three different buttons for supplying hot, cold and normal water. You can buy placed this water dispenser in your home, compartment or office.
| | |
| --- | --- |
| Pros | Cons |
| The product serves its intended purpose well. | The cold water from the dispenser is enough to make your teeth hurt. |
| It is a pocket-friendly product. | |
| The black colour and sleek design make it perfect for long-term use. | |
| This product has great customer reviews and star ratings. | |
3. ATLANTIS Table Top Water Dispenser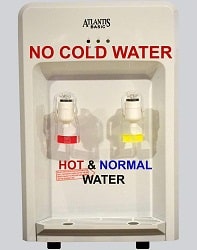 This machine is ideally designed for those who want to dispense only normal and hot water. The Tabletop Water dispenser by ATLANTIS is equipped with Glass Push Taps to enable you to fill your glasses as per your drinking need. It only dispenses hot and normal water that mean an excellent option for winters.
The best thing about this product is that it dispenses hot water up to 85-90 degrees, and can heat 5 litres of water per hour. It can store 1-litre of hot water and 2 litres of normal water at the same time. The product is very easy to install with consulting expert.
For regular home use, you can choose a water dispenser by ATLANTIS Tabletop which is lightweight. It doesn't create any noise and can be installed anywhere. Make sure the dispenser switch is off when no connection to the water source. Overall, it is an all-rounder product at Rs. 2,879.
| | |
| --- | --- |
| Pros | Cons |
| At Rs. 2879 price point, you will get a two in one water dispenser. | It doesn't dispense cold water. |
| It is very compact and sturdy. | |
| The product is only good for home use. | |
| The build quality at this price point is quite impressive. | |
How To Choose The best water dispensers in India
A water dispenser is a wonderful device that can help you get rid of the scorching sun by providing cool water. However, you can also get hot or normal water from the same dispenser. Isn't' it interesting? You can use the water dispensers throughout the year to meet your requirements. However, you must prefer to buy the best water dispenser. Here are the tips you need to follow while purchasing a water dispenser.
Sound:
It is found that most of the water dispensers come with a loud noise or sound. Therefore, if you are looking to buy a water dispenser for your office or school, you must check that it does not make a noise or a loud sound. This can be irritating at times.
Electricity consumption:
Power consumption depends on some factors. It is found that if you opt for the one that gives both cold and hot water, it will consume more electricity. If you also opt for the one that is larger in size, it will also consume more power. It is better if you make a further inquiry into this matter before making the purchase.
Child lock system:
It is also essential to see that the water dispenser comes with a child lock system or process. This will prevent your little one from having severe accidents. There should be a security lock for the safety of the child. You must check it, especially if you have a child at home.
Both hot and cold water:
If you are looking for a water dispenser that has both hot and cold features, you must know the actual way to use it. Different brands will have different techniques to handle this system. You must be well-aware of the operating system.
Process of purification:
If you find, you will see that the purification process of the water dispenser differs from company to company. You must always check the purification process as it will help to eliminate bacteria and other harmful elements from the water and protect you. It is better not to buy a water dispenser that does not have a proper purification process. It is better to avoid buying those ones.
Presence of holding cup areas:
If you want, you can also buy water dispensers that come with a holding area. This will allow you to keep the cups. Most modern models of water dispensers come with this facility. This allows more people to avail of the product.
Presence of drip trays:
It is also vital to note that the water dispensers come with drip trays. This will allow you to safely carry out the cleaning process. Most of the time, the water from the dispenser falls and makes the area slippery. This can create a mess. But with a drip tray, you can avoid this messy situation. Drip trays provide extra safety for the device.
Warranty period:
Above all, you must also check the warranty period of the water dispenser. It should have a minimum warranty period of one year. It must commence from the purchase date. Never buy a water dispenser without a warranty period.
Water Dispenser FAQs
Here are some common FAQs:
Q. How do I clean my water dispenser?
Ans: To clean your water dispenser, you should first unplug it and empty any remaining water from the tank. Then, remove the water bottle or reservoir and wash it with soap and water. Use a solution of one part white vinegar to three parts water to clean the inside of the dispenser, including the spout and the reservoir. Rinse thoroughly with water and let it air dry before using it again.
Q. Can I use hot water in my dispenser?
Ans: It depends on the model of your dispenser. Some water dispensers have a hot water feature that heats the water as it dispenses, while others do not. If your dispenser does have a hot water feature, it should be labeled as such and have a separate spout for hot water. Be sure to read the user manual before using hot water, as it can be dangerous if not used properly.
Q. How often should I replace the water bottle?
Ans: The frequency of water bottle replacement will depend on how much water you use and the size of the bottle. A typical 5-gallon water bottle should last a family of four about a week or two. However, it's a good idea to visually inspect the bottle for signs of wear and tear, and to replace it if you notice any cracks or leaks.
Q. Why does my dispenser have a funny taste or odor?
Ans: If your water dispenser has a funny taste or odor, it could be due to a number of factors, including bacteria growth in the reservoir or spout, or minerals in the water. To address this issue, clean your dispenser as described in question 1, and consider using a water filter or switching to a different brand of water.
Q. How do I know if my dispenser is working properly?
Ans: To ensure that your dispenser is working properly, check that the water flows smoothly and without interruption from both the hot and cold spouts. You should also check that the water is at the desired temperature and tastes clean and fresh. If you notice any issues, consult the user manual or contact the manufacturer for assistance.
Conclusion
People have become aware of diseases that can be occurred by water. So, they are opting for a water dispenser. I hope the three product will make you're selecting task easier. The mentioned above three water dispensers are overall good in terms of affordability, reliability, functionality and performance.