Whether you are a traveler or an adventurous person, you probably by now know how important it is to choose the right type of bag which can protect your belongings not just from the weather but also from theft. Thanks to the advancement in technology, now you can make the proper use of the right antitheft backpack which can solve most of your safety problems. Such type of backpack can help in protecting the valuables such as iPad, camera, passport, and wallet to name a few. Even when you leave it unattended, you don't have to worry since the bag will be all safe and is made from anti-scratch and razor technology.
How Is Anti-Theft Backpack Different?
When you travel with this backpack over the traditional ones, you can rest assured since this type of backpack is loaded with all security features. It is in today's time the most trending one in the market and is available in different price range but you may not find it so easily available in the stores as compared to the normal backpacks. It is the features which such backpack has got that make it different rather unique than the traditional one talking of which some of the best features are:
Secret pockets
Hidden zippers
USP port for charging
RFID protection
Water and cut-resistant material
Special illuminating strips for night safety
Benefits Of Anti-Theft Backpacks
There are numerous advantages of such an anti-theft backpack. That is the main reason why it is considered to be extremely safe. Laptop, multipurpose, travel and waterproof anti-theft backpacks are some of the types of such models to make the choice. Before you make the decision have a look at some of its advantages listed below:
This type of backpack ensures that your bag doesn't get stolen either any of the belongings present in it. There are so many incredible valuables that you might want to keep when traveling but since such type f backpack is not with you might be hesitant. So buy such a backpack today without any worries of your belongings getting stolen at all.
Yes, there are hidden pockets in this backpack that would protect your valuables present in it. These hidden compartments are designed with invisible styling. Other than this, you can also store the valuables be it small or large size in much-organized manners such as wallets, keys, and cards without any problem.
This is another best advantage of using this kind of backpack. The zipper lock solution makes sure the items that are put inside the backpack are safe to be used and they will not have any movement in fraction seconds. Even when you take an extra second or two to lock the zip of the anti-theft backpack, the valuables stay secure.
Top 5 Best Anti Theft Backpacks in India Online
Have a look at some of the best laptop bags that you can consider buying in today's time and be rest assured that you will not be the next victim of theft. This backpack has a sturdy yet better service life-based fabric which is why using it shall not be a problem for you at all.
Gods Ghost 22 Litre Anti-Theft 15.6 inch Laptop Backpack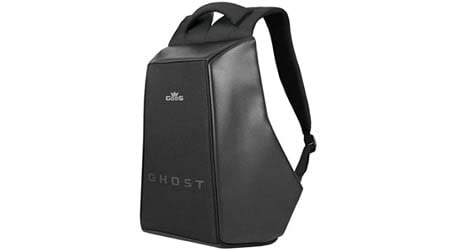 This is one incredible backpack that you can think of buying. It is known to offer the elegant yet minimalist design which is why it stands out to be the best in the crows. Thanks to its sturdy outer side shell which has been reinforced with the fiber that cannot be easily broken, this bag offers to pickpocket and theft protection for a longer time. The smooth yet heavy-duty zipper with secure yet easy compartment access, this is better than any other regular backpack. It also comes with an innovative laptop compartment that as storable mechanism which ensures there is a snug fit that you get. It is a perfect blend of better security and stylish design with 180 degrees rear opting which is why it is a worthy option to purchase.
Pros:
You can organize and protect your belongings
This is the abrasion-resistant bottom of the backpack
It has a Water Resistant surface
The zippers are made with auto-lock technology
Con:
Often, the straps get in between while operating the bag
It can be difficult for you to reach the side pockets when you are using the bagbest
Fur Jaden Grey Anti Theft Casual Waterproof Backpack Bag with USB Charging Point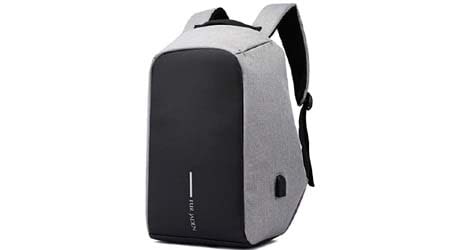 This is another lightweight yet durable backpack that you can consider buying. Using this bag should not be any hassle for you since it is highly functional with super stylish designed which is why for the routine yet modern accessory, this bag is worth it. It is a unisex backpack which can enhance your charismatic persona. Besides, there are multiple inner compartments in which you can securely store all your valuables with convenience. Being fashionable, young and vibrant, this fashion accessory surely is a sign of sophistication that you can flaunt around anywhere. The ant theft design which this backpack has got would let you charge even your when you are traveling. Besides, you can also store the laptop up to 15.6 inches conveniently.
Pros:
It has ey access pockets
There is charging on the go option
There are huge compartments to store your belongings
It comes with a lasting warranty
Cons:
The upper part shape of the bag often gets crocked which is why when you carry the little stuff inside, it doesn't look nice
There might be compartments that you would want to be easily accessible but frankly, they are not.
GODS Marvel Avengers Exclusive Ghost Anti-Theft 15.6 Inch Laptop Backpack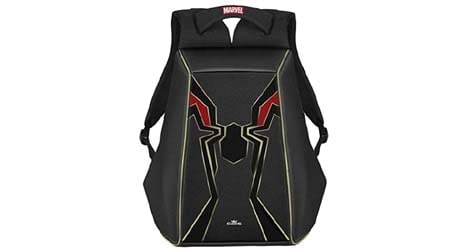 This backpack is perfect to be used when traveling. It is another anti-theft backpack solution that you can consider putting since there are ample layers to it because of which a person will not find it difficult to carry even for long-distance. The backpack is easy to access only for the users but for thieves, it can be challenging because the material cannot be easily cut by the razor. Ghost has come up with surely an incredible revolution patented design that ensures all your belongings stay secured and well organized in a long journey.
Pros:
Unique Organizers inside
Best Quality materials
Weather-Proof Rugged Build,
Anti-Theft and Elegant minimalist design
Quick-Access Pockets and Bottle compartment
Cons:
You may think it being light in weight but it weighs1.5Kg
It is not meant for packing clothes and to be carried in-flight since weight can exceed 7kg
RNG EKO GREEN 30 Litre Anti Theft Backpack with USB Charging Port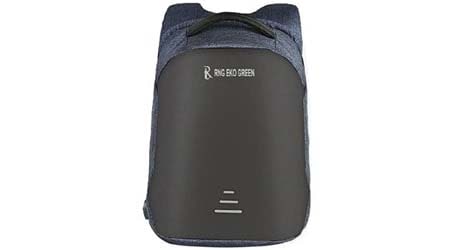 This anti-theft bag is also cut and waterproof because of the high-quality fabric with polyester material which is why when using it, you can rest assured. The bag is extremely durable plus it has been designed in such a way that its zip-lock solution can make sure all your valuables stay secured even when you are carrying the backpack for long-distance journeys. The backpack has better compartments in which you can store with power bank, keys, notes, pen and pencil without any hassle. Right from college students to business and shopping people, this bag is multiple and meant for outdoor activities too. There is also a so charging poor which is on the side of the backpack to let you charge the electronic device comfortably.
Pros:
Light Weight & Comfortable Ergonomic Design
Hidden Pockets
Anti-Theft Design
Night Safety reflective strips
300D Waterproof & Cut Proof Polyester and PVC material
External Earphone Socket
Luggage Trolley Strap on the backside
Cons:
It comes with low ESP interior quality
The zippers are not that great
Vebeto Anti Theft Backpack with USB Charging Port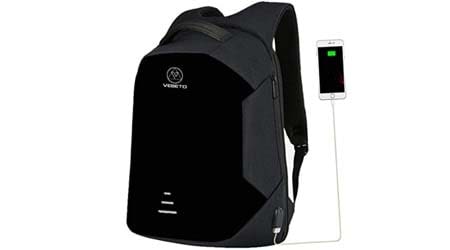 This color blacking sting pattern-based backpack is one of the best options to consider buying. It is designed for you to help balance the weight. Besides, there is also a durable service life for better performance which is why you get better-buffering support. The stress as compared to the normal bag on you is surely quite a lot less. It is one of the best options that you can consider buying. With an enhancing 2.0 version, this backpack is worth it for you to buy.
Pros:
Quality mechanic straps
Large Capacity
USB Charging Port
Multifunctional Use
Reflective tape on the front of the for night safety
Cons:
Space is the issue
It is not waterproof which it claims
Conclusion:
Loaded with ample features, there is no doubt that such type of backpack is the best one to have with you for a long journey. Technology is the plus pint of this backpack which you may not find in your traditional options. Besides, it safeguards your valuables from getting stolen or damaged in the weather. With better locking facility, steel cables, and RFID protection, surely such type of backpack is worth to buy. But never make a quick decision. Take your time and see to it once you compare and read the reviews and feedback then you make the decision.