Easy to bake and quick to eat food item bread is much preferred in Indian domicile. Eating bread is a delicious and healthy habit that saves effort and time especially when you are involved in a busy work schedule. But do you have enough time to knead some dough and bake the bread? Probably not! Especially when you live a hectic lifestyle, but if you have a bread maker, you can prepare fresh bread in a short time.
As you all know, all electrical appliances are a much convenient option which makes life simpler and easier. Choosing a specific bread maker brand might be difficult among various options. Thus, you can take a deep dive into this blog.
Best Selling Bread Makers Online in India
This blog is about the three topmost bread maker machines in India. Let's take a look:
1. Kent Atta and Bread Maker
Here's a wonderful automatic bread making machine. The Kent Bread Maker or Atta Maker allow you to prepare different types of roti, bread, jam, pizza dough, sticky rice, putti atta, etc. Having kent's Atta and Bread Maker helps you to make fresh bread anytime when you feel hungry. The electric appliance works like you're helping hand and make your choicest dish within minutes.
You just need to add flour of your eating choice, other ingredients and a little amount of water, and the quickest appliance is ready to use. To use Kent's Atta bread or Atta Maker, you just need to one-touch and its works automatically.
With Kent bread and Atta maker, you can reduce the need for your hands for kneading. Talking about looks, design and colour options; the Kent Atta machine's silver-grey colour can easily match every Kitchen interior. Infect, the company provide Measuring spoon, measuring Cup and, dough pan and Kneading panel remover with main product.
Without having any doubt, you must buy the phenomenal Kent Atta and Bread Maker for your regular kitchen use. However, the brand is popular in itself for its quality and customer service.
| | |
| --- | --- |
| Pros | Cons |
| It prepares dough smoothly and easily. | The after-sale service is quite slow. |
| It can be used for making 19 different food doughs. | The measurement has given needs little accuracy. |
| At Rs. 6,999 price point, you can buy two in one household appliances. | |
| It gets good ratings and reviews from many users. | |
2. Lifelong Atta and Bread Maker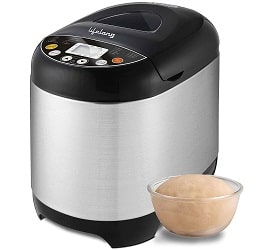 The next product from Lifelong ensures premium quality and super convenience in making dough for Chapatti and Bread. The brand Lifelong is trusted by various users for over five years due to incredible kitchen appliances and price ranges. This Atta and bread makers have various features like 19 pre-set menu option, touch automatic operation, and other which completely makes your life happier and easier.
Furthermore, it's non-stick coating at baking tin making your cleaning task easier. The compact design ensures better storage, and a combination of black and silver makes it stylish and elegant.
With help of Lifelong Atta and Bread Maker, you can prepare all types of bread, even Pizza dough, yogurt, Sticky Rice and Stir-fry and what so not. Another best thing about this product, it has an LCD for watching its activity. To make your cooking super faster, you can choose this bread and Atta Maker by Lifelong.
| | |
| --- | --- |
| Pros | Cons |
| This company provide a measuring cup, measuring spoon and hook recipe book with the main product. | It is hard to bake gluten-free bread in this machine. |
| This atta and bread maker gives you a choice to bake light, medium and dark crusts. | |
| It can be cleaned easily. | |
| This machine completely saves your efforts and time too. | |
3. American Micronic – Atta and Bread Maker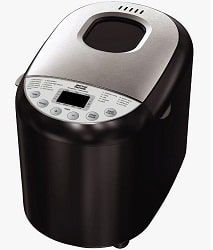 Atta and bread Maker by AmericanMicronic helps you to maintain hygiene and freshness in kneading dough. With its adjustable crust control features, you can also bake bread as per your eating choice. This machine is equipped with a delay timer as well, which mean if you start making bread at a later time then you can do it.
This Atta and Bread Maker from American Micronic will resume the baking task in between a power outage of few minutes. You can easily remove it to take out the bread. With the help of a handle, even you can lift the pan easily.
Different types of Cake, jam, Pizza Dough, Chapatti, Puri Atta etc can be prepared by using this machine. You just need to choose the programme and let the appliance prepare the perfect dough.
| | |
| --- | --- |
| Pros | Cons |
| It is useful for regular kitchen use. | Not found. |
| It helps you to prepare a perfect and smooth dough. | |
| In cleaning, this machine will get 4.4 stars out of 5 by users. | |
How To Choose The Best Bread Maker Machine In India
You must have seen that most houses have bread in their breakfasts. This is one of the safest foods to include in your diet. Many people are also interested to buy the bread makers from the market because it allows them to bake breads at home. If you have a bread maker machine at home and all the required ingredients, it is easier to prepare bread at home. With this, you can get the chance to have a bite of freshly baked bread at home.
You must keep some things in your mind to buy the best bread maker at home. Let us follow it.
1. Price
Many people get confused about the right price of the bread maker machine at home. It is better to get complete knowledge about the product you are willing to buy. Generally, the price of the machine differs as per the programmable features, and other things. This makes the device more expensive than the other ones. The more advanced the features the higher the price of the item.
2. Kneading paddles
The kneading paddles for the bread maker come in various shapes. In most bread makers you will get one paddle that is used to do the whole work. But it is good if you go with the one that comes with two paddles. One will make the dough and the other will knead the bread in the best possible manner.
3. Check the delayed timer
You must be eager to know about the delayed timer. The role of this feature is important in all aspects. It will allow you to select the time when you would like to bake the bread. This is the most important feature of the bread maker. It is very simple. You can add all the ingredients to the bread maker device and set the time say at 2.00 pm. The machine will start working exactly at that time, and make your bread ready for breakfast.
4. Sound
You must also check the noise issues of the bread maker. There are some machines that come with heavy noise. It is better to avoid those ones. You can go with the ones that make loud noises. This will help you handle the device.
5. Alarm settings
You must also check the alarm settings on the bread maker. If you want to make bread, cakes, or similar other things make sure that the device has a proper alarm. This will give you prior information on which ingredients to add at which time. Most modern bread makers come with this facility. This is one of the advanced ones.
6. Easy operating modes
You must also select one that has easy operating modes. This will allow anyone to use the machine. Never go with the complicated ones, as they may be confusing for you.
7. Warranty period:
Also, buy the product that comes with a proper warranty period. This will allow you to exchange the product in the event of issues. The warranty period must commence from the date of purchasing the machine.
Final Words:
A bread maker is one of those kitchen appliances offering by different brands in various colour options, price range with 1- 2 year warranty period. It would be difficult to choose the best one. But with mentioned three options, making a choice can be easier.