Iron box is an essential thing which play an important role in our daily life as the iron is used for clothes usually and having clothes in proper manner give the good impression on other and also give confidence to us either it's our school, office or meeting with someone etc.
If you like to wear clothes which are well iron and looking for affordable iron box under the budget of rs. 1000 then this post could help you to find the Best Iron in India Online Under 1000. There are many different kind of features in costly price iron but most of us don't use them or don't know how to operate them properly in such case we should go with the iron can be use as regular iron which also helps us to save few money so let's move to list of best iron box under rs. 1000 in India online.
Best Iron for Clothes Under Rs. 1000 in India 2022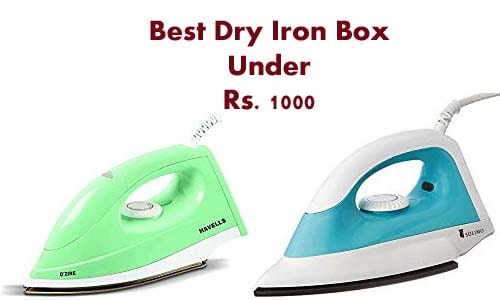 Bajaj DX 7 1000-Watt Dry Iron
If you want to buy an easy to use iron box then you can go blindly with Bajaj's DX 7 without any 2nd thought as it is one of the best selling iron under rs. 1000 in India. Bajaj is well known brand in home appliances and electronics and already known by many Indians.
If you want a really low price iron for your daily clothes then its perfect one for you as it highest number of consumer reviews on amazon which shows that several people show their trust on this iron.
This iron comes with 2 years of warranty and service after sale of Bajaj is really good and it has non-stick coated golden color sole plate and it has cool touch body with comfortable hand grip.
The Bajaj DX 7 comes with 360 degree swivel cord and the weight is really very light if you have any issue with the iron you can call the customer care of Bajaj which number is also display on the website which can be see after clicking on buy now button.
What we like
Popular and trust brand
2 Years of warranty for customer sanctification
Toll free number for the help of customer
Service after sale is good
Really low in price
1000 of power watts
230 v -50Hz operating voltage
Thermal fuse for safety
Light weight
360 degree swivel cord
Super clean finish with pleasant aesthetics
What we dislike
Most of the people receive the defective product but as it's amazon you can return it immediately.
Philips GC181 Heavy Weight 1000-Watt
Does this brand required any introduction as already serves the Indian customers from many years via it's electronic & home appliances. This model of Philips is really great and easy to use the price might be little high but if you want to use a product which run smoothly after the warranty period as well then Philips GC181 could be your choice however the Bajaj DX 7 is highly recommended but if you want to try something different and like costly things then it's for you.
The iron has heavy sole plate that is built to last it's easy to use understand the temperature settings and philips iron modern design which attracts the consumers towards it.
The length of the power cord of Philips this iron is 1.8 m which is sufficient for the use and 360 degree cord freedom which is really great and now available in almost every good and popular irons.
The iron is equipped with a temperature control circular switch. It is quite easy to use and lets you set the desired temperature to iron your garments.
Things we like
Trust Brands

Powerful performance

2 Years of warranty
Easy to experience
Modern design
1000 watt
360 degree cord freedom
1.8 m power cord
Auto off pilot light
Things we dislike
Some time it becomes hard to remove the wrinkle from clothes
Buy From Amazon
Havells D'zire
Check Price
Havells is another trusted and popular brand in India and due to it's high quality of electronic & home appliances it make it's own value in the Indian market. The service after sale of Havells is also good in past which make it popular among the Indian consumers.
This iron of Havells is features a non stick coating on sole plate is a thick, triangular shaped slab. It forms the base of this iron. The double layered sole plate smoothly drifts along the cloth safely.
The Iron is featured with selector knob which is essential for regulating the amount of heat you require while ironing and it has fine grip on the selector knob which helps you control the temperature effortlessly.
The another great feature is thermal fuse to protect from overheating a thermal fuse which is an electrical safety device which interrupts electric current when heated to a particular temperature. Thus, it prevents over heating in this iron. The thermal fuse works automatically.
The aerodynamic design of this dry iron by Havells helps the user to glide along the fabric with ease. Apart from the smooth functioning, it also gives the iron an attractive look.
Things we like
Trusted Brand
High number of satisfied customers
10 Day refundable policy
2 years of warranty
Easy to see pilot light
360 degree cord swivel
Cotton and silk braided
Temperature control dial for various fabrics
Easy grip fabric selector knob
American heritage original imported golden non stick coating on sole plate
Things we dislike
People receive the different color than image
Amazon Brand – Solimo 1000-Watt
You might be shocked to see Amazon Solimo 1000 watt iron in the list of best iron brands under rs. 1000 in India the brand is totally new for many people but price wise its really low it's price is around 500 at the moment which attracts many consumer towards it.
Amazon Brand -Solimo is own by the Amazon and as the iron is made by the Amazon itself then quality of the such big MNC is really great instead of it's delivery is really fast and it has 2 years of warranty as well similar to other big brand iron company.
This iron comes with 10 days refundable policy and you can pay on delivery as well. The iron comes with 1000 watt dry iron with a non-stick coating on the sole plate which distributes heat evenly and prevents your garment from sticking to the plate while ironing.
It easy and safe to use as it equipped with thermal fuse which automatically disconnects when there is a thermal overload to prevents any damage to the device. The color combination and trendy and ergonomic design is really great which is the another reason why consumer attracts towards it.
This iron also featured with temperature control knob which lets you adjust the temperature according to the requirement of the different fabric such as cotton, polyester, silk etc.
The another great feature of this Amazon Brand Solimo iron is it featured with dual light indicator in single LED which lights up in red when the device is powered on, changes to green when a temperature setting is selected on the knob, and turns red again when the device heats up to the required temperature. It will alert you when you need to switch off the iron to prevent any damage to your clothes.
What we like
Amazon Brand – Solimo
Lowest price
Non stick coated sole plate
heat evenly
safe for home usage
featured with thermal fuse for overheating protection
2 years of warranty
Temperature control knob

360 degree swivel cord ensures fuss free handling

Portable and easy to handle due to ergonomic design

Power: 1000 watt

Operating voltage: 230 volts
What we dislike
People have not good experience with this iron as it heat up very quickly
Buy From Amazon
Maharaja Whiteline Heavy Weight Classico Plancha 1200-Watt
The another iron box in the list is from the Maharaja Whiteline as you can see it's 1200 watt iron so it's heat up quickly and you can iron the cloth very easily.
The products of the Maharaja Whiteline is really long lasting and durable and easy to use as the company make products for the convenience of it's consumers due to which company made it own reputation and still it's product sale by it's brand name.
When it comes to Maharaja Whitelines "Naam hi Kaafi Hai" :). The weight of the iron is approx 1.8 kg which is really decent heavy weight the iron is featured with American heritage gold plated non stick sole plate for easy gliding. The product is ISI marked which is safe to use.
Auto switch off feature is available in this iron which prevent your favorite clothes from any kind of damages and it comes with 2 year of warranty as it's 1200 watt of iron and required only 240 volts operating voltage.
What we like
Popular brand
2 year of warranty
1200 watt
Heavy weight
Faster heating
Elegant and attractive black color body
Multiple temperature settings
Auto switch off features
Customer care number also available
What we dislike
Not found any at the moment
Morphy Richards Desira 1000-Watt
Check Price
The Morphy Richards Desira Dry Iron delivers best ironing experience with its lightweight design and comfortable grip. Get a crumple free and thorough professional looks with the Morphy Richards Desira Dry Iron.
Its DuPont teflon classic non stick coated soleplate glides smoothly on the clothes to remove wrinkles and the confortable grip does not cause additional stress to your wrists. This non-stick coating ensures that the fabric doesn't stick and get torn due to excessive heat.
This iron comes with the biggest dry iron soleplate in the market, with surface area of 18460 square millimeters. It comes with a Neon indicator light that goes off when the required ironing temperature has been reached.
This dry iron has a 360 degree free movement swivel cord for you to move the iron effortlessly in every direction. This 360 degree free movement avoids the possibility of tangled wires and keeps your hands and wrist stress free.
It comes with a slim and pointed tip that makes it easy to iron out hard to reach places like the seams and between buttons.
What we like
Adjustable thermostatic control

DuPont teflon classic non-stick coated soleplate

Biggest Dry Iron Soleplate in the market, with surface area of 18460 square milimeter

With neon indicator and 360 degree swivel corde

Warranty: 2 years on product

Power: 1000 watts; Operating voltage: 210-250 volts

contact_us on: [ 18001035963 ]

Adjustable thermostatic control

Biggest Dry Iron Soleplate in the market, with surface area of 18460 square milimeter

Power: 1000 watts; Operating voltage: 210-250 volts
I am sure you can get the best iron for yourself from the list however other brands Iron also available when it comes to online but as for the new brands it's difficult to go for the buyer because if you go with any random brand and quality of the product is not up to the mark then it could damaged your favorite clothes and you also don't know about service after sale.
However if you feel that I should more product in this list then please get back to me via below comment section we will update our list accordingly.