Only few day are reaming for the winter seasons and we all need a cheap and best immersion water heater rod to heat the water for multiple purposes. Well some people recommend for gyser as well to heat the water well the option is good but when its comes to price there is a huge difference in it.
The immersion rod water heaters comes under the budget of Rs. 500 which can buy from any local shop or you can purchase the best immersion rod water heater online from here. Instead of this if you go for a gyser to heat the water then you should have a minimum budget of Rs. 5000 or plus that is the biggest difference due to which lot's of people go with the immersion water heater rod.
Before you buy any immersion water heater rod keep some point in mind because which I am going to list here which will surely helps you to get the best one from the list or in your daily life.
Here is how to choose the best water heater immersion rod in India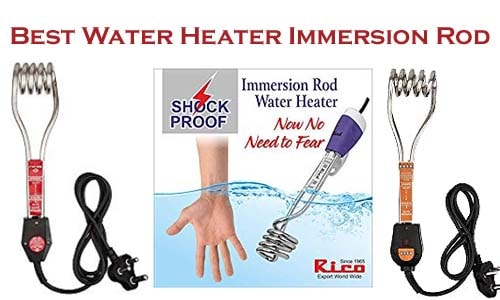 Brand
Well you can get a random or local brand water heater immersion rod around 150 to 250 but if you decide to go with the popular brand immersion rod like Baja, Usha, Crompton it will cost you around 250 to 400 and instead of this you will get a warranty period for these rod.
Watt
Usually a water heater immersion rod in India available from 1000 watts to 2000 watts either you go for any local brand or popular brand immersion rod in India.
Before you buy any size of immersion rod either 1000W, 1500 W or 2000 W please make sure you have pre installed a minimum 5 AMP plug which is required for 1000 Watt of immersion rod water heater.
Most of us don't know how much watt of immersion road we should use or what size of AMP plug we should fix in our house well it's simple.
1000 Watt Immersion rod water heater – 5 AMP socket
1500 Watt Immersion rod water heater – 10-15 AMP socket
2000 Watt Immersion rod water heater – 15-20 AMP socket
You can simply see the number of AMP in the switch near your socket and can get idea how many watt of immersion rod water heater you should go for.
The AMP really matters because if you start plugin and heat water with any of the rod either the socket will burn or it can harm the wire fitting which will cost you more so it would be better to see AMP first in your switches.
ISI Certification
Whatever brand immersion rod water heater you choose make sure it's ISI certified.
ISI mark is a mark for industrial products in India since 1955. The mark certifies that a product conforms to the Indian Standard(IS), mentioned as CM/L-******* on top of the mark, developed by the Bureau of Indian Standards (BIS), the national standards body of India
Warranty
If you are first time user of immersion water heater rod make sure it has some warranty period in case if device got any defect due to any reason you can get replace or repair it without any cost.
Shock Proof or Not
It will be better if you got a water heater with shock proof facility only few companies offer such facility but the charges are little higher in comparison of normal water heaters.
Well to keep all these things in mind I have enlisted the best and high quality of water heater immersion rod in India, just have a glance on it.
Bajaj 1500-Watt Immersion Heater with 16A Plug Type
Well Bajaj is very popular brand and every household knows about it the immersion heater of 1500 watt heat the water instantly and it's very easy to use just dip the immersion water heater rod in a tub, bucket or container of water and fix it in socket and switch on the rod that's it.
Key Features
Brand: Bajaj
Most seller Immersion Rod
Material: Copper with Nickel plating
Low Cost Water Heating
Consumes less energy
Hairpin tubular elements
ISI certified
Anti-corrosive Material
Power Consumption: 1500W
Manufacturer's warranty: 1 year
Crompton CG-IHL 152 1500-Watt Immersion Water Heater
The second Immersion Water Heater in the list from the brand Crompton Greaves which is well abbreviated as CG. Water motor of crompton are very popular and it also offer other electrical home appliances for Indian consumers. This immersion water heater rod comes in 1000 watt and 1500 watt and it comes under the price of Rs. 500 which is really unbelievable so hurry up before the price get high. Crompton is one of the leading players when it comes to geysers and water heaters. Whether it is a tank geyser or an instant geyser, Crompton is a master at both.
It heats the water very quickly and save the electricity as well however if you go with any random brand the price could be low but it will not save your electricity as these brands do it. It's very easy to use.
Key Features
Package Contents: 1 Water Heater

Power: 1500 watts

Warranty: 1 years on product

ISI mark

Indicator
Usha IH2415 1500-Watt Immersion Heater
This immersion heater from Usha comes with a copper tube with a nickel outer covering which helps to heat the water very quickly. It has been specially designed for heating water quickly and consumes 1500W. The bakelite handle remains cool to touch even when the rod is hot. It has an LED indicator which helps to determine whether the power is on or off.
Key Features
Immersion Water heater

Wattage: 1500 Watts

ISI Certified

Customer Care No.: 1800-1033-111

Inner Heating Element: Copper; Outer Body Material: Bakelite

Product Dimensions: 30.5 Cms X 9 Cms X 9 Cms

Warranty: 2 years on product

Included in the box: 1 immersion Water heater

Copper tube element with long lasting nickel plating for longer element life

Specially designed heating element for quick heating

Neon indicator for power on

Metal hook for safe operation, bakellite cover ensuring complete protection against electric shock
Rico 1500-Watt Immersion Rod Water Heater
If is there a kid in your home or you want a shock proof water heater immersion rod then it's perfect for you, the price is little higher than other but as it's shock proof so you don't worry about, if any kid is wondering around the bucket as it's shocked proof. It's a 1500 watts of immersion rod with head water very fast and easy to access.
Key Features
Warranty: 1 year warranty provided by the manufacturer from date of purchase

Includes: 1 X Immersion Rod Water Heater

Material: Metal

Wattage: 1500 Watts Immersion Rod With Super Fast Heating

Shock proof – completely safe due to advanced technology

Copper Element With Nickel Plating for Efficient Performance and Long Life

Convenient bucket handle for easy grip and easy usage

Best and cheapest alternative to all other water heating options

Heating Element

Type: Nichrome Heating Element
Singer IR-10 1500-Watt Immersion Water Heater (Blue)
Singer is also well known brand as it was delivering high quality of sewing machines in India, and won have 100% customer sanctification record. The look of Singer immersion water heater rod is really elegant and awesome. It has superior quality of copper element to ensure the heat conduction and rust prevention.
Key Features
Elegant looks

Sealed plastic body

Superior copper element to ensure heat conduction and rust prevention

Specially designed heating element for faster heating and water level indicator

Warranty: 1 year on product

Power: 1500 watts
V-Guard vih151 1500 w immersion water heater
Buy From Amazon
V-Guard immersion rod comes in 1500 watt it can be place anywhere in the room Bathroom, Kitchen heating element type copper tube, nickel plated heater material. It cover a warranty period of 2 years while maximum brands cover only 1 year of warranty due to this the demand of V-Guard immersion rod increasing day by day.
Key Features
Sales Package:-V-Gurad immersion rod 1500W

Heating Element Type:-copper Tube, Nickel Plated

Heater Material:-Copper

Warranty Summary 2 Year manufacturer warranty

Covered in Warranty:-Warranty of the product is limited to manufacturing defects only
Well these the some popular immersion rod water heater brands in India under the budget of Rs. 500 the best part is all the listed item are really easy to use and some of them are shocked proof which is really a great thing about a water heater immersion rod. I have also attached some other brand with image and price which you have a glance but the listed one are highly recommended.
List of Some Random Immersion Rod Water Heater Brands in India
Hope you like and now able to find the right immersion rod for yourself, if you have any further query suggestion just drop it in below comment section one of our team member will get back to you soon.