#1
Aao Jhuk K Salam Karein Unko
Jinke Hisse Me Ye Mukam Aata Hai,
Khushnaseeb Hota Hai Wo Khoon
Jo Desh Ke Kaam Aata Hai
Happy 26 January!
#2
Wo fir aaya hai naye savare ke saath,
mil jul kal rahange hum ek duze ke saath,
wo tirangaa kitna pyara,
wo h deko hai sabse nayara,
aane na denge is pe aanch..
Happy Republic Day.
#3
Woh shama jo kaam aaye anjuman ke liye,
Woh jazba jo qurban ho jaaye watan ke liye,
Rakhte hain hum woh houslein bhi
jo mar mite hindustan ke liye…!!
Happy Republic Day!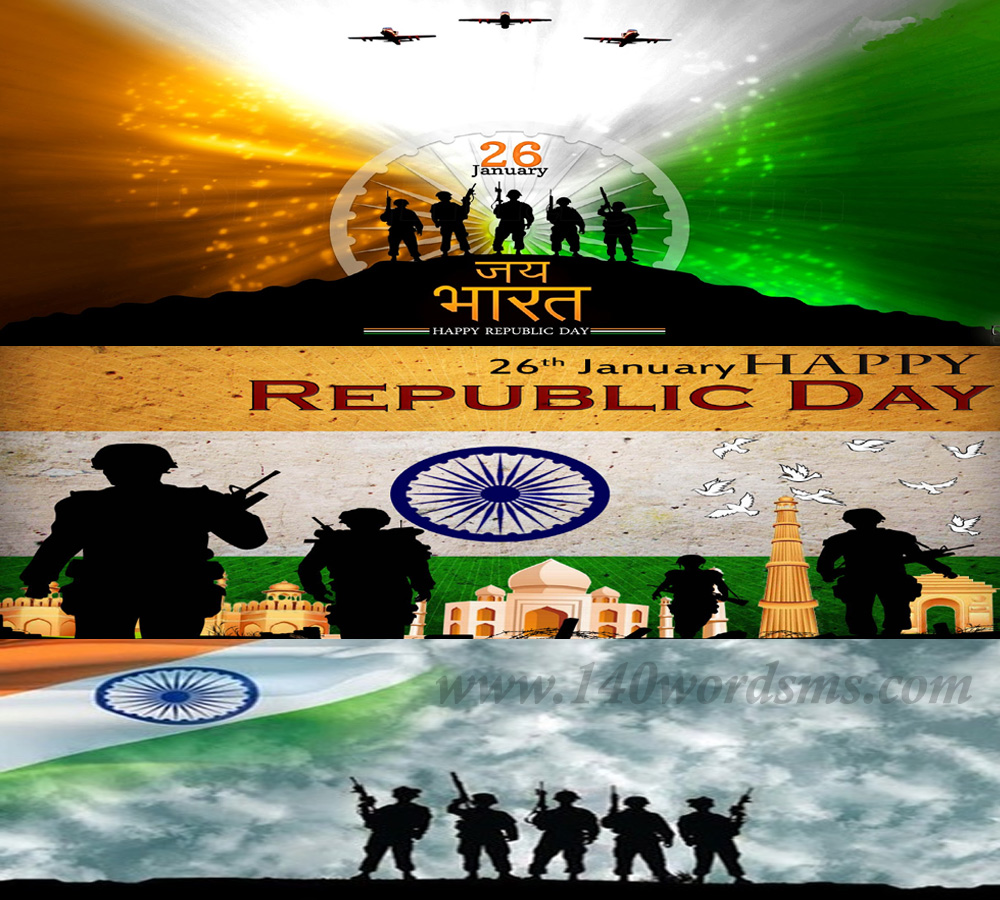 #4
Jamane bhar mein milte hain aashiq kayi,
Magar vatan se khubsurat koi sanam nahi,
Noto mein lipat kar, sone mein simat kar mare hain kayi,
Mager tirange se khubsurat koi khafan nahi.
Happy Republic Day
#5
DESH bahkto ki balidaan se,
SWATNATRA huye hai hum..
koi puche kon ho,
to GRAV se kahenge.
Bhartiya hai hum…
Happy Gantantra Diwas
#6
Nahi Sirf Jashn Manana,
Nahi Sirf Jhande Lehrana,
Yeh Kaafi Nahi Hai Watan par,
Yadon Ko Nahi Bhulana,
Jo Qurbaan Hue,
Unke Lafzon Ko Aage Badhana,
Khuda Ke Liye Nahi ..
Zindgi Watan Ke Liye Lutana.
Happy Republic Day
#7
Daag Gulami Ka Dhoya Hai Jaan Luta Kar,
Deep Jalaye Hai Kitne Deep Bhujha Kar,
Mili Hai Jab Yeh Azadi To Fir Is Azadi Ko..
Rakhna Hoga Har Dushman Se Aaj Bachakar.
Happy Republic Day.
#8
Mai iska Hanuman hoon,
Ye desh mera Ram hai.
Chhati cheer ke dekh lo meri,
Andar baithaa Hindustaan hai.
I Love My India.
#9
Indian hone par kariye garv ,
Milke manaayen loktantra ka parv ,
Desh ke dushmanon ko milke harao ,
Har ghar par * TIRANGA * lehrao .
#10
Na zuban se,
Na nigahon se,
Na dimag se,
Na rango se,
Na greeting se,
Na gift se,
Aapko Jashne Azadi Mubarak direct dil se.
HAPPY REPUBLIC DAY
#11
Aajadi ka josh kabhi kam na hone deinge,
Jab bhi zaroorat padegi desh ke liye jaan luta deinge.
Kyonki Bharat hamara desh hai ab dobara is par koi aanch na aane denge.
Jai Hind, Happy Republic Day.
#12
Watan hamara aisa koi na chhod paaye,
Rishta hamara aisa koi na tod paaye,
Dil ek hai ek jaan hai hamari,
Hindustan hamara hai hum iski shaan hain.
Happy Republic Day.
#13
Watan hamara misaal mohabbat ki,
Todta hai deewaar nafrat ki,
Meri khush naseebi mili zindagi is chaman mein.
Bhula na sake koi iski khushbu saton janam mein.
Happy Republic Day!
#14
Gandhi swapna jab satya bana,
Desh tabhi jab Gantantra bana,
Aaj fir se yaad kare woh mehnat,
Jo ki thi veero ne, aur bharat Gantantra bana.
#15
Watan ki sir bulandi me, humara naam shaamil,
Guzarte rehna hai humko sada ese mukaamo se.
Saare jahaan se achchha Hindusitaan humara humara,
We Wish U a very Happy Republic 2016
#16
Tairna hai to smandar mein tairo nadi naalo mein kya rakha hai?
Pyar karna hai to watan se karo In bewafa ladko mein kya rakha hai.
JAI HIND
Happy republic day
#17
Maa Tujhe Salaam
Yahan Vahan Saara Jahan Dekh Liya
Abb Tak Bhi Tere Jaisa Koi Nahi
Main Assi Nahi, Sau Din Duniya Ghooma Hai
Nahi Kahin Tere Jaisa Koi Nahi Hai
Vande Mataram
#18
Chalo Fir Se Khud Ko Jagate Hai,
Anusasan Ka Danda Fir Ghumate Hai,
Sunhara Rang Hai Gantantra Ka Sahido Ke Lahoo Se,
Aise Sahido Ko Ham Sab Sar Jhukate Hai,
#19
Zamane bhar me milte hai aashiq kai,
Magar watan se khubsurat koi sanam nahi hota,
Sone ke kafan me lipat mare shashak kai,
Magar Tirange se khubsurat koi kafan nahi hota.
#20
Chhadh gaye jo hasker suli..
Khai jinhone sine per goli..
Hum unko parnaam karte hain,
Jo mit gaye dekh per..
Hum unko salaam karte hain.
#21
Kuch Nasha 'TIRANGE' ki Aaan ka hai.
Kuch Nasha 'MATRBHUMI' ki Shaan ka hai.
Hum Lahrayenge har Jagah ye 'TIRANGA'
Nasha Ye 'HINDUSTAN' ki Shaan ka hai..
Jai ho..
#22
Kuchh haath se uske fisal gaya
Wo palak jhapak kar nikal gaya
Fir laash bichh gayi lakhon ki
Sab palak jhapak kar badal gaya
Jab rishte raakh mein badal gaye
Insaanon ka dil dahal gaya
Main poochh poochh kar haar gaya
Kyon mera bhaarat badal gaya
#23
Kabhi sanam ko chhod ke dekh lena,
Kabhi sahidon ko yaad kar ke dekh lena,
Koi mahbub nhi h vatan jaisa yaaron,
Meri tarha desh se kabhi ish q kar ke dekh lena
Vande Mataram
#24
Koi ghar se dur hai desh ke khatir,
Koi barfile tufano me hai desh ke khatir,
Ek dil se naman to banta hai,
Jinhone sine me goli khai hum sab ke khatir
Jai Hind
#25
Yeh aan hai meri, Yeh shaan hai meri,
Tiranga ko jhukane denge nhi kabhi,
Kyonki yehi to shaan hai meri
#26
Aajadi ki kabhi shaam nahi hone denge,
Sahidon ki kurbani badnaam nahi hone denge,
Bachi ho jo ek bund bhi garam lahu ki…
Tab tak bharat mata ka aanchal nilaam nahi hane denge.
#27
Yeh Nafrat Buri H, Naa Palo Ishey,
Dilon Mein Khalish H,Nikalo Ishey,
Naa Tera,Naa Mera ,Naa Iska ,
Naa UskaYeh Sab Ka Watan H,Bacha Lo Ishey.
#28
Azm-E-Bafa Mere Watan Ke Saath,
Meri Khushiyan Mere Watan Ke Saath,
Mera Khoon Paseena Watan Ke Naam,
Ye Zazbaa Mere Khaabon Ke Saath.
#29
Shaan to kardi hamne watan ke naam par,
Kurbaaniyo se pai hai hamne aazaadi,
Hamara watan to laakho main ek hai,
Aan bhi kardi hamne watan ke naam par
#30
Ye baat hawao ko bataye rakhna ,
Roshni hogi chirago ko jalaye rakhna ,
Lahu dekAr jiski hifazat humne ki…
Aise TIRANGE ko sada Dil me basaye rakhna
#31
Adhikar milte nahi liye jate hain,
Aajad hain magar gulami kiye jate hain,
Vandan karo un senaniyon ko
Jo maut ko aanchal mein jiye jate hain…
#32
Na maro sanam bewafa ke liye,
Do gaz jameen nhi milegi dafan hone ke liye,
Marna hain toh maro vatan ke liye,
Hasina b duppta utar degi tere kafan ke liye.
Vande Mataram, Jai Hind
#33
Chalo phir se aaj woh nazara yaad kar le,
Shahido ke dil me thi vo jwala yaad karle,
Jisme behkar azadi pahuchi thi kinare pe
Deshbhakto ke khoon ki vo dhara yad krle
Happy Republic Day
#34
Ishq toh karta hain har koyi,
Mehboob pe marta hain har koyi,
Kbhi watan ko mehbub bna kr deko
Tujh pe marega har koyi……!!!!
Jai Ho India
#35
Naa poochho jamaney ko,
Kya hamari kahani hain,
Hamari pehchaan to sirf ye hai
Ki hum sirf hindustani hain…!!
Jai Hind
#36
Hum is desh k vasi hai jahan roj he danga rahta hai,
jahan roj roj aakhbaron mai scamo ka panga rahta hai,
jahan aam adami sadko pe aadha sa naga rahta hai,
Is hal mai bhi is dor mai bhi har dil mai teranga rahta hai
#37
Watan hamara misaal mohabat ki,
Todta hai deewaar nafrat ki,
Meri Khush naseebi,
mili zindagi is chaman mein Bhula na
sake koi iski khushbo saton janam mein.
Happy Republic Day
#38
Aao desh ka samman kare
shahido ki shahadat yaad kare
ek baar fir se rashtra ki kamaan..
Hum Hindustani apne haath dhare..
Aao.. gantantra divas kaa maan kare
#39
De Salami is TIRANGE ko
Jisse Teri SHAAN he
Sar hamesha Uncha rakhana Iska
Jab tak DIL me Jaan he.
*HAPPY
Republic
DAY*
Bharat Mata ki Jai