Despite chopping vegetables through your hands, you may feel the need for a mixer grinder, especially when you prepare a meal for a big family. Indian's are fond of spicy food but many spices are difficult to break but a mixer grinder can help you.
A mixer grinder is majorly used for grinding hard- masalas, scourging up delicious chutney and preparing flavourful pastes for various dishes. People who prefer juice at home can also use Mixer Grinders.
Indian markets are full of various Mixer brands offering by several manufacturers with different materials and features at different price ranges. People buying mixer grinders for the first time may get confused because of several choices.
Best Selling Mixer Grinders Online in India
Also, various aspects should consider for buying mixer grinders. The buying aspects include motor speed, the build-quality, jars size, etc. To help you decide which grinder to buy, we have mentioned the top-three best selling mixer grinder available in India.
1. Bajaj Rex 500W Mixer Grinder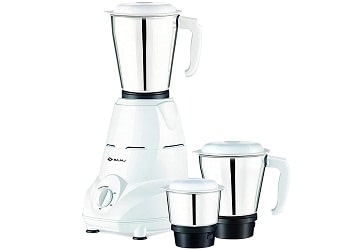 Bajaj is one of the popular brands in India, known for their premium quality of kitchen & home appliances, good customer services and best prices. Rex Mixer grinder from Bajaj is one of those home appliances which make your life easier and happier.
With this mixer grinder, you can perform many kitchen tasks including grinding, cutting, smashing etc. It comes with several innovative features which makes it perfect for normal and professional kitchens. It has a powerful motor that allows you to beat hard spices and vegetables. The speed control option enables you to increase or decrease the speed when you're grinding or blending.
Rex Mixer grinder Bajaj also has an elegant design and grip handles assure sturdiness. Without putting in any extra effort, you can clean it easily. It is made of premium quality ABS plastic and has shiny finesse that should enhance the aesthetic of the kitchen. Therefore, investing in Bajaj Mixer Grinder is a great value for money.
| | |
| --- | --- |
| Pros | Cons |
| It comes with a 500-watt motor, making it perfect for several tasks. | The size of the jar is quite small. |
| In the box, you will get 3 jars – a 1.2 L liquidizing jar, a 0.8 L dry grinding jar and a 0.3 L chutney jar. | |
| It allows you to grind and blend ingredients quickly. | |
2. Prestige Iris Mixer Grinder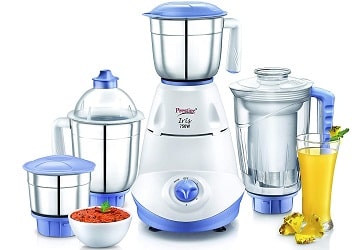 Prestige is India leading home appliance; promote quality, performance, durability and affordability. Its Iris Mixer Grinder enables you to blend and grind ingredients of varying textures quickly and effortlessly. This mixer grinder is designed in such a manner to offer ease in various kitchen tasks like grinding, blending, crushing, many others.
You can easily hold the jar as it has ergonomically designed sturdy handles which provide a strong grip. Now, say bye-bye to repetitive kitchen efforts with Iris Mixer Grinder. As it has four super-sufficient stainless steel blades, making it sturdy and versatile.
Another benefit of having this grinder is, it enhances kitchen looks because it has a smart & elegant design with white colour. The plastic body of the grinder allows you to clean it without hassle.
| | |
| --- | --- |
| Pros | Cons |
| It has a powerful motor. | The material is cheap as compared to other brands of grinders. |
| In the box, you will get three jars of different sizes. | |
| The blades are sharp and easy to clean. | |
3. Butterfly Jet Elite Mixer Grinder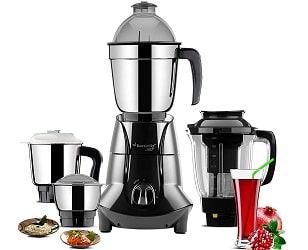 If you are looking for a solution for your grinding and blending requirement at an affordable price, Butterfly Jet Elite Mixer Grinder is an outstanding option. It is designed in such a manner to provide smooth and hassle-free kitchen operation. It is lightweight and has a compact size, which is easy to put up in both small and large kitchens.
Thanks to the three-speed setting feature, the feature allows you to operate the grinder at different speeds while preparing dishes. With a 750 W powerful motor, you can easily work with the toughest ingredients without any hassle. The best thing about this grinder is it is made of stainless steel material which is known as food-grade material.
The material makes the jars stain proof and resists corrosion. The entire look of the product is phenomenal and is great for both large and nuclear families. Overall, it is a good combination of quality, durability and price point.
| | |
| --- | --- |
| Pros | Cons |
| This mixer grinder adds an elegant look and a touch of style to your kitchen. | It makes a noise when working. |
| The sharp blades enable you to blend all kinds of fruits and vegetables. | |
| There is an anti-slip pad at the bottom of the grinder. | |
Conclusion
A mixer grinder has become popular these days, as they provide ease for working several tasks like grinding, blending, crushing etc. However, several mixer grinders are available in the Indian market. Choosing a specific may be difficult due to several options. But after considering the mentioned options, you might be selective with any of them.