Momos are becoming one of the most liked foods worldwide, even also in India. The vegetable stuffing along with flour offer fascinating flavours to your taste buds. Along with that, the steaming process makes it delicious and healthier at the same time.
This Tibetan delicacy serves in various cities of India, thus gaining immense popularity among restaurants, street stalls, hotels and domiciles.What if you eat roadside momos from stalls?A plate of momos-to-be delivered by street vendors is less hygienic, posing a risk of infection and stomach ailments.
If you've noticed, fried momos contain high calories as compared to steam momos. And buying a plate of momos every day can become a regular expense.That's why it would be good to have your own momos steamer.However, the purchase elements will vary depending on the buyer.
Best Selling Momo Steamer in India
When buying Momo steamer either online or offline, you can notice different manufacturers offer steamer in different sizes, materials and prices. To reach you at one point, we have mentioned the three best options after deep research. Let's take a look:
1. SinglaAluminum 4-Tier Momos Steamer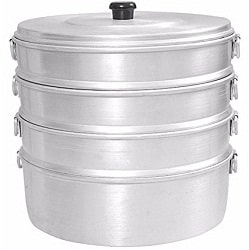 If you're seeking a momos steamer that can steam a large bunch of momos at a time, this is going to be an outstanding option. The steamer can be used for the multipurpose steaming task.
However, it is an ideal option for both regular and commercial use. The steamer comes with a handle on each tier, making it convenient and safe for holding.
This entire steamer including pot is made of premium-quality aluminium. The notable element is that the steamer is gas-stove friendly. That mean, you can't put it on any other cooktops.
Some of its key features include capacity, multitasking, rust-resistance, aluminium coating, ease of operation, ease to clean. Being made from high-quality material ensures long-lasting performance.
| | |
| --- | --- |
| Pros | Cons |
| This steamer can be used for steaming a variety of dishes. | Not found. |
| It has a heavy aluminium body. | |
| It comes with six steaming plates. | |
2. KC Aluminium Steamer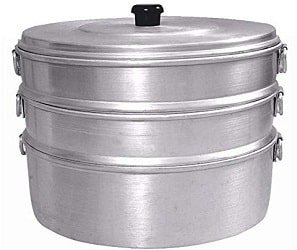 The steamer from KC has been best for healthy cooking. The steamer is thoughtfully designed for 4-5 people. It contains three tiers, very easy to assemble and disassemble. It is made from high-quality aluminium, ensuring better performance, safe steaming and long-lasting usage.
One of the major benefits of having steamer is that it helps make oil-free food include momos and other Indian Cuisine. Each tier has equipped with a handle, providing a better grip when making memos. On each use, you feel safe and secure because of this safety equipment.
The significant benefit of this steamer is that it requires minimal time and less effort for steaming momos. The steamer has you to make sure safest and perfect cooking. It can be used in restaurants and homes.
The cleaning of the steamer is also very easy. The material is dishwasher safe or can be cleaned using hands. Another notable aspect of a steamer is that it is a wallet-friendly product. Customers can easily purchase this steamer at an affordable price.
| | |
| --- | --- |
| Pros | Cons |
| Best suited for three or four people. | It comes with only three tiers. |
| It makes your steaming simpler and steady. | |
3. ROLLYWARE Premium Aluminium Momos Maker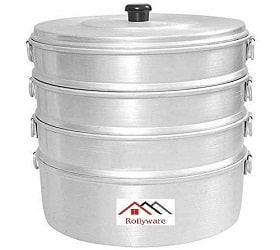 This momos maker comes with four-tier, giving ease to a steam bunch of momos. This heavy-duty steamer is ideally manufactured for the large steaming task. It is incredibly sturdy, durable and strong as compared to other steamers. It is a good option for lifelong use and one-time investment, as it has been equipped with a non-toxic chemical coating.
For preparing multiple momos plates, this is going to be the finest option. It can be also used for preparing dumplings, idly, modaks & khandvi. This versatile momos maker is also used to meet other cooking needs if you remove the second layer of steamer.
There is no doubt about the quality, also it offers flexibility in making the food faster. Thus, it is an energy saver and suitable for long-lasting usage. You can see this momos maker in hotels, restaurants and homes. Even, washing is also very easy. It can save you cleaning tasks and efforts. The product is a good combination of usability, performance and versatility.
| | |
| --- | --- |
| Pros | Cons |
| The steamer offers hassle-free performance. | The size is slightly smaller. |
| It comes with 31 cm height, 23 cm radius and 8-litre capacity. | |
How To Choose The Best Momo Steamers in India
You should always look for a momo steamer, to help you prepare the momo' s in the best way possible. You must check some of the essential points while buying the momo maker. In the next few lines, you will come across some of the best tips for buying the momo maker.
1. Size:
You must check and have good knowledge for the size of the momo maker. They are available in various stories. You have seen that most of the momo makers are made of three or four stories. They will have holes in the bottom to allow the free flow of steam. This will help in the better steaming process of the momo's. You can buy the momo steamer in accordance with demand. The best thing about these steamers is that you can store them separately when not required. If you wish, you can buy steamers that are smaller in size.
2. Water levels:
You must check the water level features of the momo steamer. It is best if you check the steamer that comes with a water gauge. This water gauge will allow you to check the water levels and whether there is enough water to steam the momo's. If you buy the electric momo steamer, you must also check the function of the device. Most of the electric momo steamers come with a beep sound. This will allow you to get prior intimation about the preparation of the momo's.
3. Warming properties
Before buying a momo steamer, you must have enough knowledge about the warming properties of the device. It is okay if you buy a steamer that comes with warm features. This will help you to keep the warmth for an extended period of time. This will also allow you to heat or warm the momo's before taking them.
4. Temperature settings:
Most modern momo steamers come with temperature settings. This can help you set the temperatures from 30 degrees to 110 degrees. But if you are an experienced cook, you can easily have an exact idea about the temperature. You can easily use your experience in this case.
5. Cleaning procedure:
It is also essential to have proper knowledge about the cleaning process of the steamer. It is much easier and smoother to clean the electric momo steamers. But it becomes a little tougher to clean the one that comes with removable compartments. It may take some time and effort to clean those up. The electric steamers come with removable lids that will allow you to remove and clean them.
6. Durability:
It is also vital to check the quality of the momo steamers. Most electric steamers are made with plastic and aluminum materials. They are durable and can give you long term service. It is also good if you inquire about the materials used to manufacture the product at the time of purchase. This will be much better for you.
7. Warranty period
It would be great if the manufacturer provided a minimum warranty period for the product. This will allow you to exchange the product in case of any disturbances.
8. Check review:
You must also check the reviews of the product before buying the momo steamer. You can follow various sites that provide adequate information and reviews about the specific product.
Final Words
Having a craze for eating momos can be natural for today's generation. But spending for buying one plate momos can bit expensive. Also, regular eating of momos at road sites can enhance the risk of disease. It is good to have your own momos steamer so that you can steam momos on your own with ease. However, various excellent options have been available in the Indian market at the cheapest price. For your ease, we bring a top-notch three steamer option, go and check it out.