The day of Raksha Bandhan or Rakhi is nothing less than a day of grand celebration in the life of Hindu religion. On this auspicious day of Raksha Bandhan brother and sister show their unconditional love and affection towards each other. In this day Sister tie a Rakhi on the wrist of her brother and Brother vows to protect his sister for lifelong. Don't worry I am not going to tell you the story of Raksha Bandhan here on this page I am going to share top 10 best Raksha Bandhan gift ideas for sisters so that, you can make special day more special for your sister. These Raksha Bandhan Gift Ideas just help you to choose the best gift for your sister under your budget. So, it's you have to decide which one you can afford because every individual have different budget.
1. Jewellery
One of the best gift Idea is Jewellery it's something which surely make smile on your sister face. If you think you have to spend too much money on this don't worry you can gift your sister a silver trinket or a gold pendent it will surely make her smile if you have lower budget then it you can try imitation jewelry which is available online as well as in the local market which looks great and the price is very reasonable for you.
2. Clothes/Dress
Every girl like clothes if you know what kind of dress your sister like can buy it and gift her on this auspicious day or you can do another better option in this just go out with your sister in nearest cloth shop and buy the dress of her choice through your sister could smile more because every girl like shopping and clothes and you will do both, so try this smart way.
3. Chocolates
We know that every sister take some sweet for her brother then why you don't reciprocate it with her choice of chocolates. You can give her lot's of chocolates or a chocolate box or buy some chocolates wrap it properly and give it to your sister.
Also Read:
Best Subh Muhurat to Tie Rakhi & Reason Why we Celebrate Raksha Bandhan
Best Raksha Bandhan WhatsApp Messages in Hindi
Best Raksha Bandhan WhatsApp Messages in English
4. Doll
You can also gift a cuddly teddy bear or a doll to her and it will come under your budget as well.
5. Mobile Phone
If your sister is using outdated mobile phone you can gift her latest android, smart phone after tie Rakhi you can take a selfie and she will keep this pic as memory on her phone and will remember that it was given on the auspicious day by her brother.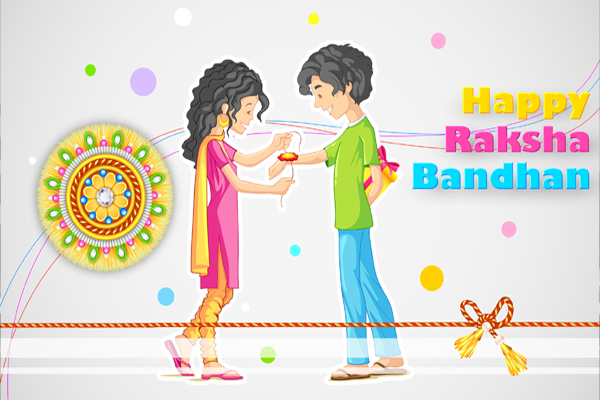 6. Cosmetics
Every girls like cosmetic items because it help to make her more beautiful. You can collect some branded cosmetics of your sisters choice and wrap it and gift her on this day it will surely make her smile.
7. Gadget
If your sis is gadget freak you can gift her some gadget items such as Bluetooth device or a walkman etc.
8. Bags
You can gift you sis a bag it could be handbag, travel bag, college bag whatever type of bag you decide to give your sister I just want to advice you that do not compromise with the quality of bags and you can buy it online as well as from the market.
9. Books
You know your sister better every girl have different interest if your sis have interest in books you can gift her favorite writer book or novel.
10.Home Utility Items
If your sis is home maker then home utility item could be perfect gift for her you can gift her home utilities such as mixer, juicer, roti-maker, microwave, iron, hand-blender etc.
I made this list to keep different age group of sisters so that, everyone can get the better option on this page. Instead of above said gift ideas you can also gift your sister on Rakhi her favorite perfume, wrist watch, music or movie CD, electronic item or can try my favorite method as well. You can gift her some cash in an envelope so that, she could purchase gift as per your choice and need.
All the brother and sister if you have any better gifting option idea which I should update in this post please do share it and don't forget to let us know which one is your favorite gift idea in the said list.