Earlier I have write article on "Best Room Heaters for Baby" and some users ask me to write an article on Best Stroller or Pram in India because there are plenty of stroller / pram are avaiable in the market and it's become very difficult for parents to choose the right one for their new born baby.
Because all the baby stroller are not same and have different features and the price range is also different should parents go with high price of stroller for babies? or go with any random pram for their baby.
Well being a parent we all want to give a best item to our baby either it's a boy or girl it doesn't matter we all want best product for them under our budget. To keep this thing in mind today I am going to share the list best stroller / prams for baby online in India of 2020. Instead of this you can learn about the type of stroller and prams in India , things to consider before buying any baby stroller or pram and much more.
Is There any Difference in Baby Stroller and Baby Pram?
This is the common question in the mind of the people that what is the meaning of baby stroller and what is the meaning of pram?
A pram is designed to carry newborns and younger babies, usually while they're lying down. It's sturdy and generally can't be folded flat.
A stroller is lightweight and collapsible, ideal for older babies. A buggy can be a pushchair or a stroller, depending on who you ask!
Nowadays baby products becomes sophisticated. So the meaning of products doesn't effect your search because if you search for "Best baby stroller online" or "Best baby prams online" you will see the same result for both search and companies also making the product to keep thing in mind.
So, you don't worry whatever you search it will show you the accurate and right product for your baby however in India some of us use baby pushchair, baby trolley, baby buggy the meaning of all these words refer to a baby stroller.
Types of baby strollers in India
Well there are different type of strollers available in India which are as follows:
Standard Strollers
This type of strollers comes with rear and front facing features and most the strollers are adaptable to car seats.
Lightweight Strollers
It has only front facing feature with fewer attributes then others.
Travel System
These strollers come with infant car seats and Baby Carrier. It usually has features like cup or bottle holders etc.
Double stroller
It's useful only you have twins and these type of stroller also referred as a twin stroller.
Jogging stroller or baby jogger
These strollers are made for strolling your baby while joggnig or hike around and it featured with wheels that can swivel. They provide flexibility for speed and steadiness.
Things to consider before buying a baby strollers online in India
Being parents it's our responsebility to give the baby a perfect product and when it comes to baby stroller prams then you must consider following thing in mind before buying.
Safety of Baby
Safety first, It's our responsibility to check the safety features such as safety belt, weight carry and several other things either you buying for a new born baby to 3 years of kid.
Handle
Well you must check that height of the handle and if the handle is adjustable then it will be really great instead of this must check is the handle of baby stroller reversible or not so that you can see your baby and baby can see you and feel more secure when see their parents.
Harness
Checkout out what number of harness options are available in the baby stroller? 3 or 5 usually 3 point of harness offered which is secure the baby around the waist while 5 point harness that wraps around the waist and between the legs.
It is offered by almost all the baby prams so its highly recommend to must check.
Few more points are
Sturdiness
Collapsible with one-hand
Wheel-lock
Removable tray, cup holder
Mosquito net / rain cover / canopy
Reclining capacity
Customer Reviews
Well this is the guide to choose the right and perfect baby stroller pram in India and hope now you can easily choose the best one for your kid but as earlier I said it was not easy to choose the thousands of strollers which one you should buy don't worry here I have enlist the top 5 best selling stroller/pram for baby in India. You can go with any of them without any issues as, we have personally reviews all the products and found the best out of thousands of strollers available online.
List of Best Baby Stroller / Pram in India 2021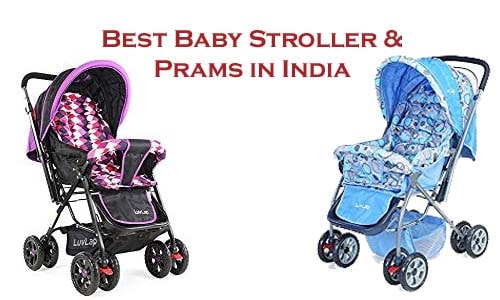 Best Stroller / Pram Online Reviews in India
LuvLap Sunshine Stroller/Pram, with Mosquito net, for Newborn Baby/Kids, 0-3 Years
If you want to buy best baby stroller which have maximum or almost all the features of baby stroller pram then you can go with LuvLap Sunshine Stroller as it's the most seller baby stroller online on amazon. It's sold and fulfilled by Uttam Toys they have provided toll free number for the customers who face any kind of trouble regarding this stroller.
As I said earlier in this post that safety first and this stroller comes with 5 points of harness which is the main reason to buy it, instead of this it has so many other features such as reversible handle which allows baby to face parent while strolling and you can recline the seat in 3 different position for the comfort of baby.
It has small but useful features such as back pockets which helps parents to store small handy items while they are on stroll instead of this you can see a large shopping basket at the bottom of the stroller which helps you to keep baby diaper bags or toys. It's an perfect pram for age of 0-36 of months and can weighing upto 20 kgs.
It is in-built double layered canopy which protect the baby from sunlight and wind and also looking window in the canopy via which parents can lookafter the baby while on the move.
The front wheels with 360 degree swivel allows easy maneuverability. The swivel wheels can be also locked for a straight directional stroll. It also has rear wheel brakes as it's an essential to ensure child's comfort and safety. You can stop the stroller or keep it static, allowing you to be hands-free at any point of time during the stroll.
The adjustable foot rest allows parents to set it as per the comfort of the baby when sitting or sleeping.The best part is it has a detachable soft, washable seat cushions and mosquito net. Well it was all about the LuvLap Sunshile stroller pram however I have highlight the key features which we likes. It also available in different colors and design I have attached the color options of best stroller pram with price below of the key features you can go with other color as well however the price is vary for different colors so choose the best one for your baby.
Key Features
5 point safety harness

Reversible handlebar

3 position Seat recline

Storage basket

Double layered canopy
Window in canopy
Service after sale
1 Small pocket
1 Large shopping basket
Breaks
Adjustable footrest for baby comfort
LuvLap Starshine Stroller / Pram, for Newborn Baby / Kids, 0-3 Years
The another one is also from LuvLap and this it's Starshine stroller after the sunshine stroller the starshine prams are very much popular on Amazon and highest selling stroller it has almost same features similar to sunshine but when it comes to harness points it has only 3 harness points which is ok because of it's price.
The price is almost 40% less than and have only 3 harness points. This baby stroller comes in 4 other colors as well which I have attached below buy now option.
When it comes to features of this product it also has reversible handlebar which allows parent and baby to face each other while strolling. It can bear a weight up to 15 kgs and has 3 position seat recline for the comfort of the baby.
This stroller also attached the safety belt which secures the baby inside the stroller if the baby can't seat himself/herself. It has similar to Sunshine stroller 360° front wheel swivel with lock & rear wheel breaks.
The LuvLap star shine baby stroller has double layer canopy in the pram and has looking window in this canopy through which you can see the baby while on the move.
The pram has detachable soft, washable seat cushions and also has adjustable foot rest for the comfort of baby strong basket and small pocket also attached in it for different purpose. If you face any kind of trouble related to this product you can call the customer care on provided number and they will fix it, instead of this the product also come with 10 day refundable policy.
So, you can go with this stroller if you have little tight budget and want to give something best to your baby I have list out some key points of the stroller which may attract to buy it so have a glance on it.
Key Features
Low in price
Light weight
3 position seat recline
can carry weight up to 15kg.
Safety belt
reversible handlebar
360° Front Wheel Swivel
Lock & Rear wheel breaks
Small Pocket
Strong and big basket

Toll Free Number contact_us on: [1800-120-7897]

email ID : info@uclindia.com
R for Rabbit Lollipop Lite The Colourful Baby Stroller and Pram
The next pram is from R for Rabbit Lollipop Lite The Colourful Baby Stroller and Pram as the safety 1st and this stroller is designed considering the safety aspect. You don't need to worry about the baby safety while this baby stroller.
The size of the wheels is really bigger 6.5 inch of wheel which are specially designed to give smoothest ride to your baby while on the move.
Welcome to the fold push the bar below with you hand or foot and pram folds itself. Its so simple that you will say that its childs play.
Well seeing smile on the face of baby is really great feeling thus parents looks for the reversible handle, while you are strolling you can see how your baby is enjoying.
The best thing about this stroller is that it also contains the 5 points safety harness which make sure you that you don't need to worry about your kid while strolling in pram. It has so many features and the price is also reasonable.
The material of the stroller is really of high quality and the fabric is very soft for the baby. It can by use for 0-3 years of kids as has adjustable point and convenient for the this age group of baby. It contains the feature of adjustable leg feet for the comfort of baby. The weight of the stroller is very light an lady can also carry it can move around with the kid.
Key Features
Reversible handle
Safety first
Perfect for 0 months – 3 years kid
Can hold upto 20 kg of weight
Adjustable Leg Rest
Wheel suspension
Wheel lock
Storage basket
5 point harness
Multiple recline
Easy fold mechanism
Little Olive Tweety Reversible Baby Stroller and Pram with Musical Food Tray
If you want to go with an affordable price and multiple feature baby stroller and pram then you should go with Tweety Stroller as it has plenty of features similar to other popular brands and the best part is it's price is lower than best selling products.
This stroller is available in 2 different color 1 is purple which is shared here and 2nd is blue star and the price of both the stroller is same you can go with any of the design as per your choice. When it comes to the safety features of the baby it has 3 point safety harness.
You can see a musical food tray in this stroller the music sound is base on the batter to replace or insert the batter in it just remove the Duck and place the batter to enjoy the sound.
The seat recline of the stroller and pram is 180 degree for the comfort of baby, It also has a reversible handlebar, a small back pocket to keep small thing related to your baby such as milk or water bottle, small toys etc.
At the bottom of the stroller pram you can see a large basket to carry the heavy and large size of goods such as diaper packets etc. It has 4 layer canopy and boo window so that you can lookafter the baby.
Well it would be better if it has 5 point safety harness but as the price is less and it has many other features like high quality of material, adjustable foot rest for the comfort of the baby. 360 degree rotation wheel for easy moment and breaks on the wheel etc.
It's an ideal stroller pram for a kid of 0 months to 3 years of kids and can hold up a weight of 15 kg, you can use it's canopy as mosquito net as shown in picture. The weight of the stroller is approx 7 kg and one can easily carry it anywhere if you are female then the weight of the stroller is matter for you as you have to spent the maximum time with your baby and when you want to stroll your baby then you must have a light weight of baby stroller and it is one of them.
Key Features
Front handle bar
Back pocket
Safety harness
Adjustable footrest
Peek a boo window
Big Basket
Small pocket
Reversible handle bar
Wheels with the brake
360 degree rotation wheels
3 position recline-able seat
Light weight
1 hand fold
BabyGo Delight Reversible Baby Stroller and Pram with Mosquito Net Mama Diaper Bag and Wheel Breaks
The last but not the least stroller pram is from BabyGo delight reversible baby stroller with mosquito net mama diaper bag and wheel breaks and many more features.
This pram has 3 safety point harness for the baby which is good enough for the security of the baby however if you go with 5 safety point harness that would be great as it make sure that you don't worry about the baby while he/she is stroller or pram.
You can easily fold this stroller by your single hand it really very light weight and also has reversible handle which we need all in our baby prams, so that you can easily change the side for parent facing and surrounding facing for baby.
Pre attach seat belt and you can adjust the leg support as per the comfort of the baby. The baby pram also has mosquito net which protects baby not only from the mosquito but from flies etc.
All the wheels are with break eight it's rear wheels or front wheel the are fix with the breaks for direction fixers. In the basket you will get a quick access pocket and big basket in the bottom of the stroller for the large thing instead of all this you will get a free bag in which you can carry several other things of baby or yours as well.
It has 3 position seat recline for sitting and sleeping position for baby and it's canopy has looking window so that you can watch your baby activity while on the move.
This BabyGo Delight baby stroller comes in 5 different color 1 is shared above and the reaming color could be seen on via clicking on Buy now button .
Key Features
3 Point safety harness
Affordable price
High quality material
Soft cloths is used
Sun Shade
Reversible Handlebar
See-through window
Carring basket
Durable aluminium frame
Quick access back pocket
All wheels with brake
360 degree universal wheels
Well, it was the all about the top 5 best baby stroller and pram in India you can choose any of the listed above as per your budget and interest. One more important thing would like to confirm you that whatever baby stroller you buy online you have to install it at your home.
The installation user manual is also available in the delivery packet you can follow instructions their and can install it yourself which is really very easy however for your help I have also attached a video via which you can get a detail help.
Whatever brand of baby stroller you have purchased it will work for all.
Baby Stroller and Pram Installation Guide Video
I am sure you found this article helpful, As now you are able to choose the best baby stroller and prams for your baby if you go to buy without viewing all the points said above you might bought something which will not fulfill all the requirement and you will be offended for your sale.
So, it would be better if you follow the above said points either you buy online or offline, if you want to which baby stroller is best then you can buy any of the listed above in the article.