Watches are always in trend however in mobile era the user of wrist watches is decreased but still it has own style different people buy for different purpose some use for gifting purpose while others buy watches to suits their personality some for fashion but wrist watches are always identification of classy people.
People make their opinion about you as per your watches, either you are using sport watch, casual watch, office watch or luxury watch all have own impact on others and off-course on your personality too. Well we buy watches for different purposes and it's become little tedious task for some people to buy best watch brands in India. As some people look for best watches for men in India, while other gender looks for best watch brands for women.
To keep this thing in mind today we are came up with the list of some best watch brands in India for men & women. The below listed watch brands companies made watches for both men and women so you don't worry about it. So without any more delay let's move to best watch brands in India 2021 which includes both Indian brands and foreign brands as well.
Here Is The List of Best Watch Brands in India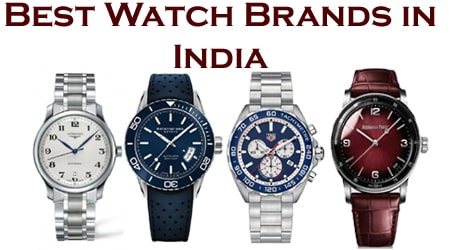 Titan
Titan in an Indian brand which was established in 1984, it's a joint collaboration between Tata Group & Tamil Nadu Industrial Development Corporation. The company made some of the most classic yet phenomenal watches for men's & women.Titan make accessible, functional and good looking huge number of variety watches which fits everyone pocket.
Titan watches price starts from Rs. 2000 You can buy Titan watches from online to offline store to buy titan watches online click here.
Sonata
The another Indian best watch brand in the list is Sonata. Watches made by Sonata are not only stylish but also cater to all customers needs, providing them watches in affordable prices. The headquarter of the company is situated in Bengaluru, You will be shocking to know that Sonata is the sub-brand of the Titan which is the top watch brand in India, Tata Group.
Sonta Watches Starts From Rs. 500 to see watches just click here
Fastrack
If you ask someone to which is the best Indian watch brand in Sports the first name will be Fastrack. Fastrack, is an Indian fashion accessory retail brand in India. The company was launched in 1998 as a sub-brand of Titan Watches. In 2005, Fastrack was spun off as an independent brand targeting the urban youth and growing fashion industry in India.
Now company offering varied price range watches from sports to casual, office watch you can watch the variety of Fastrack watches here.
Roadster
Roadster is one of the top Indian watch brand under the name of Myntra. It's well known for the needs of contemporary men and women. It has diverse and edgy collection which has become the favorite of many men and women in India and now it has own reputation in Indian watch brands.
Timex
Timex is an American watch manufacturing company which was established in 1854. The company offering vide range of watches on affordable luxury timepieces. Either you are a fashion lover or fitness geek, timex offer you the best collection in affordable price. With the passage of time Timex got the immense popularity in India and become the one of the best selling watches the price of the watches start from Rs. 1000 and you can buy it online from here.
Well the list of best watches brand is still so long we will discuss about all brands in details soon for quick overview I am listing these brands below .
List of Best Watch Brands in India
You can get the complete information about these watches via clicking on the name.
If you have any experience and want to list us any other brand as well than just let us know via your comment.