Bhaiya Dooj is a festival which is celebrated as a symbol of love between brothers and sisters. The festival is also known as Tikka in North India and Bhathru Dwithiya and Bhau Beej in other parts of the country. This is the day when sisters apply a tilak on the foreheads of their brothers and pray for their long and prosperous lives. In return, brothers give gifts to their sisters as a token of thanks for their best wishes. Bhaiya Dooj falls on the tithi of Dwithiya in the shukla paksha of the Hindu month of Kartik, which corresponds with the month of October or November, the festive season of Hindus in India. This day comes two days after the auspicious and popular Hindu festival of Diwali and is celebrated in several parts of the country. The legend behind the festival is related to the death God Yamraj and his sister, Yamuna, who applied tilak to her brother on this day. It is believed that death does not come to the brother whose sister worships him and applies tilak on the day of Bhaiya Dooj.
Bhaiya Dooj Puja Vidhi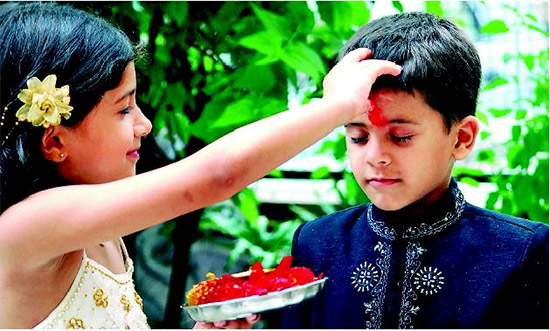 On the day of Bhaiya Dooj, a sister visits his brother's place or the brother comes to her place. The brother is then worshipped by his sister by performing arti, and she applies a tikka or tilak on her forehead. In most parts of the country, the tilak is applied using saffron (kesar), along with rice. The sister also offers her brother food and sweets and gives him gifts and blessings for a long and fulfilled life. In return, the brother thanks her by showering her with gifts and cash. This is the festival which reinforces the loving bond between brothers and sisters and brings them even closer to each other.
Bhaiya Dooj Mahurat 2016
The festival of Bhaiya Dooj 2016 falls on 1st November. Bhaiya Dooj Tilak Mahurat from 13:09 to 15:20 Duration 2 hours 10 minutes Dwitiya Tithi Begins on 01:39 on 1st November 2016 Dwitiya Tithi Ends on 04:11 on 2nd November 2016