Do you want to be part of Britannia Filmfare Awar Night in 2016? Then it's right time for you because Britannia has organize "Britannia Dubsmash Contest" to participate in the contest important thing you need are any "Britannia Product" & Camera through which you can capture your video, if you have no professional camera you don't need to worry you can make it with your mobile phone and can share it your own profile that's it detail procedure is mentioned below.
What is the Start & End Date of Britannia Dubsmash Contest?
Contest starts from: 28th December 2015
Contest ends from: 10th January 2016
How to Participate in Dubsmash Contest – Britannia Khao Filmfare Jao?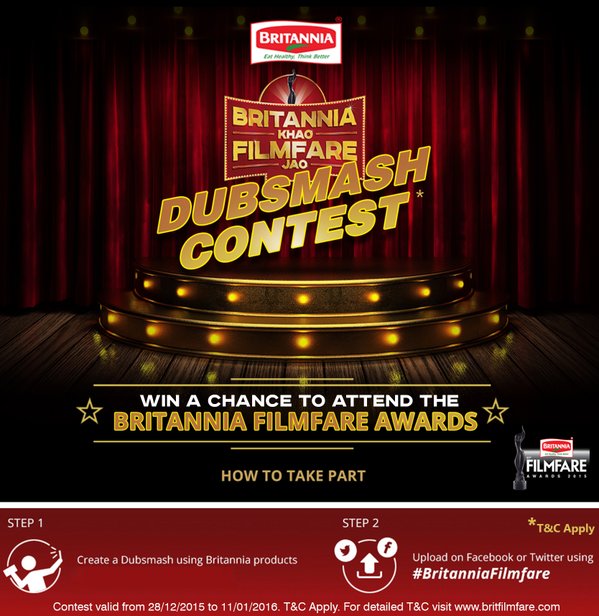 To participate in Britannia Khao Filmfare Jao Dubsmash Contest first you have to purchase any product of Britannia and have to make a video with Britannia Product keep remember while you sharing your video on Facebook or Twitter profile must use #BritanniaFilmfare.
You can make video with your mobile camera or professional camera and share it on Facebook or Twitter profile of your own via using #BritanniaFilmfare.
Official Video of Britannia Dubsmash Contest 2016
Read the detail term and condition of Britannia Khao Filmfare Jao Dubsmash Contest 2016 on the official site of Britannia here: http://www.britfilmfare.com/dubsmash/ if you have any query just drop it in below comment box.