You can level up your gaming experience with an ergonomically designed chair offered by Green Soul. The green Soul beast series chairs are considered one of the perfect and versatile gaming chairs for your long hours. The sophisticated and elegant design of chairs can easily be suitable for specific preferences & needs, also match every desk and gaming area. A significant key feature of having beast gaming is it gives support to your lower back, head, arms and shoulders. Other features are as follow: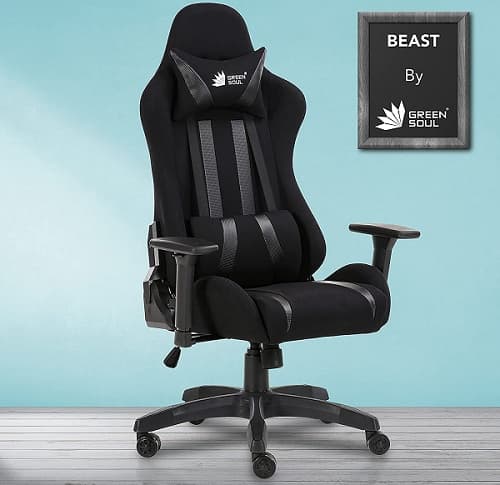 List of Features:
Green soul beast series upgrade your gaming experience. The brand is concerned about the well-being and health of an individual. The Green soul beast series by Green Soul is available in different colours as you can choose as per your preference.
Comfortable Gaming Chair – Now, you can sit for long hours in front of the computer screen to play electronic games by using this chair. The wide armrests and stunning high back will provide ease of sitting with extreme comfort. Every curve body curve will be fit in it. The headrest pillow and high backrest are included with the chair providing support to your spines and neck. As in result, there is no chance of intense pain.
Adjustable and Movable Parts –The Green Soul series has adjustable parts, thus you can adjust or move it as per your height and desk size. Especially the height of the chair, the armrests, the backpressure and the backrest work according to your convenience. Additionally, it has three dimensions include height adjustments, angle adjustments and forth-back adjustments for your armrests.
Amazing Colour Choice – The attractive four different colour options offer you the ability to choose an adequate colour for your gaming setup. Whether you prefer a blue, green, red or aesthetic black colour theme, Green soul offers four incredible colour options to fulfil your desire.
Three-Years Warranty – The manufacturer is offering a three-years of warranty from the date of purchase regarding any issue with hydraulics and wheel movement. Assembly is also offered only in case of request.
Breathable Material –With the help of top quality breathable material, sitting for long hours will be easier. You are not going to sweat even after sitting for more than 4 hours straight on this chair.In simple words, the comfort rate will be double, and you can get the best of both worlds with such a premium material.
These are the key features that you can avail of by choosing a green soul beast gaming chair. You can find many more attractive things about this gaming chair.
Pros:
The build quality feels incredibly good.
The in-hand feel is genuine and premium.
Ergonomic design with back and head support for long sitting.
Breathable material ensures a comfortable gaming experience.
Hand rest are adjustable, which allow long gaming hours.
Three years of warranty is good enough to ensure a great purchase.
Cons:
Require a little maintenance and care while cleaning as the fabric collects dust at a faster rate.