One Nation One Ration Card How to Apply Online in 2020 – One of the best scheme launched by the govt. of India for poor is "One Nation One Ration Card" under this scheme the ration card holder can get the grains on subsidies price anywhere in India from the registered FPS shop.
One Nation One Ration Card is announced by the Union Minister Ram Vilas Paswan for the first time in the month of January 2020 where he cleared that the NDA government's ambitious project one nation one ration card scheme will be rolled out to whole country by June 1, 2020 but due to covid-19 (corona virus) it can't happen. While the covid-19 crisis has delayed the process but also made it inevitable.
Under this scheme the ration card holder will get a unique ration card number through which he can get the grains anywhere in India and he doesn't required any other ration card in any state only one ration card will work all over India but still people are confused how to apply for one nation ration card via online mode or offline mode and what is the process and so on and here on this article I am going to tell you how you can get one nation one ration card or what is the procedure to apply one nation one ration card.
One Nation One Ration Card Apply Online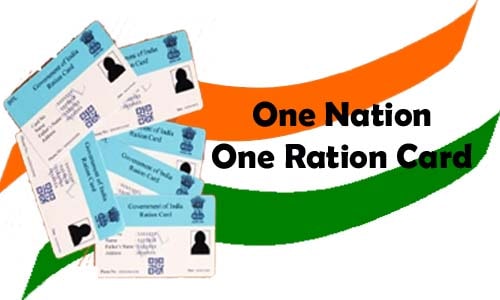 If you already have a ration card and you are in doubt that should you apply for one nation one ration card or not then then answer is no. You don't need to apply for one nation one ration card because on your existing ration card the govt. will issue you a new ration card via which you can get the food grains on subsidies prices.
However if you have not applied for any kind of ration card yet then don't worry you can do it online from the comfort of your home.
Currently you have to apply your state NFSA, EPDS portal i have also shared some examples for your help if you belongs to these steps then you can apply through these websites or find the same in Google.
https://nfs.delhi.gov.in/ (For Delhi)
https://nfsa.up.gov.in/ (For Uttar Pradesh)
http://epds.bihar.gov.in/ (For Bihar)
https://epds.telangana.gov.in/ (For Telangana)
The process of applying for new ration card is different from one state to another state so you have to follow the guidelines mentioned on the respective website, however few general instructions are shared here via following them you can apply for new ration card.
Step 1: Access the official FPS website of your state.
Step 2: Find the option to apply new ration card on the portal
Step 3: Now you have to enter your personal details name, gender age, address etc.
Step 4: Enter the aadhaar card number of all your family members.
Step 5: Now upload family photograph, or passport size photograph of head of family female member only.
Step 6: After filling all the details click on submit button.
Step 7: You will receive the confirmation message on your screen and same will receive on your registered mobile number.
Once the verification process is complete your ration card will be generate and will delivered to your address however some portals providing facility to download ration card online.
Well it was the short and  quick process to apply online for one nation one ration card however if you want to apply via the offline mode then you have to follow the below guidlines.
Here is offline process to apply one nation one ration card 
You have to download the application form from the respective website.
Fill it properly and attach your aadhaar card photo copy.
Paste passport size photograph in it.
Submit it to nearest FPS shop
Hope it helps you if have any query can ask it in below box.