Complete Step by Step Guide on how to Link Aadhar Card with IDBI Bank Account Online & Offline
Aadhaar Card is a 12 digit unique identification (UID) number which is issued by the Government of India to common people of India and now it's become one of the strongest identity proof, address proof & photo identity proof in Indi therefore Govt. of India made it mandatory to link or seed aadhaar card with the bank account and here on this post I am going to tell you how you can link your aadhaar card with bank account online as well as offline. As it's become mandatory to link aadhaar with bank in India and its not possible to share all the bank details on single page however here on this page I am going to share 100% proven and tried method to link aadhaar card with IDBI bank account and I am damn sure you will find it helpful.
What are the method / way to link aadhaar card with IDBI Bank
Well different bank have different options to link aadhaar card with bank but here I am focusing only 2 methods to link aadhaar card to IDBI Bank account.
Link Aadhar to IDBI Online
Link Aadhar to IDBI Offline
How to Link Aadhaar Card with IDBI Bank Account Online with Images
Have you received the message from your bank that link your aadhaar card to bank then here I am going to tell you the best and easiest way to link aadhaar card to IDBI bank. You can easily link your aadhar card with idbi online for this you must have net banking facility if you have not apply for it today. Below I am sharing aadhaar linking process with IDBK bank with images which will surely helps you to understand it easily.
Visit the official Site of IDBI www.idbi.com
Click on the login button as given in below image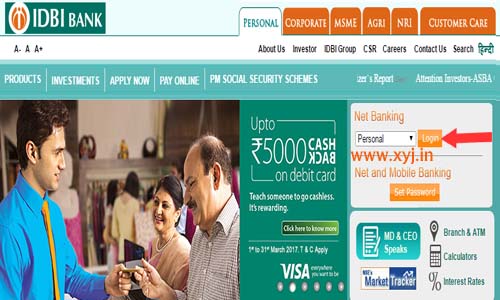 New Popup window will be open click on "Continue to Login" button
Enter your customer ID & password
Now IDBI welcome screen display here you can see "Request" option on right hand side corner click on it.
Now you will see this screen as shown in below image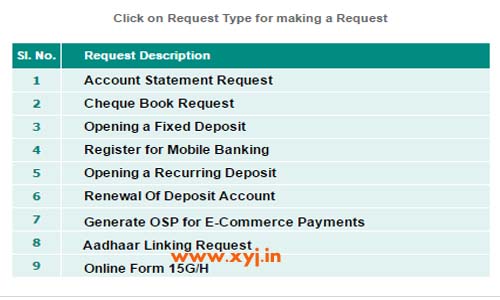 Option 8 is "Aadhaar Linking Request" click on it
Another screen will display where you have to enter your 12 digit "Aadhar Number"
Fill your aadhar number choose account number
click on the box "I hereby authorize to bank to receive my demographic details from UIDAI"
Click on Submit button
Now it will ask you to enter Login ID  & Transaction Password
Fill it accordingly and click on "Confirm" button
Finally you will see confirmation on the screen similar to image as given below.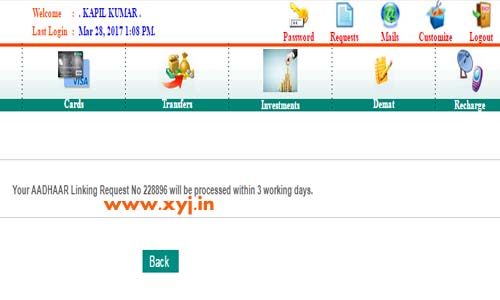 You can check the status is your aadhaar card linked to bank account or not via clicking here??.
How to Link Aadhaar Card with IDBI Bank through Offline Mode
If you have not net banking facility don't worry you can still link aadhaar card to IDBI Bank offline mode for this you need following documents
Original Aadhaar Card
Xerox (Photo Copy) of Aadhar Card
Passbook or Account Number
If you are all set then just follow these steps to link aadhar card to idbi bank offline.
You have to visit the nearest IDBI bank branch
Reach the counter and ask for aadhar seeding / linking form to bank account
Fill it accordingly & attached with photo copy of aadhar with self attested sign
Now submit it to the counter
The official may ask for the original aadhar for verification purpose
Finally they will return it to you and your aadhar will be linked within 3 days to your IDBI bank account
Hope you find it worthful incase have any query ask it via below comment box and will try to answer your query as fast as we can.