How to Type Messages in Hindi on WhatsApp –  a complete online guide for Android & smart phone users in 2021: Communicating in our native or local language is always an amazing experience and full of fun which can't be expressed in any other languages and when it comes to India it become more important as well India has it's own many different languages and in today's post I am going to share a simple, trusted and useful way to type messages in your native language on WhatsApp especially Hindi. As, Hindi is our mother tongue and use by many of Indians so, I have picked up the Hindi Language.
In this post you can see I have shared the step by step guide on how you can type, chat or write messages in Hindi on WhatsApp and can apply the same method for your own native language, the process will work for all.
As the users of Smart & Android phones are increasing day by day and also using varied type of apps in their phone and Wahtsapp is one of those Apps and well popular in India for making voice call, video call etc. all these facility is free of cost from Whatsapp for it's users however you just need a decent internet speed :).
Almost every smart phone and android phone user have WhatsApp in their phone and we sent messages in Hinglish language because most of the users have no good communication skills and don't know what's to do to type messages in Hindi on Whatsapp? Well you don't have to any special thing just have to follow few simple rules and you can easily type in Hindi in WhatsApp using English keyboard.
You just simple have to install an app to type messags in Hindi in WhatsApp. Well, don't go for any distrusted app because our phone is not just for making calls these days some people use net banking and link there phone to several govt. sectors etc. So, recommend to use trusted app to type in Hindi one of the trust app details is shared here and it's really amazing I also using the same app.
You just have to type (हिन्दी मे कैसे लिखें) then simply type in whatsapp chat box"Hindi Me Kaise Likhen"and it will convert it in Hindi font. If you want to type Bharat in Hindi font just type the same in message box and it will turn into Hindi font "भारत " and the best part it's most recommended and trusted app as it's own product of Google.
Download Google Hindi Input App to Type in Hindi on WhatsApp
If you want to know how to type in in Hindi in WhatsApp the best way is download this app. Why so, because i personally using and sharing my own experience with you guys it's best and most recommended app is Google's own "Google Hindi Input App" to download it you simply have to go in playstore and paste or write the "Google Hindi Input App". The app could be download from the given below link as well.
To download Google Hindi Input app click on this blue link "Google Hindi Input"
Activate Google Hindi Input Keyboard in Your Android Phone
As the installation process is pretty easy, and you have successfully installed the app the next is you have to activate it in your android smart phone, and after the activation you are ready to type messages in Hindi on WhatsApp. here is the process to activate the "Google Hindi Input Keyboard"
Go to your phone setting
Choose Language & Input
Click on the box for Google Hindi Input as shown in below image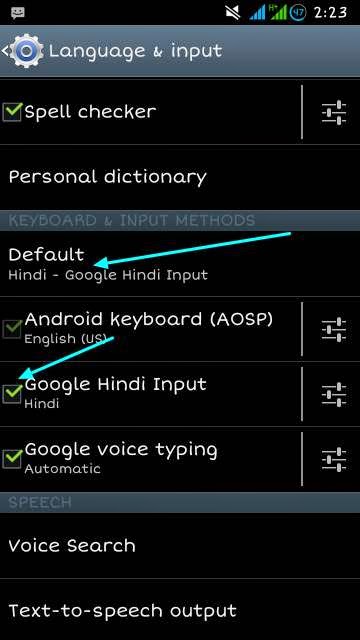 When typing in an input box, long press in the box and select "Input method" in the popup menu, then select "Google Hindi Input".
Typing in Hindi with Google Hindi Input Keyboard
Google Hindi Input has both the options you can use Hindi keyboard or use English keyboard (with transliteration tool).
When typing in an input box, select 'a>अ' to toggle the transliteration mode on/off. If it is off, it will write in English otherwise Hindi. You can also type in Hindi by taping on the Hindi fonts by selecting the globe icon on the keyboard. Press & hold the globe icon to set the default input method.
You may also like: How to Add New Number in WhatsApp?
General FAQ 
Q. Is google hindi input keyboard app is trustworthy?
Ans. The answer of this question is off-course yes, as it's google own product then you can trust on it.
Q. Will it support all company smart phone as well?
Ans. Yes, it will works with all phones but shouldn't be a keypad phone like nokia6030 😀
Q. Is there any other apps as well which I can use to type messages in Hindi on WhatsApp?
Ans. Off course there are numerous option available you can also trust and installed "Quillpad" & "Yahoo Transliteration" as well.