With Kent Zoom Vacuum Cleaner, you can keep around clean and hygienic. Vacuum Cleaner by KENT is considered one of the advanced options, as it has several hi-tech features. The fast and suitable operation of cleaner is ideal for more hygienic sweeping and cleaning. One of the significant key benefits of having this vacuum cleaner is that it can be used to clean various types of floors and surfaces with their varieties of accessories. Some other features are as follow: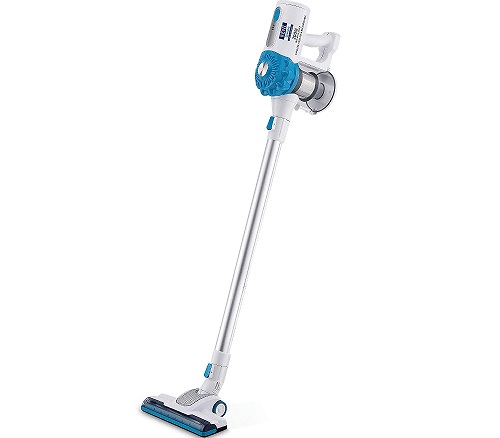 Top Features:
Using Advanced Cyclonic Technology
KENT Zoom is equipped with Advanced Cyclonic Technology. The technology is meant to generate a fast-spinning vortex to eliminate any type and size of dirt & dust particles. Additionally, the technology is best for effective and effortless cleaning.
Cordless Vacuum Cleaner
One of the prominent features of this vacuum cleaner is that its cordless design. The cordless design makes it portable and allows you to carry it anywhere to clean every nook & area of the room. Having long wires in the cleaner can take lots of effort and time too. With KENT Zoom cordless vacuum cleaner, you can experience better cleaning without getting twisted in those long wires.
HEPA Filters
HEPA filters are highly efficient and enable you to catch from large to tiny particles. Even, these filters are safe to clean & easy to maintain. With lower dirt elimination, these filters reduce air pollution inside the room. KENT Vacuum Cleaner with HEPA filters offer dust-free areas and makes your surrounding more hygienic and safe.
Charging Option
Having cordless features make it safe and prevent the risk of incidents. This cleaner can be easy to charge when taken into use. It can operate for at least 30 minutes once fully charged. Hence, it ensures one-time cleaning of your house thoroughly.If you want it to be fully charged, then leave it to charge for 4 or 5 hours.
Bag-less
Traditionally used cleaners usually come with bags or bins. But today, the technology has changed; most vacuum cleaners are equipped without a bag. One major benefit of having this vacuum cleaner is that its bagless design reduces any hassle with filtration bags. Thus, you can save a lot of effort and time on cleaning bags.
Tools & Accessories
Zoom Vacuum Cleaner from KENT is used for the various cleaning task. This is because it comes with a wide range of cleaning tools or accessories. Some topmost accessories are handy fold operation, multi-nozzle operation & motorize floor brush operation. With the help of these different accessories, you can clean all types of floors & surfaces, such as sofas, beddings, curtains and carpets.
Pros:
Vacuum Cleaner from KENT Zoom makes your cleaning days easy and hassle-free.
This bagless machine is highly efficient and best for long-lasting use.
It is equipped with advanced cyclonic technology.
The combination of white & blue colour makes it elegant and attractive.
It comes with different cleaning accessories which allow you to perform various cleaning tasks.
Cons:
Vacuum Cleaner is a bit expensive.