Bangalore had long served as the center of the information technology industry. The government had to ensure that healthcare was on par with the top states in India due to the large number of migrants and the fast rise in population. With this, the healthcare sector also kicked out its development. In Bangalore, numerous hospitals have opened, and several others have already undergone technological upgrades.
Top 7 Most Popular Hospitals in Bangalore 2023
1. Manipal Hospital, Bangalore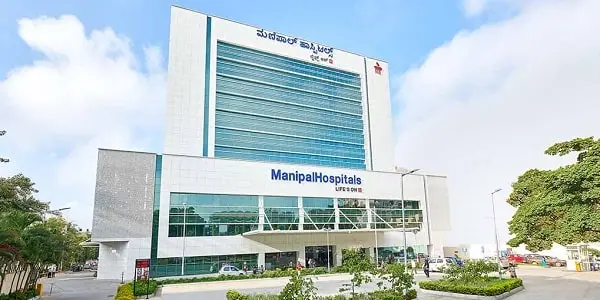 One of the top tertiary healthcare facilities in India, Manipal Hospital serves both Indian and foreign patients. Best-in-class services are provided by Manipal Hospital, together with cutting-edge technology equipment. Manipal Hospital, known for its patient-centered philosophy, features several centers of excellence, including cancer care, emergency care, cardiology, urology, nephrology, orthopedics, etc. Additionally, the Hospital's campus is equipped with cutting-edge technology.
Address: 98, HAL Old Airport Rd, Kodihalli, Bengaluru, Karnataka 560017
2. Fortis Hospital, Bangalore
Fortis Hospital is one of the most reputed care brands in Bangalore, providing the best-class services and highly qualified and experienced doctors. It is known to be a trusted institute for patient care and medical facilities. Fortis Hospital Bannerghatta Road led to a multi-specialist offering 276 bedded tertiary care facilities, which began in 2006. With this, the Hospital uses cutting-edge technology and offers enormous facilities and services.
Address: 154 9, Bannerghatta Main Rd, opposite IIM, Sahyadri Layout, Bilekahalli, Bengaluru, Karnataka 560076
3. Columbia Asia Referral Hospital, Yeshwanthpur
The Columbia Asia Referral Hospital, Yeshwanthpur in Bangalore, is a fantastic option if you're seeking comprehensive and high-quality medical services under one roof. The Yeshwanthpur branch of the worldwide network of hospitals boasts top-notch amenities that meet international standards.
It has a 24X7 ambulance facility, full-service diagnostic and laboratory resources, well-furnished operating rooms, and completely stocked ICUs. It has primary super-specialized treatments, international recognition, and various health plans to accommodate multiple needs.
Address: 26/4, Brigade Gateway, Beside Metro, Malleswaram West, Bangalore – 560 055
4. Apollo Hospital
Apollo Hospital is the most comprehensive healthcare hospital accredited by NABH and NABL. Since its founding in 2007, the Hospital has committed to investing in cutting-edge equipment to ensure its patients receive the finest care possible.
To guarantee the most significant outcomes for patients, the Hospital also incorporates Care and Protocol Pathway-based therapy approaches. It is regarded as the first Hospital in the area to utilize a Y-shaped stent to treat tracheoesophageal fistulas. It has 150 beds.
Address: # 21/2 (Old No.2), 14th Cross, 3rd Block, Jayanagar, Bangalore, Karnataka, 560011, India
5. Hosmat Hospital, Magrath Road
In Bengaluru, a well-known joint replacement center with the newest technology has carved out a niche on its own, not only within Asia but also in India. Hosmat is a unique hospital that offers services exclusively for treating accident-trauma, orthopedic & neurological issues and investigates the field of sports medicine thanks to the vision as well as initiative of Dr. Thomas A Chandy. It has 350 beds.
Address: Hosmat Hospital, #45 Magrath Road, Off Richmond Road, Bangalore – 560 025 INDIA
6. Aster CMI, Hebbal
Aster CMI offers top-notch care and treatment for patients with other ailments, not simply neurological disorders. However, the Aster CMI hospital has a distinct but focused area for those with nervous system diseases.
Both NABH and NABL have certified this facility. Numerous critically ill patients can be managed at once thanks to the infrastructure's modern design and strength. Additionally, surgical and medical facilities are available to treat patients properly. Nevertheless, this Hospital has a total bed capacity of about 500.
Address: No. 43/2, New Airport Road NH 7, Dr Puneeth Rajkumar Rd, Sahakar Nagar, Bengaluru, Karnataka 560092
7. Victoria Hospital
When she was the Maharani Regent of Mysore in 1897, Her Highness Kempananjammani Avaru constructed Victoria Hospital. The Hospital was started to mark the end of Queen Victoria's 60-year reign. It is a multi-specialty hospital that provides for all its patients' needs. For all divisions, the Hospital offers top-notch emergency medical services.
The Hospital offers the most outstanding and affordable medical care in specialties, including dermatology, orthopedics, etc. The service provides for all kinds of emergencies. The medical team shows concern and care.
Facilities like a working laboratory are open 24 hours a day, such as a well-equipped operating room, an X-ray department, and numerous others. There are various wards to accommodate patients with multiple budgets. It has a unique burn patients' ward with 50 beds. It has several government health programs that are accessible to those in need.
Address: Victoria Hospital, City Market, Bangalore -560 002
Reference links
https://listmyclinic.com/top-10-best-hospitals-in-bangalore/
https://www.medifee.com/list/best-hospitals-bangalore
https://www.nirujahealthtech.com/14-best-hospitals-from-bangalore/