Menstrual cups are proven to be one of the best options for women. If you are looking for a safe option, then you should opt for the PeeSafe Menstrual Cup. It is not just safe for the women using it, but also for the environment as well. The menstrual cup is made using 100 percent safe and medical-grade silicone material. That means, it is eco-friendly and free from all chemicals as well.
You will be able to use one single cup for at least five years and that is a very good thing about PeeSafe menstrual cup. The capacity of the cup is 20 ml. That means, it can collect up to 20 ml in one go, and on average a woman does not bleed more than 20 ml in a day. But if you think you bleed too much, then you can check after five hours. It is easy to wash and use again without any worries even if you are outside. It is a leaf-proof design and hence you need not have to worry for the next 12 hours. It is good to remove the cup once at least after 12 hours.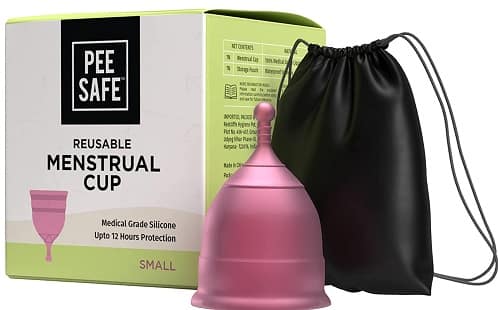 You will need just some hot water for sterilizing the menstrual cup. You can boil it for three to five minutes and you are done. You need to sterilize it once you are done with that month. It can be boiled in your microwave oven as well.
Features:
One of the best and most important features that every woman needs is a wide range of sizes to choose from. They are available in three different sizes like large, small, and extra small as well.
The dimensions of the silicone cup are 4.2 cm X 4.2 cm X 7 cm.
You will be able to wash the menstrual cup and reuse it the next month during the menstrual cycle. That means, they are economical and will save you a lot of money.
The menstrual odor, rashes, dryness, irritation, and itching that are caused while using sanitary pads or cloth are not seen with the menstrual cups.
The shape of the cup is made perfectly so that there will not be any sort of discomfort while placing it or while removing it.
It is an FDA-approved product and so you can use it without any worries. It does not cause any harm.
Pros:
It is a very economical option and saves you a lot of money.
The material used in the making is very safe.
It can be cleaned easily and carried along with you anywhere in your bag.
It comes with a small pouch for carrying the cup.
It is a good alternative for cloth and sanitary pads in many ways.
The cup can collect up to 20 ml of blood and that is pretty enough for most women.
Cons:
The tip or the tail of the menstrual cup should be a bit longer for easy removal.