Get complete information about Rajkiya Pratibha Vikas Vidyalaya (RPVV) 2016-17 which includes admission form, admission process, admission or registration fee, eligibility criteria, entrance test, admission date and list of RPVV Schools in Delhi. All those parents or students who are interested to admission in Rajkiya Pratibha Vikas Vidyalaya (RPVV) Delhi in 2016-17 this is the perfect page because here on this page I am going to share detail information related to RPVV admission in 2016-17 step by step.
Rajkiya Pratibha Vikas Vidyalaya 2016-17 Admission Form
Most of the students are unable to find the RPVV 2016-17 admission form through the official website of www.edudel.nic.in however they get it from some reference website but still have doubt in mind that is it correct or incorrect form but not to worry I have pasted the official link of edudel website from where you can download the application form.
To download the admission form click on: http://www.edudel.nic.in/upload_2015_16/13_dt_28032016.pdf
Applicants may contact respective RPVVs as mentioned in the official notification or on the form on all working days for any clarification / availability of seats / medium of instructions / submission of registration forms etc.
Please fill the form accordingly after submitting the application form you will receive a registration number which will used during the admission process, please do provide your correct contact and genuine details because you may be contact on the same.
How to Apply for Rajkiya Pratibha Vikas Vidyalaya 2016-17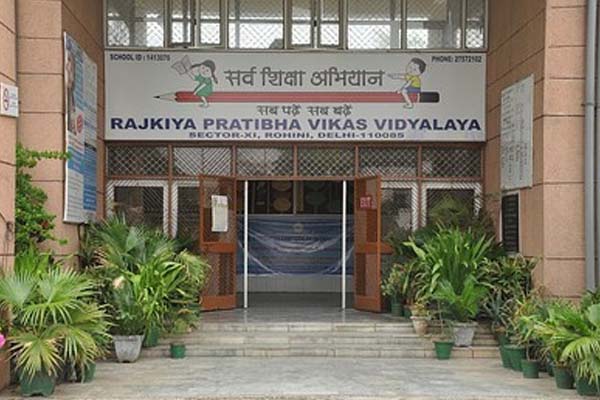 All those students who are interested to take admission in Rajkiya Pratibha Vikas Vidyalaya have to fill the form accordingly which link is given above and have to submit it in nearest "Rajkiya Pratibha Vikas Vidyalaya" which list is given at the bottom of this article.
What is Eligibility Criteria for Rajkiya Pratibha Vikas Vidyalaya Admission?
Before you fill the form please have a glance on the eligibility criteria because if you are not eligible you can't apply or it's waste of time below is the eligibility criteria for admission in RPVV 2016-17 for class 6th & 9th students.
Only those candidates can apply those who have studied at least two years in any one school among Delhi Government Schools / Government Funded Schools / MCD Schools / NDMC Schools / Delhi Cantonment Schools.
Candidate applying for admission must have scored at least 60% marks in the preceding classes.
Candidates want admission in Class VI and Class IX.
What is the Registration or Admission Fee for RPVV Admission?
Yes, there is admission charges for class 9th (IX) students only class 6 students are waive of the entrance test fee. While you submitting the form in nearest school you have to submit an amount of Rs. 25 in cash as Entrance Test and these Rs.25 is Non refundable.
After submitting fee and form you will be receive registration number by the concerned RPVV. If any discrepancy found in respect of documents submitted or false information submitted by the candidate at any stage/level, his/her candidature/admission in RPVV will be summarily rejected in respect of candidate without any notice.
Entrance Test
The admission to candidate will be given on the basis of score in the entrance test. Each and every candidate is required to appear for the entrance test which is to be held on April 16, 2016. The RPVV Admission Result 2016 of the entrance test will be declared on April 22, 2016. RPVV Admission Entrance Test Result will also be available in edudel.nic.in.
Selection Process in Rajkiya Pratibha Vikas Vidyalaya
The selection of candidate in RPVV done on the basis of the marks obtain by the candidate in entrance test and the date of entrance test is April 16, 2016 and it will start early in the morning at 10 am and continue till 12.30 am. The final selection of candidate will be done on the basis of Common Merit list.
Rajkiya Pratibha Vikas Vidyalaya Result & Merit List Date
As per the official notification the result of Rajkiya Pratibha Vikas Vidyalaya will be declared on 22nd April, 2016. Selection will be on common merit of Entrance Test of respective RPVV. Once the result is announce you can see the result on school notification or can check it online as well from here: "Click Here to See Result"
List of Schools under Rajkiya Pratibha Vikas Vidyalaya (RPVV)
1. Civil Lines, Delhi – 110054.
2. Sector-10, Dwarka, New Delhi – 110075.
3. Gandhi Nagar, Delhi – 110031.
4. BE-Block, Hari Nagar, Maya Puri Road, New Delhi – 110064.
5. Nai Basti, Kishan Ganj, Delhi – 110007.
6. Krishna Markey, Lajpat Nagar, New Delhi -110024.
7. Tyagraj Nagar, Lodhi Road, New Delhi – 110003.
8. Plot No. 1, Link Road, Karol Bagh,New Delhi -110005.
9. D-1, Nand Nagari, Delhi -110093.
10. A-10, Pocket-5, Narela, New Delhi -110040.
11. A-6, Paschim Vihar, New Delhi – 110063.
12. Raj Niwas Marg, Delhi -110054.
13. Sector-11, Rohini, Delhi -110085.
14. BT-Block, Shalimar Bagh, New Delhi -110088.
15. Surajmal Vihar, Delhi -110092.
16. B-1, Vasant Kunj, New Delhi -110070.
17. B-Block, Yamuna Vihar, Delhi -110053.
Important Dates to Remember Related to Rajkiya Pratibha Vikas Vidyalaya (RPVV) 2016-17
| | | |
| --- | --- | --- |
| S.No. | Details of Events | Date and Time |
| 1 | Submission of Registration form along with necessary documents | 01.04.2016 to 11.04.2016 |
| 2 | Date of Entrance Test | 16.04.2016 (10 am to 12:30 pm) |
| 3 | Declaration of Result | 22.04.2016 (at 2 pm) |
| 4 | Date and Time of draw, if required | 23.04.2016 (9 am) |
| 5 | Admission Process | Details will be provided by the Head of respective RPVVs at the time of declaration of results |
Hope you got the answer of all your query if I missed anything or I should add something in this list you can suggest my via your comment in below mentioned box.