Are you looking for the leading or best air cooler brands to beat the heat this year and coming years? Then this page can help you to short out the list of best leading air cooler brands in India as most of the people looking for the air cooler under Rs. 6,000-Rs.10,000 so it is quite difficult for me to describe about all cooler brands with price and detail specification here because every brand have launched several air cooler with latest features.
That's why here on this page I am just going to share the name list of best air cooler brands with you because under Rs. 10,000 air cooler can fulfill your requirements. In any case if you planned to buy air cooler around Rs. 15,000-Rs.20,000 then I personally recommend you to choose best air conditioner brands in this budget otherwise cooler is better for you.
So, without anymore delay here is the list of top 10 best leading air conditioner brands in India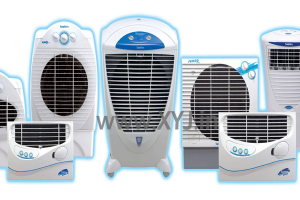 Symphony
Khaitan
Bajaj
Usha
Crompton Greaves
Kenstar
Ram Coolers
Maharaja Whiteline
McCoy
Orient
Now, you have name list of branded air coolers of India. You can opt out any of these air coolers but the name of the brand is not enough while you go to buy air coolers you have to remember few common things before buying any coolers either these branded air cooler or any local brand which is popular in your area.
Few important things to consider before buying Air Coolers in India
Budget- before going to buy air cooler you must set your budget and check is your choice of air cooler brand is available in your budget or not and then do the needful.
Size of Room- the second thing you should consider that how much area you want to keep cool and choose the air cooler accordingly.
Evaporative vs Portable cooler- Choose which type of cooler you need first (evaporative coolers and portable coolers)
Ice Cube- Can you put ice cube externally to increase the cooling effect?
Voltage- Can your cooler handle voltage fluctuations or have a facility to connect with a stabilizer?
Brands- Go for the trusted and popular brands
Service- Make sure about the service after sale and their centers availability
Use- Can you operate the air cooler by a remote or not?
Humidity Control Feature- Check is humidity control feature is available in your air cooler or not if you are leaving in a humid city.
if you have any idea related to air cooler or any query please fill below comment box.