A home looks incomplete without the presence of a wall clock and usually we think that it's tell us time, but my friends it also remind us the value of time. Wall clocks are the part of our tradition and architectural masterpieces and are one of the silent contributors towards the personality of a space and choosing the best wall clock for such space was not really easy till it was available online.
We all have different budget for all the belongings and when it comes to a wall clock different people have different budget to keep this thing in mind here on this page I have share the list of best wall clocks under rs. 200 in India which are available online. however you can go for higher budget as well but this post is made for all those commoners who have very limited budget and they want to order a best wall clock brand online under 200 rupees in India.
You can place these wall to your home, office, living room, drawing room or whatever the best place is for your watch in your home or office it's up to you.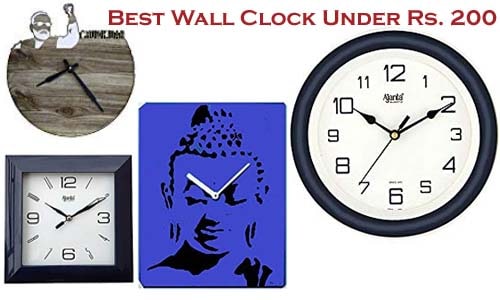 Ajanta Quartz Office Clock
Ajanta is a well known and popular brand when it comes to watch either it's a wrist watch or a wall clock as the company offered different type of watches in different price range however it's come online as well and it will fit your budget of rupees 200.
The Ajanta India Limited has been delivering top-notch reliable products since its inception. This oval shape ajanta wall clock is high on demand and it has numerous reviews of customers which show how popular this watch is. You can fix it on your wall of office or home as per your choice as it's blue and white color combination looks really awesome which will fit perfectly to your wall.
If someone in your family whose eye sight is week, then you must go for this as it has large display numbers which one can see easily. The size of the wall is 214 x 44 x 215 mm.
The Good
Popular brand
Affordable price
Good customer reviews
High quality material is used
Light in weight
Awesome color combination
Perfect look
The Bad
Customers have deliver issues
Small in size so must check the size of the watch before ordering however it's serve the purpose.
Ajanta Plastic Wall Clock
Another most seller wall clock online under Rs. 200 is also from Ajanta. As it's doesn't required any more introduction as it has own reputation and a common man also know about the company or have heard about it. Ajanta is a Indian watch manufacturing company and if you are one of those who want to buy the India products then it's for you.
The material in this watch is high quality of plastic and color of the watch is black the dimension of the watch is very important as some people have complaint about the size so must check it before ordering the size of this watch is 175 cm x 175 cm x 35 cm.
The material of transparent face is made of glass of watch and the frame is made of plastic and ideal item for your living room, bedroom, kitchen and office.
The Good
Excellent performance
Smooth and premium finish
Simple and attractive design
Needle of the watch is really great
Available in Black & Blue color
Great value for the price
The Bad
For few customers size issues
Ajanta Plastic Wall Clock
As said Ajanta doesn't required any introduction the thing you have to check is either it's fit in your budget or not instead of this the 2nd thing is that, is the provided design looks well on your wall or not well this one is the latest design of Ajanta which now available under this budget you can go for it if you really need a reliable and trust brand like Ajanta.
Features:
Material: Plastic

Color: Silver

Shape: Oval

Package Contents: 1 Wall Clock and 1 AA Battery

Item Size: 245 cm x 205 cm x 40 cm

Tick tock clock (not silent)
The Good
Attractive design
Satisfied customers
Under budget
Oval Shap
Available in 3 different color as well
The Bad
Consumer have delivery issues only
Ajanta Plastic Round Wall Clock (20.5 cm x 20.5 cm x 3.5 cm, Pink)
Buy From Amazon
Color and look of this Ajanta wall clock is really awesome which attract the online shoppers to buy it. The display number of the watch is really very clear and can be view from a decent distance as well. This watch is made of plastic and light in weight.
The God
Material: Plastic

Color: Pink

Shape: Round

Package Contents: 1 Wall Clock and 1 AA Battery

Item Size: 20.5 cm x 20.5 cm x 3.5 cm

Step Movement

Ideal for living room, bedroom, kitchen and offices
The Bad
People got other color of watch
Ajanta Plastic Wall Clock (20.5 cm x 20.5 cm x 3.5 cm, Blue)
Well there are so many designs available online on Amazon of Ajanta Wall Clock Online but here i have listed the best and popular under rs. 200, as already given the introduction of company above wall clocks so here just sharing its features of good and bad.
The Good
Material: Plastic

Color: Blue

Package Contents: 1 Wall Clock and 1 AA Battery

Item Size: 20.5 cm x 20.5 cm x 3.5 cm

Step Movement

Ideal for living room, bedroom, kitchen and offices

Large display numbers
Perfect color combination
Perfect for small room, office and kitchen
Value for the money
The Bad
Small in size but still serves the purpose
AGOY DESIGNS Buddha Open face Handpainted and Handcrafted MDF Wooden Wall Clock
If you wants to give some spiritual looks to your room or space then it's an ideal lord buddha wall clock for you. It is made of MDF Wooden material and MDF wood 0.4 cms thickness. The hand painted on MDF wood and it's handcrafted item you can say.
The Good
Material : MDF Wooden

Wall Clock

Handpainted and Handcrafted

Size: 22*27CMS
10 Days Returnable
Spiritual view
The Bad
Tribalculture Studio Acrylic Wooden Narendra Modi Wall Clock
If you are a fan or supporter of Shri Narendra Modi then this watch is for you and it's acrylic wooden plastic & fibre material is used to made this watch which lasts for long. The durability of watch is great due to it's material the dimension of watch is as follows 15x15x7 IN and it comes with a manufacturing and defect replacement warranty of 6 months.
The Good
Latest Design
Acrylic Wooden Material
Mix of Fibre Material
Long Lasting
6 Months of Warranty
The Bad
Not a popular brand
Difficult to recognize time for some people as no display number in watch
AKV Bazaar Happy Valentine's Day Round Wall Clock
May be you have not expected such a lovely design watch under this budget the color and the design of the watch is awesome and the best thing is that available in your budget at the moment.
However the AKV is new brand so it's difficult for some people to go with it but we recommend you to go without any second thought as the price is really low and you can give a try to this new brand wall clock.
Features
PACKAGE CONTENT: 1 Round Shape Wall Clock and 1 AA Battery | DIMENSION: 9 inches

Take 1 AA Battery (Not Included) Type: Wall Clock (Without Glass) Shape: Round, Package weight: 0.300 kg

MATERIAL: Premium quality MDF wood material is very consistent throughout, so cut edges appear smooth and won't have voids or splinters

THE BEST VALENTINE GIFT for Your Loved One! let your Boyfriend/Girlfriend/Husband/Wife know how much you love them with beautiful gift of Wall Clock , Made In India product; Color & Print will never fade away as the design is digitally printed ; Cute and loving designs will surely make your Husband/Wife remind of the beautiful relationship that you share ; A memorable Valentine Day Gift, Anniversary Gift, Birthday Gift, Wedding Gift
Soumya Plastic Analog Wall Clock
A simple sobur wall clock under 200 rs online in India from Soumya. Product quality is really good and size of the wall is 25 cm X 25 cm x 3 cm. Plastic material is used to made this watch and a step movement wall clock. It's a classy look watch and available in 2 different color pink and blue a worth buying product.
The Good
Classy look
Large display numbers
Perfect size
Looks better than image
Quality of the product is good
High quality material used.
The Bad
Marshal Quartz Analog Wall Clock
The Saffron and white color wall clock from Marshal the look and design of the watch is good. high quality of plastic material is used to made it. Marshal is not a very popular brand at the moment however its still delivering good quality of watches to it's consumer and providing maximum customer sanctification.
The Good
Quartz Analog Wall Clock
Color combination
Design
Large display numbers
Affordable price
Perfect size

Ideal for the Home, Office, Living Room,Bedroom,Dining Room,Hallway,Kitchen,Cafe,Hotel and / or Bar
The Bad
Some other wall clocks under 200 rupees online in India
Well it was the list of best wall clock (watch) in India under the budget of Rs. 200 online, you can browse any of them for your home, office, drawing room, living room or kitchen etc. as per your need. We will update the more item soon time to time so stay in touch with BestExpert.in.