Recently I have published that how you can register for the Zee TV The Cookery Show Online now here on this page I am going to tell you how you can register via making a call through your phone or via sending a simple sms or just give your details to "ChaiTali".
This facility is just started to keep in mind that few people are not so tech savvy and can register with their mobile via making call on Zee TV Cookery Show contact number or via sending the sms in below mentioned number in the format mentioned below. So, if you don't know what is the sms, contact number of Zee TV The Cookery Show don't need to worry here I have updated everything for you.
What is Contact Number of Zee TV The Cookery Show?
As I said you can register via making call on the provided number for Zee TV Cookery show here: 9920013126
Call on this number: 9920013126
What is the SMS Number to Register for The Cookery Show?
You have to send the SMS on 57575 as mentioned in below format.
Type "COOK" in message box and simply send it to 57575 that's it. Charges for sending sms on the provided number are applicable.
If you have any query regarding the audition or the show you can contact the "CHAITALI" on following number:
Contact Chaitali – 07506706857
ZEE TV The Cookery Show Image / Photo / Pic

For a quick glance on the said information have a glance on this image.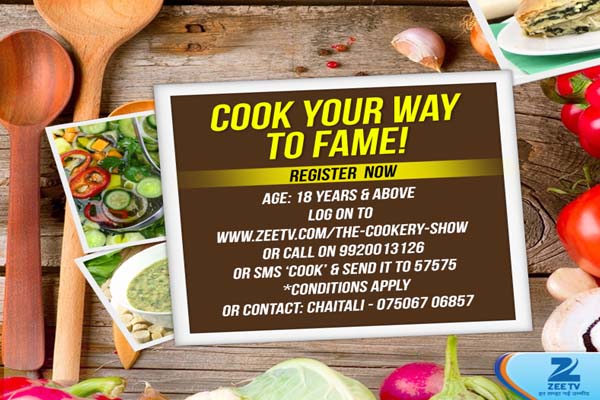 You can read the detail term and condition regarding the show on the official site of ZEE TV or just click here "The Cookery Show Term & Conditions".