Here is the Reason why we should use Indian / Swadeshi Products and complete list of Swadeshi Products & companies in India.
Give priority to Indian products because our little effort will make a big difference. There are several Indian or swadeshi products for daily use which I have listed below. Why So? Because I was reading an article online today and found that in 1970 $1 was equal to Rs. 4 ($1 =Rs.4) and today it's around Rs. 70 ($1= Rs.70).
So you can see yourself that in
1970 $1 = Rs.4
2019 $1 = Rs. 70
In future it may be grow more.
Above mentioned graph of $ doesn't mean that dollar is getting stronger instead of this our rupee is getting feeble and only we Indian can make our Rupee stronger.  How we can make our economy or Rupee stronger? The answer is quite simple via using Swadeshi products or give preference to our Indian products it will help lot to make our rupee stronger. Below is the list of Swadeshi daily use products and one can easily participate in it to make our Indian Economy stronger.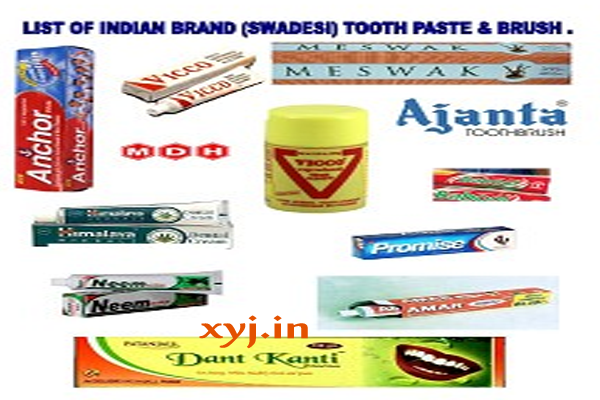 Image Credit: MouthShut
Comprehensive List of Swadeshi or Indian Products
Swadeshi/Indian Cold Drinks: Kalimark Bovonto, Rose Drink(Sherbat), Badam Drink, Milk, Lassi, Curd, yoghurt, Chaach, Juice, Lemonade(Nimbu Paani), Coconut Water(Naariyal Paani), Shakes, Jaljeera, Thandai, Roohafza (Hamdard), Rasna, Frooti, Godrej Jumpin, etc
Foreign Cold Drinks: Coca Cola(Coke, Fanta, Sprite, Thumbsup, Limca, Goldpat), Pepsi(Lehar, 7up, Mirinda, Slice)
Swadeshi/Indian Soap: Himalaya, Mysoor Sandal, Cinthol, Santoor,Medimix, Neem, Godrej, Patanjali(Kesh Kanti), Wipro, Park Avenue, Swatik, Ayur Herbal, Kesh Nikhar, Hair & Care, Dabur Vatika, Bajaj, Nyle.
Foreign Soap: Palmolive, HUL(Lux, Clinic, Sunsilk, Revlon, Lakme), Proctar & Gamble(Pantent, Medicare), Ponds, Old Spice, Shower to Shower, Head & Shoulders, Johnson Baby, Vivel.
Swadeshi/Indian Toothpaste: Neem, babool, vicco, dabur, Vico Bajradanti, MDH, Baidyanath, Gurukul Pharmacy, Choice, Anchor, Meswak, Babool, Promise, Patanjali(Dant Kanti, Dant Manjan).
Foreign Toothpaste: Colgate, Hindustan Uniliver(HUL)(Closeup, Pepsodent, Cibaca), Aquafresh, Amway, Quantum, Oral-B, Forhans.
Swadeshi/Indian Toothbrush: Ajay, Promise, Ajanta, Royal, Classic, Dr. Strock, Monate.
Foreign Toothbrush: Colgate, Closeup, Pepsodent, Oral-B, Aquafresh, Cibaca
Swadeshi/Indian Tea & Coffee: Divya Peya(Patanjali), Tata, Brahmaputra, Aasam, Girnaar, Indian Cafe, M.R.,AVT Tea,  Narasus Coffee, Leo Coffee
Foreign Tea: Lipton(Tiger, Green Label, Yellow Label, Cheers), BrookBond(Red Label, Taj Mahal), Godfrey Philips, Polsan, Goodrick, Sunrise, Nestle, Nescafe.
Swadeshi/Indian Blade: Topaz, Gallant, Supermax, Laser, Esquire, Silver Prince, Premium.
Foreign Balde: Gillete, 70clock, Wilman, Wiltage.
Swadeshi/Indian Shaving Cream: Park Avenue, Premium, Emami, Balsara, Godrej.
Foreign Shaving Cream: Old Spice, Palmolive, Ponds, Gillete, Denim, Nivea.
Swadeshi/Indian Shampoo: Himalaya, Nirma, Velvette
Foreign Shampoo: clinic all clear, sunsilk, head and shoulders, pantene
Swadeshi/Indian Talcum Powder: Santoor, Gokul,Cinthol, Boroplus, Cavin Kare Products
Foreign Talcum Powder: ponds, old spice, johnson,shower
Swadeshi/Indian Milk: Amul, Amulya, Mother Dairy
Foreign Milk: Anikspray, Milkana, Everyday milk, milkmaid
Swadeshi/Indian Mobile Connection: Idea, Airtel, Reliance, Bsnl
Foreign Mobile Connection: Vodafone
Swadeshi/Indian Textiles or Clothes: Raymond, SiyaRam, Bombay Dyeing, S. Kumars, Mafatlal, Garden Vareli, American Swan, Gini & Jony, Globus, Madame, Monte Carlo Fashions Limited, Reliance Retail, RmKV,
Foreign Textiles or Clothes:
Swadeshi/Indian Mobile: Micromax,  Karbonn, Lava
Foreign Mobile: Samsung,Apple, htc, Sony
Swadeshi/Indian Bikes: Hero, Bajaj, TVS BIKES AND AUTO RICKSHAWS
Foreign Bikes: Honda, Yamha
Swadeshi/Indian Footwear: Paragon, Lakhani , Chavda, Khadims, VKC Pride, Lunar Footwear
Foreign Footwear: Nike, Reebok, Adidas,Converse
Swadeshi/Indian Jeans and T-shirts: Spykar, K-lounge
Foreign Jeans and T-shirts: Lee, Levi's,U.s. Polo, pepe, benetton
Swadeshi/Indian GARMENTS: Cambridge, Park Avenue, Bombay Dyeing, Ruf & Tuf, Trigger Jeans, Lakhani, Shreelathers, Khadim, khadi, Action
Foreign GARMENTS: Rangler, Nike, Duke, Adidas, Newport, Puma, Reebok
Swadeshi/Indian Watches: Titan, HMT, Maxima, Prestige, Ajanta, Fasttrack.
Foreign Watches: Baume&Mercier, Bvigari, Chopard, Dior, FranckMuller, Gizard-Perregaux, Hublot, JaquetDroz, LeonHatot, Liadro, Longines, MontBlanc, Mocado, Piaget, Rado, Swarovski, TagHeuer, Ulysse Nardin, Vertu, Swatch, Rolex, Swissco, Seeko.
Swadeshi/Indian Child Food: Honey, Boiled rice, Fruit Juice. Amul, Sagar, Tapan, Milk Care, etc.
Foreign Child Food: Nestle(Lactogen, Cerelac, Nestam, L.P.F, Milkmaid, Eaveryday, Galtco), GlaksoSmithCline(Farex)
Swadeshi/Indian Salt: Tata, Ankur, Saindha namak(Patanjali), Low Sodium & Iron-45 Ankur, Tata, Surya, Tara.
Foreign Salt: Annapurna, Captain Cook(HUL- Hindustan Unilever), Kisan(Brookbond), Pilsbury.
Swadeshi/Indian Icecream: Homemade icecream/coolfi, Amul, Vadilal, Arun Ice Cream, Milk food, etc.
Foreign Icecream: Walls, Quality, Cadbury, Dolps, Baskin & Robins.
Swadeshi/Indian Biscuits: Parle, Sunfeast, Britannia, Tiger, Indana, Amul, Ravalgaon, Bakemens, Creamica, Shagrila, Patanjali(Amla Candy, Bel Candy, Aarogya biscuit).
Foreign Biscuits: Cadbury(Bournvita, 5Star), Lipton, Horlicks, Nutrine, Eclairs.
Swadeshi/Indian Ketchup and Jam: Homemade sauce/ketchup, Indana, Priya, Rasna, Patanjali(Fruit jam, Apple jam, Mix jam).
Foreign Ketchup and Jam: Nestle, BrookBond (Kisaan), Brown and Palson
Swadeshi/Indian Snacks: Bikano Namkeen, Haldiram, Homemade chips, Bikaji, AOne, etc.
Foreign Snacks: Uncle chips, Pepsi(Ruffle, Hastes), FunMunch, etc
Swadeshi/Indian Water: Home-boiled pure water, Ganga, Himalaya, Rail neer, Bisleri.
Foreign Water: Aquafina, Kinley, Beiley, Pure life, Ivian.
Swadeshi/Indian Tonic: Patanjali(Badam Pak, Chyawanprash, Amrit Rasayan, Nutramul)
Foreign Tonic: Boost, Polson, Bournvita, Horlicks, Complan, Spurt, Proteinex.
Swadeshi/Indian Oil: Param Ghee, Amul, Handmade cow ghee, Patanjali(Sarso ka tel)
Foreign Oil: Nestle, ITC, Hindustan Uniliver(HUL)
Swadeshi/Indian Washing: Tata Shudh, Nima, Care, Sahara, Swastik, Vimal, Hipolin, Fena, Sasa, TSeries, Dr. Det, Ghadi, Genteel, Ujala, Ranipal, Nirma, Chamko, Dip
Foreign Washing: HUL(Surf, Rin, Sunlight, Wheel, Okay, Vim), Arial, Check, Henko, Quantum, Amway, Rivil, Woolwash, Robin Blue, Tinapal, Skylark
Swadeshi/Indian Cosmetics: Neem, Borosil, Ayur Emami, Vico, Boroplus, Boroline, Himani Gold, Nyle, Lavender, Hair & Care, Heavens, Cinthol, Glory, Velvet(Baby).
Foreign Cosmetics: HUL(Fair & Lovely, Lakme, Liril, Denim, Revelon), Proctar & Gamble(Clearsil, Cleartone), Ponds, Old Spice, Detol, Charli, Johnson Baby.
Swadeshi/Indian Pen: Camel, Kingson, Sharp, Cello, Natraj, Ambassador, Linc, Montex, Steek, Sangita, Luxor.
Foreign Pen: Parker, Nickleson, Rotomac, Swissair, Add Gel, Ryder, Mitsubishi, Flair, Uniball, Pilot, Rolgold.
Swadeshi/Indian Electronics: Voltas, Videocon, BPL, Onida, IFB, Orpat, Oscar, Salora, ET&T, T-series, Nelco, Weston, Uptron, Keltron, Cosmic, TVS, Godrej, Brown, Bajaj, Usha, Polar, Anchor, Surya, Oriont, Cinni, Tullu, Crompton, Loyds, Blue Star, Voltas, Cool home, Khaitan, Everready, Gee
Foreign Electronics: Samsung, LG, Sony, Hitachi, Haier.
Swadeshi/Indian Computer & Tablets: HCL, MICROMAX, SPICE, Reliance, Carbonn, Amar PC, Chirag
Foreign Computer & Tablets: HP, Compaq, Dell, Microsoft, IPAD, Samsung, Motorola, Sony, LG
Swadeshi/Indian Online Shopping: Flipkart, IndiaPlaza, YeBhi, Myntra,Naaptol, SnapDeal, HomeShop18, bookmyShow, makemytrip, yatra, via, ibibo, cleartrip.
Foreign Online Shopping: ebay, jabong, Amazon, expedia.
Swadeshi/Indian Car: TATA, Mahindra, Hindustan Motors, Maruti
Foreign Car: Suzuki, Hyundai, Chevrolet, Ford , Nissan
I am sure only very few products you were using of Indian Brands because you were not aware about it if you want to make $1=Rs.50 or less in coming years then use the swadeshi products either help to make our rupee weaker it's on you.
I did my part and start buying Indian products as I also was not aware about the Indian brands now your part need to be done share this article and implement in daily life.
None of the Indian products are subordinate in quality, they might look a bit less fancy!!
[Note: If you think I should add more products which I have not updated here and you know about that please share it with us. So that, other can knows about it.]
Tags:
indian products
,
lsit of indian products brands
,
swadeshi products