Best POS Machines in India – The economy in India is revolutionizing and the present period is termed as critical, so if you are a trader and you don't want the chaos for cash to become the hurdle in your way to earn. There are many cashless methods that you can install as part of your business in order to make it not only better option to earn but let the satisfied customers exits from your counter with a smile for alternative payment option.
The most secure way to do an online transaction is through Card Swipe machine if you have ever experienced a trip to western countries, their people use plastic money way as the best transaction method. There are many benefits of using Card Swipe machine or Point of Scale method, you don't have to note down transaction made at it will be part of your monthly bank statement. Card Swipe Machine or POS is the new high demand gadget in the market but people are generally unaware about different companies and the qualities to look for before buying the machine. Don't bother we will help you to choose the best, as the article contains a list of the top 10 Card Swipe machine or POS option available in India with specification and general price range.
Here are the Top 10 Best Card Swipe Machines or POS in India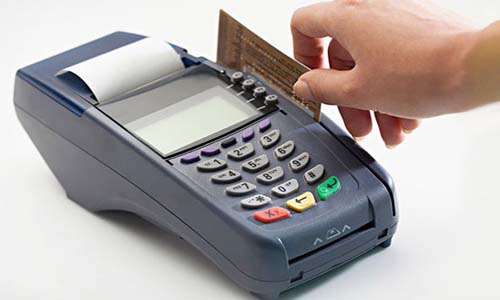 No.10 POS Terminal by Union Bank of India (Annual Fee Applicable)
POS Terminal offered by Union Bank of India stands as one of the best options, there are few things to keep in mind before opting the option. The facility is available only for a merchant with active current account and business with Card over 50,000 per month. EDC Terminal machine requires fixed landline connected or mobile based customers may choose GPRS based machine. There is no hidden charge applicable by bank and facility is also available through EMI. You can use Vantazo for your shop invoice generation.
PAYTM POS (Zero Cost)
Don't want to invest in POS-based bank services or swipe machine than PayTM stands as the perfect choice as the recently mobile wallet company launched POS-based transaction as part of the new mobile app update. Simple process requires to reach the accept payment option and to select from debit/credit card, enter customer name and mobile no. Customer will receive the link through SMS, using the linked payment can be made easily.
Axis Bank Payment Acceptance Solution (Price INR 2,500)
The Payment Acceptance Solution is equipped with an advanced level of security standards for card payment and the most appreciated feature of the service is that it accepts all leading cards as Maestro, Visa, RuPay, Mastercard. Not only this, the advanced feature of the solution helps to accept payment through domestic and international cards. You can keep a track record of the transactions using phone banking and you don't need PIN for below 2,000 transactions.
MPOS by ICICI Merchant Services (INR 10 per Transaction deduct)
ICICI Merchant for more convenience brings the MPOS service that links the MPOS with your phone, all you need is to download MPOS app. Link the MPOS with mobile via Bluetooth and swipe the cards for payments with an ease. The transactions made are secure as there will be no track record in mobile as the code will be encrypted, you will get information officially via customized reports and reconciliation.
SBI POS Terminal (Price INR 500 Installation)
SBI offers various categories of services available as a point of sale option as the different services are termed as PSTN, ECR Based Terminals, Mobile POS, Portable GPRS, NFC Enabled Terminal and Desktop GPRS. The service is obviously useful for the merchant category as it offers a boost in the sale and ensures secure transaction methods.
HDFC Merchant Services (Needs Current Account)
HDFC Merchant Services offers one of the easiest and secured Mobile based Point of Sale (MPOS) that is covered with Electronic Data Capture (EDC) option and helps the customers to pay via credit and debit cards. Secure Card Data Reader linked with Android Mobile and MPOS application in combination will surely work to boom your sale.
Ezetap (Installation cost INR 499)
Ezetap can be called the micro ATM and it turns your Smartphone into the payment terminal with no need for POS or Swiping machines. The service is easier and helps to connect the people in remote areas with multiple services, leading companies as Citibank and Bajaj Allianz approved and appreciated Ezetap services.
Ezee Pay Services (Register for Free)
Ezee Pay is one of the most secure merchant payment methods as installing the consult application helps to transfer money with just entering mobile no and the amount of money.
mSwipe Solution (Setup Fee INR2000-6000) (Monthly Rent INR 350)
The cost-effective solution helps to accept payment with all kinds of debit and credit cards RuPay, VISA, Mastercard and American Express. MSwipe also offers Wise-Pad meets with L1/L2 and PCI PTS security standards. You don't need to open a bank account as the amount will be transferred to your account same day or next working day via NEFT.
01. PayUmoney POS (Price INR 8,500)
PayUmoney offers swiping machines available with easy documentation and with just one canceled cheque and pan card. You can link your POS with current or saving account and there is no minimum balance required for the service.  Wireless connectivity is available with networks as Idea, Vodafone, Airtel, and BSNL.
Hope you find it worthful in case you have any query can ask us via posting your comments in below box and don't forget to share it with your friends and colleagues who are looking for such helpful information.
Also Read