Dubai, the dazzling emirate on the Arabian Peninsula, is renowned for its futuristic skyline, opulent shopping, and extravagant lifestyle. Yet, beyond its glitzy reputation, Dubai holds a treasure trove of family-friendly adventures that come alive in December. With pleasant weather, festive vibes, and a multitude of attractions designed to captivate young hearts, Dubai is the perfect destination for a memorable family vacation during the holiday season.
Dubai in December offers a delightful blend of modernity and tradition, ensuring there's something for everyone, regardless of age. The comfortable winter temperatures make outdoor activities a joy, while the city's iconic landmarks twinkle with festive lights, creating a magical atmosphere that enchants both children and adults.
From exhilarating theme parks like Dubai Parks and Resorts and IMG Worlds of Adventure to the enchanting Dubai Miracle Garden and Dubai Butterfly Garden, there's a kaleidoscope of experiences awaiting your family. Whether you're seeking thrilling adventures, educational outings, or simply a chance to bond amidst breathtaking scenery, Dubai has it all.
In this article, we'll explore the top 10 family attractions that make Dubai a captivating destination for kids in December. Join us on a journey through a city where the wonders of the modern world meet the enchantment of the holiday season, providing the perfect backdrop for a family adventure filled with joy, discovery, and cherished memories.
Dubai Parks and Resorts:
Dubai Parks and Resorts is an epic family destination, with LEGOLAND® Dubai sparking creativity, Motiongate™ Dubai bringing Hollywood magic to life, and Bollywood Parks™ Dubai offering a vibrant cultural experience. Expect thrilling rides, live entertainment, and a world of adventure for your little ones.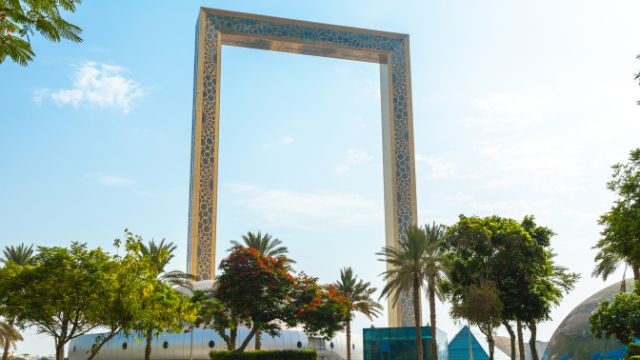 Dubai Aquarium and Underwater Zoo:
Dive into the Dubai Mall's aquatic wonderland. The Dubai Aquarium houses over 140 species of marine life, and the Underwater Zoo lets kids explore creepy-crawlies and fascinating sea creatures. Don't miss the heart-pounding Shark Walk!
IMG Worlds of Adventure:
 Kids' dreams come true at IMG World, where they can meet superheroes, explore Lost Valley – Dinosaur Adventure, and embark on thrilling rides, incredible attractions, and an immersive atmosphere. From superhero encounters to dinosaur adventures, this colossal playground promises endless excitement and entertainment under one massive roof. Get ready for a day of epic adventures!
Dubai Frame
The Dubai Frame, an iconic architectural marvel, offers breathtaking panoramic views of the city's past and present. This massive golden frame structure stands tall, showcasing Dubai's transformation. To make your visit even more appealing, be sure to check out Dubai Frame tickets offers for discounted entry, allowing you to witness the city's history and modernity in one magnificent view.
Wild Wadi Water Park:
Wild Wadi Water Park is a thrilling aquatic oasis nestled in the heart of Dubai. With over 30 exhilarating rides and attractions, it offers non-stop excitement for all ages. From adrenaline-pumping water slides to a lazy river and wave pool, it's the perfect place for family fun. The backdrop of the iconic Burj Al Arab adds to the park's allure. Enjoy a splashing good time under the December sun!
Dubai Desert Safari:
Experience the enchanting Dubai Desert Safari, a thrilling adventure suitable for families. Hop on a camel and traverse the mesmerizing dunes, try sandboarding down sandy slopes, and witness a breathtaking desert sunset. Enjoy a traditional Arabian feast in a Bedouin-style camp, complete with cultural performances. It's an unforgettable desert experience for all ages.
Dubai Miracle Garden:
Dubai Miracle Garden is a floral paradise that dazzles visitors with its breathtaking beauty. Located in the heart of Dubai, it features over 150 million blooming flowers, meticulously arranged in intricate designs and patterns. In December, the garden transforms into a festive wonderland with holiday-themed decorations, making it a magical destination for families to explore and capture vibrant memories amidst a sea of colorful blooms.
Dubai Ice Rink:
Nestled within the Dubai Mall, the Dubai Ice Rink is a thrilling escape from the city's warmth. This Olympic-sized ice rink offers skaters of all ages a chance to glide gracefully or have some icy fun. It's the perfect family activity, complete with music and disco lights, creating a lively atmosphere that children and adults alike can enjoy.
Dubai Fountain Show:
The Dubai Fountain Show is a mesmerizing spectacle set against the backdrop of the iconic Burj Khalifa. Each evening, the synchronized water dance comes to life, gracefully choreographed to music and an array of colorful lights. Families gather along the waterfront to watch the captivating show, making it a magical and unforgettable experience for all ages.
KidZania Dubai:
A world of imaginative play and learning, KidZania Dubai is an indoor city designed for kids. Here, children can try their hands at various professions, from firefighters to doctors, in a safe and engaging environment. It's a place where kids have fun while developing essential life skills, making it a must-visit attraction for families looking to combine education with entertainment during their Dubai adventure.