Dubai, a city synonymous with opulence and innovation, transforms into a captivating winter wonderland during the cooler months. From soaring high above the desert on a hot air balloon to immersing yourself in cinematic adventures at IMG World of Adventure, Dubai offers a plethora of exciting experiences. The Burj Khalifa beckons with its panoramic views, while the Dubai Mall indulges your shopping desires. Aquaventure Waterpark promises aquatic thrills, and the Dubai Fountain Show enchants with its mesmerizing display. Delve into the desert on a safari, explore the blooming Dubai Miracle Garden, or hit the slopes at Ski Dubai. Finally, Dubai Opera adds a touch of culture and sophistication to your winter escapades. These ten best things to do ensure a memorable and diverse Dubai experience in the winter season.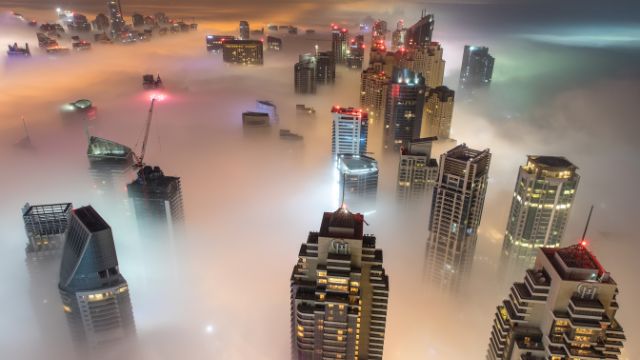 Hot Air Balloon Ride: Soar high above the stunning desert landscapes of Dubai with a hot air balloon Dubai ride—an absolute must on your winter itinerary. Drift gracefully above golden dunes as the sun paints the sky with warm hues. This unique adventure offers a peaceful escape and breathtaking views, making it one of the best things to do during Dubai's winter season. Capture unforgettable moments as you glide through the crisp, cool air, and witness the desert's serene beauty from a whole new perspective – a hot air balloon ride in Dubai is an experience like no other.
IMG World of Adventure: Winter in Dubai isn't just about mild weather; it's also about thrilling indoor adventures. Make sure to book your IMG World tickets for an action-packed day at IMG World of Adventure. Discover larger-than-life rides, meet your favorite superheroes, and immerse yourself in a world of cinematic wonders. With its indoor climate control, IMG World ensures a perfect escape from the cooler temperatures, making it a must-visit attraction for an unforgettable winter experience in Dubai.
Visit the Burj Khalifa: Winter in Dubai brings a unique charm to the Burj Khalifa experience. With milder temperatures and clear skies, the awe-inspiring views from the world's tallest skyscraper become even more spectacular. Booking your tickets in advance is essential to skip the long lines and ascend to the observation deck. From this vantage point, you'll have the opportunity to capture stunning, unobstructed vistas of the city's iconic landmarks, ensuring an unforgettable winter memory in Dubai.
Explore the Dubai Mall: Dubai's winter season brings a delightful opportunity to immerse yourself in the grandeur of the Dubai Mall. With cooler temperatures outside, you can comfortably explore its vast expanse, housing an impressive array of high-end boutiques, electronics stores, and souvenir shops. While you shop, don't miss the chance to savor gourmet cuisine at the mall's diverse restaurants. And when evening falls, witness the captivating Dubai Fountain Show, a spectacular display of water, light, and music, right outside the mall—a perfect way to cap off your winter day in Dubai.
Fun at Aquaventure Waterpark: Embrace the mild Dubai winter at Aquaventure Waterpark. This aquatic paradise at Atlantis, The Palm, offers an exhilarating escape. Plunge into thrilling water slides, float along lazy rivers, or relax at the private beach. The pleasant winter weather enhances the experience, and you can explore the Lost Chambers Aquarium too. It's a fantastic family-friendly outing that combines adventure, relaxation, and marine wonders, making it one of Dubai's top winter attractions. Don't forget to pack your swimwear and sunscreen!
Dubai Fountain Show: One of Dubai's most enchanting winter experiences is witnessing the Dubai Fountain Show. Set against the iconic backdrop of the Burj Khalifa and the Dubai Mall, this captivating spectacle combines water, light, and music into a symphony of elegance. During the winter months, the show becomes even more magical as the cooler evenings set the stage for an awe-inspiring performance. Each evening, the fountains dance to a carefully choreographed routine, reaching heights of up to 500 feet, creating an enchanting play of colors and patterns. It's a mesmerizing way to spend your winter evenings in Dubai, and it's entirely free for spectators.
Desert Safari: Escape the bustling city and embark on a thrilling desert safari adventure during Dubai's winter season. The cooler temperatures make this experience even more enjoyable. As you traverse the golden sands of the Dubai Desert, you can indulge in heart-pounding activities like dune bashing, sandboarding, and camel riding. Witness the breathtaking desert landscape and capture the magic of the setting sun. The grand finale is a traditional Arabian barbecue dinner under a starlit sky at a desert camp, where you can savor local cuisine and immerse yourself in authentic entertainment like belly dancing and henna painting. It's an unforgettable winter adventure in Dubai.
Explore Dubai Miracle Garden: Dubai Miracle Garden is a floral wonderland that truly comes to life during the winter months. Located in the heart of the desert city, this enchanting garden is a visual masterpiece with its stunning displays of vibrant flowers and creative sculptures. Winter's pleasant temperatures provide the perfect climate for a leisurely stroll through the garden's whimsical pathways. Every year, the garden unveils new and intricate designs, making each visit unique. It's not just a paradise for nature lovers and photographers but also an ideal spot for a tranquil escape amidst a sea of colors, making it one of the best things to do in Dubai during winter.
Ski Dubai: Escape the ordinary and experience the extraordinary at Ski Dubai, an indoor winter wonderland nestled within the Mall of the Emirates. Winter in Dubai brings you the unique opportunity to ski or snowboard in the heart of the desert. Whether you're a seasoned pro or a first-timer, Ski Dubai offers a range of slopes suitable for all skill levels. But the adventure doesn't stop there; interact with adorable penguins, ride a chairlift with stunning views, or enjoy snowball fights in this magical snowy oasis. It's the perfect place to savor a taste of winter amidst the city's perpetual sunshine.
Visit Dubai Opera: Dubai Opera offers a cultural oasis amid the city's modern marvels. During the winter season, this iconic venue comes alive with a captivating array of world-class performances. From mesmerizing ballets to enchanting operas, concerts by renowned artists, and theatrical productions, Dubai Opera's winter lineup promises exceptional entertainment. The cooler weather enhances the experience as you can comfortably savor the arts in a luxurious setting. Whether you're a culture enthusiast or seeking a memorable evening out, a visit to Dubai Opera is a must on your winter Dubai itinerary, promising an unforgettable blend of artistry and sophistication.