Singapore is a fantastic destination for families, offering a plethora of family-friendly attractions and activities that are sure to delight kids of all ages. From wildlife adventures to thrilling theme parks and interactive museums, Singapore has it all. In this article, we'll explore the 10 best places to visit in Singapore with kids, including two popular attractions, the Singapore Zoo and Madame Tussauds Singapore.
1. Singapore Zoo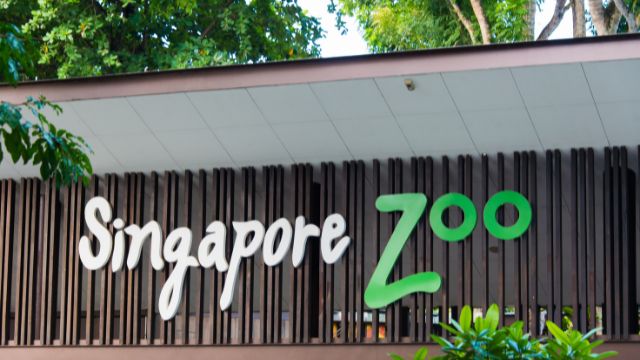 The Singapore Zoo is a world-renowned wildlife park that promises an unforgettable experience for kids and adults alike. It's home to over 2,800 animals from around the globe, representing more than 300 species. What sets this zoo apart is its commitment to providing animals with spacious and natural enclosures, mimicking their native habitats. This design approach creates an educational and enjoyable atmosphere for children to learn about wildlife conservation. Kids can marvel at orangutans swinging through the trees, watch the playful antics of white tigers, and even hand-feed gentle giraffes. To avoid long queues and pass through the crowd swiftly, it is advisable to book your Singapore Zoo Tickets and enjoy a vast array of majestic creatures. The zoo also offers exciting experiences like the Night Safari, where families can embark on a nocturnal adventure to observe animals in their element. It's a place where young explorers can develop a deep appreciation for the diverse creatures that share our planet.
2. Madame Tussauds Singapore
Step into the world of celebrities and icons at Madame Tussauds Singapore. Kids will be thrilled to meet lifelike wax figures of their favorite movie stars, sports heroes, and historical figures. The interactive exhibits, such as the Marvel 4D experience, allow children to get up close and personal with their favorite characters. They can strike a pose with Spider-Man, have a chat with Albert Einstein, or even take a selfie with their musical idols. This attraction engages young minds by making history and pop culture come alive in a tangible and interactive way. It's not just about admiring wax sculptures; it's about creating lasting memories and sparking conversations about the remarkable individuals who have shaped our world. Madame Tussauds Singapore is a place where fantasy and reality seamlessly blend, making it a captivating experience for kids and families.
3. Universal Studios Singapore
For an adrenaline-packed adventure, Universal Studios Singapore is a must-visit. This theme park features numerous thrilling rides and shows, including the famous Transformers 3D ride and the enchanting Shrek 4-D Adventure. Kids will love exploring the various themed zones like Jurassic Park and Ancient Egypt. They can meet beloved characters like Minions and take part in immersive experiences that bring their favorite movies to life. The park is not just about exhilarating rides; it's also a place where creativity and imagination know no bounds. Families can enjoy live entertainment, indulge in delicious treats, and create cherished memories together. Universal Studios Singapore offers an extraordinary blend of excitement and enchantment that will leave kids and parents alike with smiles that last long after the park gates close. It's a world of wonder waiting to be explored.
4. Singapore Science Centre
Make learning fun at the Singapore Science Centre, where kids can engage in hands-on activities and interactive exhibits. The Science Centre offers an exciting blend of science, technology, and innovation, making it a great place for young minds to explore and discover. Kids can conduct fun experiments, learn about the wonders of space, and even witness mesmerizing lightning shows. The center's mission is to ignite a passion for science in young hearts, and it succeeds brilliantly. With a wide range of exhibits catering to various scientific disciplines, from biology to physics, children can satisfy their curiosity and develop a deeper appreciation for the world of science. Whether it's tinkering with robotics or marveling at the mysteries of the human body, the Singapore Science Centre makes learning an adventure that leaves kids eager to explore more.
5. Gardens by the Bay
Gardens by the Bay is a magnificent futuristic garden filled with lush greenery and the stunning Supertree Grove. Kids will be captivated by the towering tree-like structures that light up at night. The Children's Garden offers a water play area and playground, providing hours of entertainment. This remarkable garden not only showcases the beauty of nature but also demonstrates the importance of sustainable living. Families can explore the Flower Dome, home to a diverse collection of plants from around the world, and the Cloud Forest, a mist-filled conservatory that replicates the conditions of a tropical mountain. Gardens by the Bay is a captivating blend of art, science, and nature, providing children with a sensory-rich experience that fosters an appreciation for the environment.
6. Sentosa Island
Sentosa Island is a paradise for families, offering a wide array of attractions and activities. From the Adventure Cove Waterpark to the S.E.A. Aquarium, there's something for everyone. The island also boasts beautiful beaches and scenic cable car rides. Kids can splash in thrilling water slides, interact with marine life, and enjoy thrilling rides and adventures. Sentosa is more than an island; it's a world of entertainment, relaxation, and exploration rolled into one. Families can bond over thrilling escapades or unwind on sandy shores while taking in breathtaking coastal views. With its diverse attractions and stunning landscapes, Sentosa Island is a destination where families can create cherished memories together.
7. Singapore Flyer
Take your kids to new heights with a ride on the Singapore Flyer, one of the world's tallest observation wheels. From this vantage point, you'll get breathtaking panoramic views of the city and the surrounding landscape. It's a great way to introduce your children to the geography and landmarks of Singapore. The Singapore Flyer experience provides a unique opportunity for kids to see their city from a whole new perspective. It's an educational adventure that combines fun and learning, making it an ideal activity for families. The gentle rotation of the Flyer offers a tranquil and scenic escape from the bustling streets below, allowing families to enjoy quality time together while marveling at Singapore's stunning skyline.
8. Jurong Bird Park
The Jurong Bird Park is a bird lover's paradise and a fantastic place for families. With over 400 species of birds, including colorful toucans and majestic eagles, kids can get up close to these fascinating creatures. Don't miss the Lory Loft, where you can feed nectar to friendly lorikeets. The park is not just about observing birds; it's about fostering an appreciation for the beauty and diversity of avian life. Kids can learn about conservation efforts and the vital role birds play in maintaining our ecosystem. The Jurong Bird Park provides an opportunity for families to connect with nature and instill a sense of wonder in children as they witness the incredible world of birds.
9. ArtScience Museum
The ArtScience Museum is an architectural marvel shaped like a lotus flower. Inside, kids can explore a variety of innovative and interactive exhibitions that blend art, science, and technology. It's a place where creativity and curiosity are celebrated. Through its ever-changing exhibitions, the museum offers a platform for kids to explore the intersections of art and science. Whether it's a hands-on experiment, an immersive digital art installation, or a thought-provoking display, the ArtScience Museum encourages children to engage their senses and expand their horizons. It's a destination where families can spark conversations about the role of art and science in our world, inspiring young minds to explore the limitless possibilities of human creativity.
10. Singapore Botanic Gardens
Escape the bustling city and immerse your family in the tranquility of the Singapore Botanic Gardens. This UNESCO World Heritage Site features a vast collection of tropical plants and orchids. It's a great spot for a leisurely family picnic or a scenic nature walk. The Singapore Botanic Gardens provide a serene and educational escape from the urban hustle and bustle. Kids can discover the beauty and diversity of tropical flora, and parents can share their knowledge of botany