Aluminum ladders are most preferred because it is portable and light-weighted. Ladders are indispensable tools in every house. But because of the heavy weight, it becomes impossible to move it conveniently. With the advent of aluminum ladders it is easier and smoother to move or shift things from one place to another hassle-free. These ladders are durable. It will be good to keep these ladders in your home.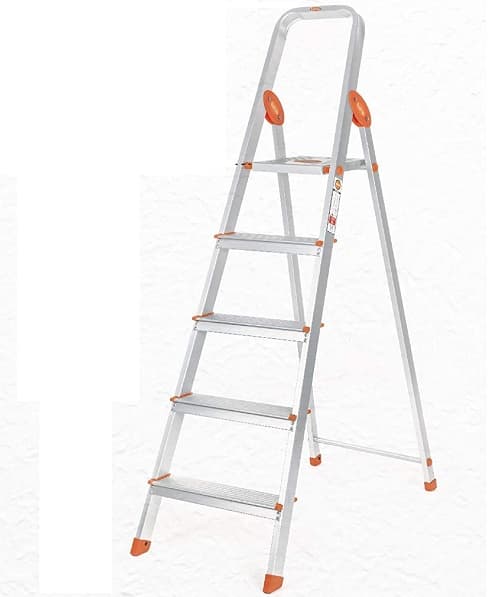 Features:
In this part, you will learn about the top features of the Bathla 5 –step aluminum ladder.
One of the primary features of this foldable ladder is its scratch-resistant quality. It has a powder-coated platform that provides a flat platform to the users. You will never get to see any scratches on the platform of the ladder, even after several uses.
Another critical feature of the Bathla 5- step aluminum ladder is its weather-resistant property. It is manufactured in such a manner that you will never get to see any rust. It has a rust-proof body. It can also withstand any climatic condition. You can keep it outside without bothering about the harsh sun rays and heavy rains. It will never get damaged because of any climatic conditions.
Use of sure-hinge technology:
With the use of Sure Hinge technology, you can experience a stable stand. The double-locking pivotal joints will give you a wobble-free experience which is essential in the true sense. It is with the application of high technology, you can experience something new. This also allows enjoying the product for an extended period.
The ladder also comes with a firm grip. This will help you to keep the product firmly on the floor without the risk of falling or meeting with an accident. Bathla aluminum ladder is something that you will love to use uninterruptedly.
One of the significant features of using the Bathla aluminum ladder is its slip-proof steps. All the steps of the ladder are designed with rows of parallel ridges. This will allow you to go up the ladder without the fear of falling. In other words, the ladder provides maximum safety to the users.
Another fantastic feature of the Bathla aluminum ladder is its long-term warranty. Each part of the ladder is manufactured with the use of high technology. Superior quality materials are used for making the product. Apart from this, the company also provides a five-year warranty for the product. It commences from the date of purchase.
Pros:
Weather-resistant qualities as the ladder are made with HDPE components.
Anti-skid shoes allow the ladder to stand on the floor or any other surface firmly.
The ergonomic design of the ladder helps it to fold the ladder when not in use. This saves space.
Available with arm locks to take heavy loads of people. Dual arms also ensure accessible folding features.
Resistant to corrosion.
Cons:
It would have been better for the users if the ladder had aluminum joints not plastic ones.