Telescopic or Step ladder: Which ladder is best for home use?
It is not always possible to live in a large and spacious room. But it does not mean that you cannot use a ladder.  A ladder is one such tool that can help move high and fix the things in your home. Ladders are of two types. One is the telescopic one, and the other one is the step ladder. The best thing about the telescopic ladder is that you can stretch the ladder's height as per your wish and requirement. On the other part, a step ladder is one whose size is fixed and cannot be stretched under any situation.
What are the benefits of using a telescopic ladder?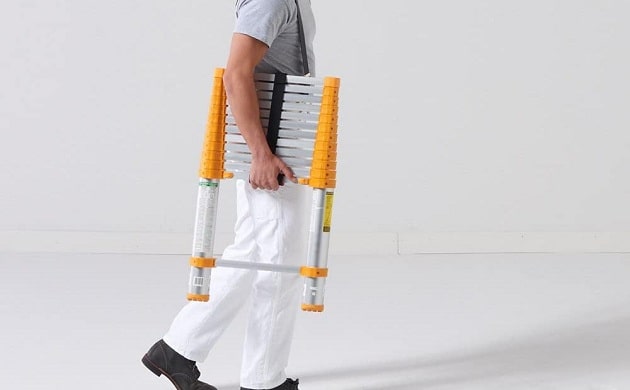 Here you will learn about the benefits of using a telescopic ladder. This discussion will help in understanding the best parts of the ladder. Let us discuss some of the essential points.
One of the essential parts of the telescopic ladder is that you can use it for professional and personal purposes. This is why you can observe these ladders in many working places. They are helpful in bringing down the files stored on the upper shelves.
These ladders are crafted with alloy material. Thus, you can easily fold it when not in use. The folding process is simple and more accessible. Anyone can do it. You need to follow some simple steps for folding the ladder and store it when not required.
The telescopic ladders are anti-slippery. It will never slip even if they are placed on the glossy floors. This can protect you from accidents. Most of the accidents are caused because of ladders. But if you have anti-slippery rubbers, it will prevent you from severe accidents.
The telescopic ladders are weather resistant. Even if you keep it outside the room or house, it will never get rust. It is a corrosion-free product. It is one of the unique features of the ladder.
Telescopic ladders are always light-weighted ones. Because of the products light weight, you can quickly move it from one place to another. It becomes hassle-free for you or the user. This is why most people prefer to use telescopic ladders for their work.
They are also available in various designs and shapes. You can select the suitable one for your work.
Which one is better? Is it the telescopic ones or the step ladders?
Now it must be easier for you to select the right one. Although step ladders have been in use for a long time, most people prefer to use telescopic ones. This is because they come with advanced features and qualities. They can make the process of putting and bringing heavier products in a hassle-free manner.
The introduction of the telescopic ladder has made professional and household works comfortable for the people. With this ladder you can do any household works of lifting or putting things in a hassle-free way. The ladder is compact and nicely designed.
You can use it for daily household works. It is one of the significant parts of the telescopic ladder.