The broom/Jhadu is an essential thing and it is required in every small, medium to large house. Usually we buy grass & coconut broom from the local shop on different prices and the life span of broom is not so good as per the price and other thing is that it left too much dust (Bhusa) and no one like it.
So, what is the solution of this problem and which is the best broom for home cleaning and which broom stick one should buy online? Well I am not going to tell you which one is of high quality and which broom you should buy either online or offline as buying a broom is depends on many things the availability of broom in your area, price for the broom etc.
Here on this page you are going to see some really great broom stick of grass & plastic the life of the broom is good and the price of the broom is really affordable if it comes to your budget and life span of the broom stick.
Now without taking your any more time, I will move to top 5 best broom sticks online in India 2020 for cleaning your home. As multiple options are available online and after searching of several hours on online shopping portals we are enlisting the top 5 best broom online for you and it will be worth buying.
Our Top Picks
List of Top 5 Best Broom Stick Online in India
5 Best Broom/Jhadu Reviews in India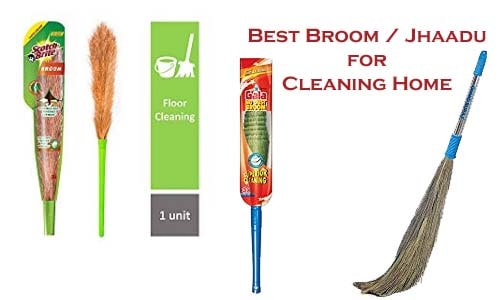 Gala No Dust Floor Broom – Synthetically enginereed bristles
The Gala NoDust broom is the no.1 in the list because of it's quality and best selling broom online on amazon. As most of the new brooms leaves the dust, grass or bhusa but this broom of Gala doesn't leave any kind of dust as it's name makes the thing clear.
The price of the broom is really affordable and it lasts longer 3 times than a regular grass or coconut broom, as it is made of special grass like fibres with over 5000 touch points which deliver superior cleaning performance. This broom is available in 2 sizes 90 cms & 100 cms which is the best height and reach every corner very easily due to it's length.
The best thing about Gala broom is that you can wash it as well but you can't do the same with an ordinary grass broom. Gala has so many positive feedback online and the broom lasts long which makes the customer to buy and recommend this product again and again.
If you tried this brand then you might go with other one the quality of the broom is really great and highly recommended broom stick to buy online.
Things we like
Popular Brand of Broom
It lasts 3 times longer than a regular grass broom
Broom Height- 90 cms
It's made of 5000 touch points which deliver superior cleaning performance
Durable and lasts long
Washable broom
100% Customer satisfication
Buy From Amazon
Scotch-Brite No-Dust Fiber Broom (Multi-Purpose, Green)
The Scotch Brite Broom is best seller broom on amazon. The brand is already well known due to it's best of cleaning tools to ensure you have a clean and hygienic home. Scotch Brite offers wide range of products varying from kitchen utensil scrub pads, kitchen wipes, floor mops, bathroom brushes and wipers ensuring superior solutions for every cleaning need.
All the products are made by the Scotch Brite as extremely of high quality which ensuring that produst last very long. Now comes to this broom of Scotch Brite, Fibre material is used to make this broom stick and the dimension of the product is 1570mm x 150mm x 20mm.
The broom is flexible and reaches every corners and the length of the broom is really good, due to which you have will feel less back strain. The broom stick is water resistant and it has removable handle for use as a duster. Well it has multiple purpose and it works very well.
It is difficult to choose from Gala and Scotch Brite as both are providing the high quality of broom the only difference is price and Scotch brite is also offer other kitchen and home utilities due to which every common man knows about it and the handle of the broom is removable for other purpose.
Things we like
Popular Brand
Removable Handle
Less Back Strain
Water Resistant

Scotch-Brite broom is flexible and reaches corners

Fibre Material
Leaves no dust or bhusa being new broom
Good length of broom
Buy From Amazon
CHAND SURAJ Stainless Steel Stella Eco Friendly Soft Grass Floor Broom Stick
If you are looking traditional soft grass broom with stainless steel handle then Chand Suraj broom is for you. This broom is made of high quality THYSANOLAENA MAXIMA a top quality grass which produces 50% less Bhusa than any other ordinary or natural broom.
The Finest Quality Of Grass Which Is Used Is Flexible, Long Lasting , Fully Biodegradable And Environmentally Responsible. The Broom Measuring 104 Cms Which Is Designed In Such A Manner So That One Can Easily Clean The Floor Without Bending. The Long Length Also Helps In Reaching Out Deep Under The Furniture And Removing The Cobweb (Makri Ka Jala) From Ceilings.Be It Indoor Or Outdoor It Will Clear The Dust From Every Dry Place. Use It In Homes,Office,Shops Or Any Place You Need To It Will Work Everywhere.
As the handle is made of stainless steel and the grass is of high quality which gives it a long lasting durability and strong grip which makes it life longer then ordinary brooms. You can buy it as the price is reasonable and the length of the broom is really great.
Things we like
LESS DUST (BHUSA)

ECO FRIENDLY & BIODEGRADABLE

WIDE REACH

LASTS LONG

GRASS BROOM
STAINLESS STEEL HANDLE
Gala King Kong Grass Floor Broom – Meghalaya Grass – Multicolour
This is the high quality grass broom the length of the broom is really high approx 150 cms which really a good length and you don't have back strain to clean the floor and due to it's length you can clean every corner of the house. The customer feedback for Gala King Kong Grass Floor Broom/jhadu is really good.
Which make sense to another users to buy it. As the customer reviews always matter we must check them before buying any products online.
Things we like
Broom/Jhadu length
High quality grass
High quality plastic handle
Long lasting
Satisfied customers
Buy From Amazon
Star Shine Floor Cleaning Plastic Broom Sticks
The another broom in the list is from Star shine a plastic broom stick the length of the broom is 3 times longer than a regular grass broom it's height is 90 cms. the high quality of grass is used to made this broom and it reduce 505 less bhusa (dust) in comparison of any other natural broom.
It's ordinary quality of broom you can give it a try as the price is low and one can try it for home cleaning.
Things we like
Broom is washable

Has 3 times longer than a regular grassbroom

Broom Height- 90 cms

Color: Multicolor, Color of the product is subjected to availability

Grass Which Produces 50% Less Bhusa Than Any Other Natural Broom
Buy From Amazon
Well these are the top 5 best broom/jhaadu available online you can choose any of them as per your budget and choice, and if you have any experience about any of these brooms then let us know via the below comment section as it will help others to know more about the product quality.