Nowadays fancy dress competition becomes the common in every school and some school starts the competition for preschool students as well which will become very excited and full of fun for both kids & their parents and here on this page I am going to share the list of best Indian army fancy dress ideas for kids online in India.
As the intention of fancy dress competition is not limited to dress it's also for to students impart about its dress and could know about that dress and its value to related person. Well there are multiple fancy dress available online however recently I have published an article where you can see several options like Gandhi, Nehru, Narendra Modi, Military, Subash Chandra Bose fancy dress idea to see the list click on the link "Best Fancy Dress Idea for Kids Online in India".
I have tried to post maximum of Indian military, army or soldier fancy dresses here so that you can choose the best one for your kids and can tell them about the importance of Indian army towards our country and how they impact a common man life in India.
These dress can be wear on for school annual function, theme party, competition, stage shows, Independence Day & Republic Day or any other special day etc. Let them know your kids about the Indian army in detail such as
Why is army is important?
What do Indian soldiers do for our country?
How power Indian army is?
Who is the father of Indian army?
and other small points about the army so that the child could easily understand about Indian army. I will not take any more time let's move to best Indian army fancy dress for kids online.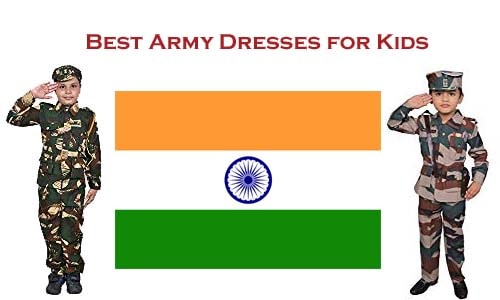 Smuktar Garments Army Costume For Kids (5 to 6 Years)
This army dress is best selling army, military dress online on amazon. It has many positive feedback of consumer and the best part is that you can order for any age group of kid from a 6 months baby to 11 year kids.
Don't bound yourself to military dress for boys only you can also give it to your girl child as well which will give an positive message to society and feel proud wearing any military dress here. As you can see there are woman also participated in Indian army and serving the nation.
This package contains Shirt, Pant, Cap, Gun, Gun Cover with Belt, Whistle, Whistle Rope etc which complete the dress, the thing you have to keep in mind it's washing you can wash it by your hand, machine or dry clean without any issue as the quality of the dress is really good.
KIDZILLA Kid's Indian Army Fancy Dress Costumes (Multicolour, 4 to 5 Years)
The another military fancy dress for your kids is from KIDZILLA the fabric of the dress is really very soft you can also wear it on different functions like annual day, independence day, republic day, annual day, theme party, stage show etc.
All the listed military dress here are different in color and print. This dress is available for a kids age of 2 Years to 10 years and the price of the same will be change according to size which can be view via clicking on image or amazon link which is shared above.
Wash Care: Dry Clean/Do No Iron ON high Heat/Wash Dark Colors Separately.
Smuktar garments Military Costume for Kids (Green, 1 to 11 Years)
Check Price on Amazon
This military dress is available in green color for your kids a boy or girl can wear it on special day like annual day or fancy dress competition in school etc. This attached size is only for 6-7 year of kids however if you want to buy for 1 year child to 11 years of kids then you can order just choose the number of years of your kids from the website and order it online.
The dress will be deliver at your home and available in cash on delivery option the deliver package will contains the shirt, pant, cap, gun, gun cover, whistle, whistle rope.
This dress is available for wash hand, machine wash and dry clean no issue. Please remember the color of the dress might be slight different from the attached one.
Military/Army/Soldier Fancy Dress Costumes for School Annual Function
If you want to prepare your kids for Military/Army/Soldier it's an ideal dress for him/ her and available online on Amazon. This dress is available for a kid of age group of 2 to 12 years. the price range will be vary accordingly, you can dress up your kids for School Annual Function,Theme Party,Competition And Stage Shows Dress etc.
This dress is nicely stitched, the fabric in the dress is used is very soft for your kids. You can wash it at your home by your hand, washing machine and dried wash. If you want to increase the longevity of the dress then dry cleaning of the dress is best.
Wishing Rack Military Army Fancy Dress Costume for Kids 2-3 Years
The another military dress for wishing rack and the package of the dress contains the Cap, Gun, Gun Cover with Belt, Whistle, Pant and Whistle Rope. Boy or girl anyone can wear this Border Security Force (BSF) dress the size of the mentioned size of the dress is for the kid of age of 2-3 years, which chese is 22.5 inches, waist 22 inches, pant length 20 inches.
If you want the large size then you can buy it as well as the dress is available for an age group of 2 years to 10 years of kids. The dress is made of cotton and available in green color only which is shared here the color might be slight different.
You may also like these fancy dresses as well
Hope you found it worthful and can easily find the best military army fancy dress for your kids online here, If you have any experience about these dresses must share with us and can post your query as well.