When you have become new parents, it is a very difficult task to manage things. You have to know all the things that the baby needs. We never know when a baby cries and for what reason. You need to be ready for any situation. A baby might cry for many reasons. Baby might need a diaper change, or hungry or thirsty. They just express anything by crying.
This is a difficult task when you had to go out with the baby. Carrying all the things that you and the baby need is a daunting task. There is no doubt that you care about your baby the most. However, everyone forgets a thing or two when you have to carry a lot and take care of your baby's needs. You can plan to carry everything that the baby requires in a bag that you regularly use. However, you can mess with tossing everything in a single bag. And when you try to get something out may be a milk bottle for the baby, you may not find it or in worst case, spill the milk in the bag. This all becomes a disaster.
A diaper bag come into picture at this point of time. It is a specially customized bag for moms to carry the things required by their baby. The bag is very organized for placing all the things and you can find them easily. It is comfortable to use and you do not need to freak out every time you need a thing.In this article, we are mentioning benefits of using such diaper bags and if you are quite happy with this bag, continue to read as we have also mentioned top 5 diaper bags that are available in online the market. You can compare the products and select the best one for your usage. So, dive in and continue reading.
Benefits that you can achieve by choosing an ideal Diaper bag for yourself
Before going into the top recommended products from our research, let us see some benefits that you get when you use a diaper bag. Based on this, you can move on to recommended list with more idea in mind.
Comfortable
The greatest benefit of using a diaper bag is the comfort. Most of the diaper bags that are available in the market are comfortable to carry may be like a backpack. So, your hands will be almost free of holding the luggage. You can focus on carrying your baby and forget that you are actually carrying a bag. In this way, baby gets your complete attention and whenever you require something, you just need to take it out of the bag.
Spacious
Diaper bags are generally designed keeping babies in mind. So, they are generally spacious to accommodate everything in the bag. Also, the bag contains many compartments where you can organize things. In this way, you wont forget few things. Along with that some personal items like smart phone, keys, wallet can be accommodated in the bag.
External compartments
Along with the spacious and many compartments that the bag provides, an interesting feature is, often times, diaper bags contain external compartments which you can access very quickly and easily. In outer compartments you can place milk bottles. And some bags even contain a compartment for tissues. In this way, diaper bags are especially comfortable.
Can be used by both parents
Most of the diaper bags are designed in a manner that both mom and dad can carry. If you are carrying a handbag, your partner might not feel comfortable holding it. But, with diaper bags, your partner is happy to carry it and can assist you. If it is a backpack model, then he is most comfortable using it.
Best Diaper bags that you can buy today
Now that you have seen the benefits of diaper bags, we are sure you want to purchase one. There are many bags available in the market. Here, we have reduced your pressure of searching everything and consolidated top 5 diaper bags that are available today in the market. Go ahead, have a look and compare each item to check the item out.
1. Mee Mee Stylish Multi-Function Diaper Bag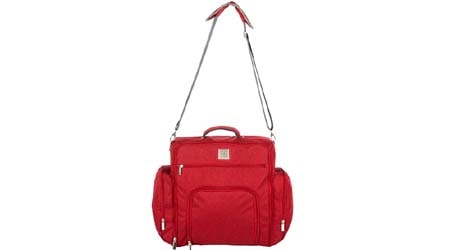 The multi-function diaper bag from Mee Mee is our first item today. The name itself gives you a certain idea about this bag. It is spacious with comfortable multi-purpose facilities. There are pockets for carrying all necessary items required for the baby like diapers, feeding bottles, food, wipes and other accessories.
With these pockets, you can easily reach your item without hassle. The diaper bag is strong with 2 side pockets too. The design is durable with soft padded straps and works as a backpack. You can comfortably carry the bag keeping your hands free. Another feature that this bag provides is the diaper changing mat which comes very handy when you are travelling.
A few pros and cons that you should know as a buyer are listed below. Go through them and decide whether you should buy this diaper bag or not.
Pros
12 pockets
Bright designs
Comfortable soft straps
Diaper changing mat
Cons
Some people felt that the size of the bag is a bit large.
2. Robustrion Baby Nylon Nursing Waterproof Multifunctional Diaper Backpack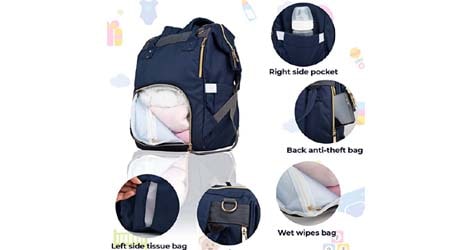 Buy From Amazon
The second from our list is again a multi functional diaper backpack which is also stylish. This is definitely a plus point for modern parents. The diaper bag is quite large and able to accommodate baby's feeding bottles, water bottle, towel clothes comfortably. Along with these, there are multiple pockets that can hold things in an organized fashion. The diaper bag is designed with waterproof material. So, any spills from water or milk can easily be wiped out clean. The bag can be used in 2 ways. It can used as a backpack as well as tote bag giving the necessary comfort a mother requires while carrying a bag. There are extra pockets to carry wet wipes, tissues etc., Also, this bag is an anti-theft bag.
Pros
Water proof bag
Large capacity to hold
Back anti-theft feature
Wet wipes bag
Cons
3. Baby Bucket Diaper Changing Bag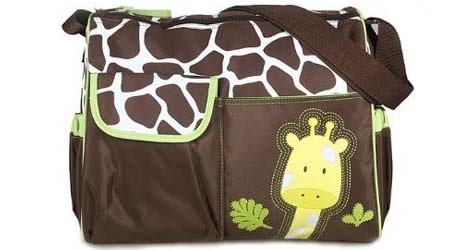 The next one from our list is a bright and attractive designed diaper bag. It contains large space with 8 pockets helping you to organize baby things properly. The shoulder straps for this bag are adjustable and can also be easily attached to almost any type of stroller. Or if you would like to hang the bag on the shoulder, that can also be done easily. You can use this diaper bag to carry baby's things as well as your personal things which makes it convenient for you to carry. The diaper bag is made of high quality material like microfiber on the outside and polyester on inside.
Pros
Designed with high quality fabric
Multi-functional bag and can be used in 2 ways to carry it.
High capacity with 8 pockets
Attractive design
Cons
Some people felt that the size of the bag is a bit large.
4. R for Rabbit Caramello Delight Diaper Bag Backpack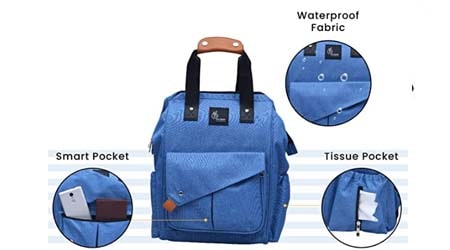 This diaper bag is made from a popular baby company. The diaper bag's design is very good with wide opening which is very convenient to place things. Organization is quite good with large capacity. The design is ergonomically made which makes it comfortable and safe to use for long time. This bag not only provides pockets, but also provides a pocket which is insulated which helps to keep feeding bottles. There is a special hidden pocket at the back where you can store anything even a smart phone. The material of this diaper bag is water proof which helps you with spills. A changing pad is also included with the diaper bag which is convenient to use to change your baby's diaper on the go.
Pros
Water resistant
Large capacity with pockets
Insulated pockets
Changing mat included
Cons
5. Motherly Stylish Babies Diaper Bags for Mothers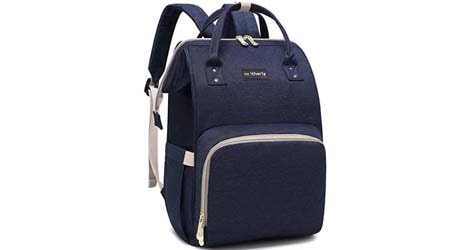 The last item from our list is from motherly brand. The bag is made of waterproof oxford fabric which is environment protective, non-fading, dust and water resistant. The bag has large capacity with fish mouth opening. There is a back opening pocket for storing personal items. For the special attachment to stroller there is a hook. There is a convenient tissue pocket along with other pockets for organized storage. The special feature is the dry and wet separation design. Insulated pockets are also available.
Pros
Large capacity
Insulated pocket
Water resistant
Special hook for stroller attachment
Cons
Conclusion
As you have seen both the benefits and recommended list of diaper bags that are available in the market, you are now ready to finalize your bag and purchase it. We are sure you will like it and use it in a productive way as we have done extensive research in finding the list.