If you are a school going kid or a person professional who is looking for the best lunch box under Rs. 500 online in India then this post could be helpful for you because in this article we have enlisted the top 7 best lunch box brands under rs. 500 in India.
As there are many lunch box are available online & offline under 500 rs. and choosing the best lunch box may be quite difficult for a person but here I am sharing Lunch box buying guide which will help you to choose the best lunch box for you. The all listed lunch box are well known and popular brands online and you can get different design in this price range.
How to Choose A Lunch Box?
Well either you go online or offline for an lunch box always keep some points in mind before buying any lunch box in any price range.
Purpose of lunch box
You might be thinking that purpose of lunch is keeping food safe and secure cool or hot for few hours but it's not simple as you are thinking.
There are different type of lunch box Sealed Lid lunch box and ordinary lid lunch box. The sealed lunch box is usually used to carry food that could leak. The sealed lunch box is also known as air tight lunch box and is really helpful if you carry different type of liquid lunch box in your daily routine.
If you choose an ordinary lid lunch box for liquid food it will surely ruin the material available in your bag, because of this leakage all the material will get wet and difficult to use. So must check what is your purpose of buying a lunch box.
The ordinary lunch box are usually made of stainless steel they are long lasting but not good for liquid food because the liquid came out from the box so choose those stainless steel lunch box which have airtight or sealed lid on the box.
If you ask me which one is better I will recommend you go with always airtight lunch box or sealed lunch box as it will serve the all purpose of lunch box.
Material of Lunch Box
Well different type of material lunch box are available such as plastic lunch box, stainless steel lunch, glass lunch box and aluminium lunch box.
Usually plastic lunch box are cheaper but don't go with any random plastic lunch box as it may create problem so will recommend to go with popular brand lunch box as they use high quality of plastic in lunch box which will not harm your food and you as well.
Design, Shape & Size
Oval, rectangle, square, round design of lunch box are available so you can choose any as per your interest. Must check the size will it fulfill your desire and has perfect number of compartment as different people have different diet.
So must check how many a liter of lunch box and then choose the best size lunch box for you.
Microwave Friendly or Not?
Usually a branded lunch box keep hot or cool your lunch for 4 to 6 hours minimum but some people use microwave to hot their lunch. So, it's important to check is your lunch box microwave friendly or not.
These are the some points which you must keep in your mind before buying any lunch box and here I have already enlisted the top 7 best lunch brands under 500 rs. online in India for office and school going kids.
List of Best Lunch Box Brands in India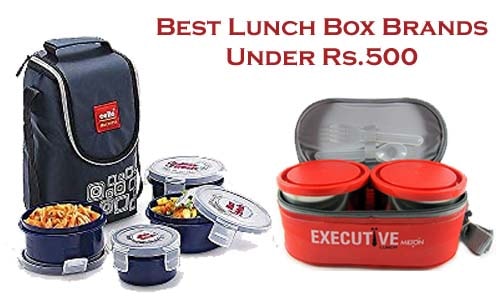 The sole purpose of this post is let you know the popular brands of lunch box under this price range and you can choose the right size, design and shape of lunch box as per your need and budget.
There are many people who were thinking that they can't get the best lunch box in under 500 rs. but this post will ruin all such type of myths.
Milton Executive Lunch Box Set, 3-Pieces, 260ml
Check Price
Milton is popular brand and doesn't required any introduction almost everyone knows about it. The attached lunch box of Milton is comes with 2 round shape of stainless steel containers and 1 big plastic container which is made of hard food safe plastic. The stainless steel gives shine and rust prevention to the round shaped containers. This material made these containers durable like anything.
The stainless steel container and plastic lunch box container both have air tight plastic lids. It will prevent the moisture from damaging your food. These lids are leak proof so you don't worry about contains available in your bag.
This set of 3 piece of lunch box comes with a free high quality durable covering bag, so that you can keep your containers safely in this cover bag which ensure the longevity of this lunch box. The price range of Milton lunch box is very low and one can easily afford the such brand in the budget of Rs. 500 The lunch box also comes with 1 spoon and 1 fork and made a separate space in the box for the spoon.
Key Features
100 percent leak proof round container

Belt to easy carrying

Content remains hot for hours

Fork and spoon inside

For any query/assistance kindly contact us on: 18002092151 (Monday – Friday; 9:30 am – 6 pm)

Easy to clean

Microwave safe

Long lasting high quality of plastic and stainless steel lunch box.
Suitable lunch box for office & school both.
Cello Max Fresh Click Polypropylene Lunch Box Set, 300ml, 4-Pieces
Cello a name that is common in the Indian households, is one of the leading processor of household consumer products. The company offer many type of kitchen appliances and also offering the stationery item and working on many other sectors.
The cello offers the high quality of products and this lunch box is really great for office going people. The design, size and shape is really awesome it's nice and trendy look and suits your personality.
As the name itself states Cello max fresh, now enjoy freshly packed food in these air tight BPA free containers.The lunch box is made of food grade material. Its sleek and compact design makes it easy to carry and ideal for office, school and travelling.
The cello lunch box package contains 4 high quality round shape lunch box container with air tight lid which keep the foo items away from moisture and keeps food fresh and crispy for longer.
The best thing about this lunch box is that you don't need different containers to warm your food as these containers are micro wave safe (without lid), so you can directly use them for heating the food.
The lunch box are made from food grade plastic, these are safe, sturdy and microwave safe without the lids. They have unique silicone seal which is airtight and prevent any kind of food spilling. This set also comes with a lunch bag with high-functioning zipper closure which makes it easy and convenient for you to carry lunch every day.
The Cello max fresh lunch bot set is made of polypropylene. It features a sturdy construct that can easily withstand sudden drops and impacts.
Key Features
Air tight container that keep food fresh for long

Microwave safe (without lid)

Compact lunch box to carry meal

Freezer and dishwasher safe

Easy to open and close and clean

Available in attractive colours

Liquid tight silicon seal on the lid that makes the containers ideal for office, school and travelling

Ideal for dry and semi-dry items

Ideal for office going people

Color: Blue

Material: Polypropylene

Package Contents: 3-Pieces Container (300ml) and 1-Piece Container (140ml)
Signoraware Slim Small Glass Lunch Box, 600ml/33mm, Clear
Check Price
Signoraware is another popular brands when it comes to lunch box. The company is an ISO certified that gives the assurance of 100% food grade crockery air and spill proof containers, innovative user friendy design, international quality packaging and highly competitive prices to its customers.
The lunch box are made of high quality of Borosilicate glass material which makes it sturdy and durable. The borosilicate glass has excellent thermal qualities and remains shatter-proof even at sudden temperature changes.
The box is fully airtight and liquid proof which is specially designed seal and a secure lock system not just keep your food fresh but also makes sure that the fluids don't spill.
The design and transparent glass looks really awesome this lunch is freezer and dishwasher safe, you can keep this glass container lunch box in freezer and dishwashers. Instead of this this high quality borosilicate glass lunch box is microwave friendly and can withstand heat up to 400 degree Celsius.
Some of the users check it air tightness quality and keep the simple water and turmeric water in both the compartment and shake well the container to see will it mix or not and the result is really great both the water simple and turmeric not cross the border and not mixed after shaking which is really great.
It's a perfect item for school going kid and a professional you can trust the brand and also recommend to view the customer reviews here on via clicking on buy now button and see the videos as well.
Key Features
Made of 100 percent borosilicate glass

Heat resistant up to 400 degree Celsius

Stackable and air/liquid tight,

Ideal Usage: School, Office, College

Leak-proof, Spill Proof

Color: Clear

Material: Glass

Package Contents: 1-Piece Lunch Box (600ml/33mm)

Warranty: 1 year on product
Tupperware. Tupin Plastic Tiffin Box (Multicolour)
Check Price
Tupperware Brands Corporation, formerly Tupperware Corporation, is an American multinational direct sales company. Its main focus is kitchen and household products, particularly plastic containers for food storage and preparation.
Tupperwarw's Slim range of lunch boxes are perfect for those on a diet and don't want to lose track of what they're eating. It's convenient size and shape is a tribute to the school lunch boxes of yore.
Key Features
Convenient size for storing small and quick meals

Air-tight and spill-proof seal keeps food fresh for long

Easy to fit and store in briefcase, school bag or hand bag

Ideal for those on a diet to control meal portions

Main box size 590ml & small box for sabzi
Jaypee Plus Snap Stainless Steel Lunch Box, 700 ml, 3 Piece
Check Price
Jaypee Plus is another in the list of best lunch brands in India online under rs. 500 this lunch stainless steel lunch box comes with 1 piece of lunch box, 1 piece of sabzi container and 1 spoon and is air tight.
The lid of the lunch box is made of high quality of plastic to make it air tight as steel lid are not air tight and not liquid proof. So, it's great idea to use the stainless steel in inner and lid of plastic which makes the product long lasting.
Key Features
Color: Blue

Material: Stainless Steel

Package Contents: 1-Piece Lunch Box, 1-Piece Sabzi Container, 1-Piece Spoon

Insulated lunch box made up of 100 % food grade, virgin plastic with inner stainless steel

Comes with 1 leak proof stainless steel inside sabzi container and stainless steel spoon

Inner stainless steel, steel sabzi container with airtight lid and steel spoon, food grade, bpa free

Compact size- easy fits in your school bag pocket
Amazon Brand – Solimo Stainless Steel Lunch Box Set with Bag, 300ml, 4-Pieces
Key Features
Food grade leak proof container that prevents spills. Capacity: 300ml per container. Diameter: 11cm

Air tight lid made from BPA Free Material

Can hold both dry and semi-liquid food including rotis, rice, dals and curries

Comes with a lunch carrier for carrying meals to office

Comes with an easy to clean fabric jacket

Colour: Blue, Material: Stainless Steel

Package Contents: 4-Piece Lunch Box with Bag
NanoNine Local Byte Stainless Steel Insulated Lock Lunch Box, Medium, Silver
Key Features
Product dimension : 12.3 x 12.3 x 8.7 cms, diameter: 9.7 cms, weight : 300 gms, material : Stainless steel, colour : Silver

Keeps food hot or cold for more than 6 hours

High quality stainless steel-made with the best quality material for long lasting life

Double wall puf coating to prevent heat and nutrition loss, Specially designed to be lightweight for easy handling and improve performance

Nanonine provides you a high quality stainless steel insulated utensils, tableware and dinnerware. The product range includes casseroles, hot pots, tiffin's, lunch boxes, flasks, bottle set
Hope you found it worthful if have any further query in mind just drop it in below comment box. All the listed lunch box are best in their own way and air tight and microwave safe you can go with any of them as per your choice and budget.