Do you have less space kitchen? and looking for the best spice racks for your kitchen to give it attractive look and want to make your kitchen spacious with the perfect spice rack. Then it is something you should check as in today's post I am going to share the list of best spice racks in India for your kitchen.
This list of spice racks include both type of racks such as revolving spice racks and non-revolving spice racks. Both have own pros and cons. You just have to pick the right one as per your need, budget and off-course for space. These spice racks can be used in traditional kitchen as well as can use these spice racks in your modular kitchen.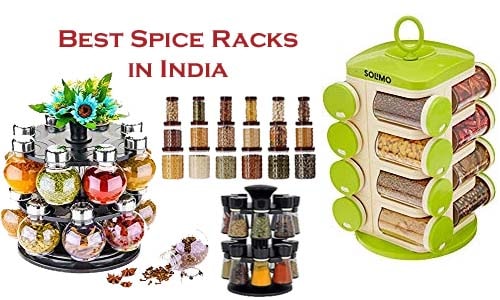 List of Revolving Spice Racks
Amazon Brand – Solimo Revolving Spice Rack set (16 pieces)
The best seller spice rack from Amazon Brand Solimo the spice rack has 16 piece of set you can store 16 type of different spices and herbs in it. It's a revolving spice rack for your kitchen the color combination is really great.
The product is made in India, so if you are one of those who supports the swadeshi products and want to buy India made product then you can go with it. The quality of the material is really high and used BPA free plastic to ensure shatterproof toughness.
You can keep your condiments fresh and odour free with the Solimo Revolving Spice Rack set. It has 16 spice jars (120 ml each) with twistable black lids, which make them easy to open and use. Each lid has a plastic sifter insert with three holes, allowing you to fill the jar and easily access its contents. The black lids also add a professional appeal to the jar and look neat in your kitchen.
This set is also available in 12 pieces of sets so choose the right size as per your budget and need.
Key Features
Made in India

Huge number of satisfied customers
Affordable price

16 spice jars with 120 ml capacity each

Beautifully designed carousel for easy access to spice collection

Made from the high-quality, food-grade, BPA free plastic to ensure shatterproof toughness

Easy to use jars with 3 holes and easily twistable black lids

Easy to clean

Refillable jars compatible with dishwasher use

Keeps spices fresh and free from odor
Mr Products Plastic Multipurpose Revolving Spice Jar/ Condiment Set Rack, 250 ml, 16 Pieces, Multicolor
The another set of 16 piece of revolving spice rack is in round shape. It's easy to use and this spice rack is 360 revolvable. The spices jars are made from PET material and the main body made from virgin plastic ABS material which property is shock proof and unbreakable, which makes it long lasting and durable.
This Spice Container Has More Space To Accommodate More Ingredients Than Usual Spice Available In Market. The spice rack is made of high quality abs plastic while container made of PET plastic and it's caps are made of steel which makes its looks attractive.
The rack can be easily rotable in any direction for easy picking of bottle during the cooking. You can easily fill the spices in it and all the jars are washable. The design is totally different and unique in it's own way. This spice rack has 2 shelf and in each shelf 8 has 8 containers.
Material: Plastic

Color: Black

Capacity: 250 ml

Special Features: Ideal For dinning table and kitchen daily use, smooth rotation helps you To access every spice container easily.

Package Contents: 1 Spice Rack with 16 Pieces Dispenser Containers

Special Features: 16 bottles abs material which property is shock proof and unbreakable.
Floraware Plastic Revolving Spice Rack Set, 130ml, Set of 12, Dark Brown
Floraware spice racks of 12 pieces, you can also keep pulses and masala in it for your use. The design and stand is really made of high quality. Once can easily use it. As the high quality of material is used in it which makes it shock proof sturdy so you can assure yourself you are buying a product which will last for long. This spice/masala rack is also available in other colors as well.
Key Features
Color: Brown

Material: Plastic

Package Contents: 12-Pieces Spice Jar

Actual rack made from abs thermoplastic for impact resistance and toughness

Food storage jar with 3 sections transparent plastic airtight cereal storage dispenser container jar with 3 sections for cereals, snacks, pulses

Beautifully designed carousel with 12 jars

Clear abs plastic jars with chrome plated top
Palak Plastic Revolving Masala Box Set, 16-Pieces, Black
This 16 piece of spice rack is small in size and really a great look, An ideal item for the small family.The rack has a revolving base that makes it reliable & adds to its functionality. You can easily access jars all around the rack with ease.
The rack of the product is made with heavy duty plastic and jars are made with clear ABS material that can withstand rough & tumble use and makes it endurable & tough.
Key Features
Origin : Made in India

Color : Dark brown

Content : 16 spice refills / jars

Material : Pure abs plastic

Beautifully designed carousel with 16 jar

Dimension details of spice rack are : 30cm*17cm*17cm (l*b*h)

Dimension details of individual spice rack are : 10.5cm*4.5cm*4.5cm (l*b*h), clear abs plastic jars with chrome plated top

Actual rack made from abs thermoplastic for impact resistance and toughness

Tops twist easily and have both shaker and pour functions. Spices included. Jars are dishwasher safe, refillable and are 2.5 ounces in volume
JVS Majestic Plastic Spice Tower Set, 16 Jars and 1 Revolving Rack, Lavender Gold
Check Price
The another revolving spice rack in the list is from JVS Majestic the quality of the product is really high and it's all new inbuilt cap is really make its looks awesome and different from other models as well.
The rack is easy to use and the revolving is very smooth you can easily move it when needed and can store your masala or spices and pulses as it has 16 containers.
Key Features
Color: Multicolour

Material: Plastic

Shape: Square

Package Contents: 16-Piece Spice Jars (10ml) with 1-Piece Rack Stand

Contemporary design well suited for modern kitchens

Printed tops and caps adding to the look and style of the product

Unique caps with in-built sprinklers suiting to your requirement for fine, coarse or whole type of spices
List of Non Revolving Spice Racks
Amazon Brand – Solimo Checkered Jar Set of 18
Key Features
Checkered PET containers made from 100% food-grade plastic

BPA-free containers protect you from health hazards of BPA plastics

Available in three different sizes, 1000 ml, 500 ml and 200 ml, for your various storage needs

Airtight seal prevents moisture/humidity from spoiling stored food

Ribbed exterior finish provides a firm grip

Nesting storage option cuts down on the need for additional space
YouCopia MiniStack 12-Bottle Spice and Vitamin Organizer
Key Features
Store and organize 12 full-size or 24 Half-Size round spice, medicine or Vitamin bottles (not included)

Three drawers pull out and lower to display spices in full view for easy location and reach

Includes 48 Blank removable drawer labels for custom organization. Care and cleaning-wipe clean with a damp cloth

Compact unit saves valuable counter/cabinet -skid feet hold unit securely in place

No Installation; Fits into standard cabinets; measures 8-5/8″ H x 10-7/8″ D x 5-3/4″ W
Callas Iron Spice Rack, Silver
Key Features
Material: Iron, Color: Silver

Package Contents: 1 Spice rack

Size: 45.38 cm x 29.20 cm x 10.10 cm

Keep all your spice jars together and easily for you to access

Can also be used in bathroom to keep shampoo bottles

Sturdy steel-wire construction with fine chrome finish

3 1/2 inch depth holds up to 2 7/8 inch diameter jar, overall dimension : L 28 cm, b 8.5 cm, h 44.5 cm

All mounting hardware included, spice bottles are only for display, only rack/organizer is provided
These are the some best revolving and non-revolving spice racks for you. Hope you like it, if have any other query just drop it in below comment box and don't forget to share it.
More for you
https://www.bestexpert.in/best-kitchen-wall-stickers-oil-proof-india/
https://www.bestexpert.in/best-shoe-racks-under-500/