Are you one of those who submitted the Aadhar Card to their distributors and wants to check is their Aadhar Card linked to LPG connection or not? If Yes, then I can assure you reach the right place because here I have shared how you can check your Aadhar Card linked status or DBTL (CTC) status online in HP Gas, Bharat Gas & Indane Gas.
How to Check Aadhaar Status on HP Gas Website?
HP gas made it very easy to check Aadhar card status or DBTL status online to its consumers to check first you need to click on the link given below.
Access HP Gas to check Aadhaar card status: myHPgas.in
After clicking on the said link above you will see 3 options to check Aadhar card link status
Option 1. Quick Search
Here you can type your distributor name & fill  your consumer number and click on proceed button and you will your status either you Aadhar linked or not.
Option 2. Normal Search
Select you state then District after that select the HP gas distributor fill consumer number now click on proceed button that's it.
In case you are unable to find the distributor name in the list choose the option 1.
Option 3. Search
In the last option you have to fill your Aadhaar No. and LPG ID of 17 digit and press enter button or click on proceed and result will appear in front of you.
In case you don't know what is your LPG ID is then must visit. How to Get LPG ID Online
How to Check Aadhaar Card Status on Bharat Gas Website?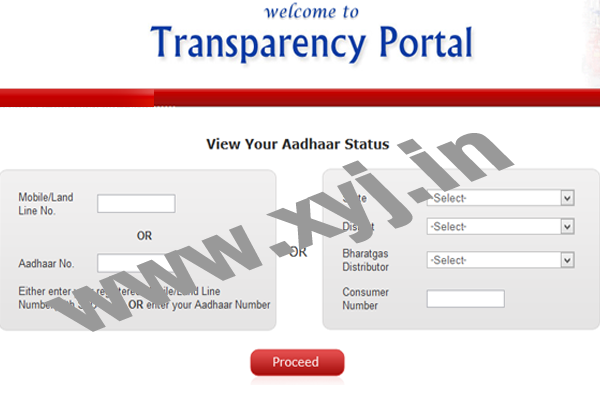 To check the Aadhaar status online first you have to click on the BharatGas Website: eBharatgas.com

You can see 2 options in option 1 you just have to fill your Mobile/Landline number or Aadhaar Number and click on proceed you will see the status of your Aadhaar card on the same page.
To be very honest it was very easy in comparison of Indane & HP gas.
How to Check Aadhaar Card Status on Indane Gas Website?
You have to do little work to check Aadhaar status on Indane website first of all access the official website of Indane by clicking here: Indane.co.in
Now, you can see 2 options here Normal Search & Quick Search
I am not going to discuss about normal search just sharing information about quick search as all of us in hurry nowadays.
In Quick Search tab
Fill your distributor and select from the list which appear while you are typing the distributor name
Fill your consumer number
Now fill LPG ID or Aadhaar No. I will recommend to you use your 17 digit LPG ID to use because sometime it don't show result while you use Aadhaar No. If you want to know how you can get the LPG ID then click here. After filling all the details type the word exactly given in the image and click on proceed you will see the result.
Hope all the consumers of HP, Bharat or Indane Gas find it helpful if yes, then why don't recommend our website to others and like & follow us on Facebook, Twitter & Google+ meanwhile if you have any query then please let me know via below comment box.