The Delhi Development Authority (DDA) has decided to give 2 more days' time to applicants to correct their mistake data on application form. As the draw of the DDA flats housing scheme 2014 has been postponed after a dry run on Monday 10th November.
Latest News:
After the trial run of draw result DDA decided to give 2 more days to applicants to correct their data as Mr. Balvinder Kumar said that, some of the bank still not feed the data accordingly as well as they have received the several calls from the applicants as they could not found there data with the provided application number that's why to be fair with all DDA has decided to give 2 more days 11th November and 12th November to applicants to correct the data. Applicants can check their application data on the official website of DDA dda.org.in or visit physically to office premises of DDA for the correction of data.
Contact Details of DDA for Correction of Data in Application Form

Director (Systems),
1st Floor, B-Block,
Vikas Sadan, INA,
New Delhi-110023,
Telephone: 011 24694157
The authority said that they received many requests from the applicants after the initial date 7th November fixed for corrections. Below is the public notice published by DDA on newspaper for the correction of DATA.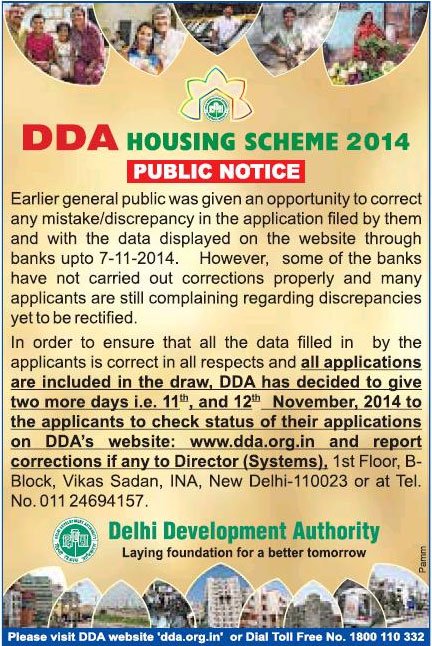 Final date and list of winners is still in pending process it will be declared once all the data feed correctly by applicants and banks. So keep in touch with us for latest updates of DDA.