Dance India Dance 2015 Season 5 is already aired on TV and finally selected 15 contestants and these contestants will compete with each other to win the title of Winner of Dance India Dance Season 5 and Sunehri Taqdeer ki Topi. Before selecting these 15 contestants team of DID visits 17 varied cities of India and find out the several local talented contestants but only fantastic 15 reach to next level but who they are, what is there name and in whose team these fantastic contestants of DID? To give your all query answer I am going to share it below. So keep reading.
Dance India Dance Season 5 (2015) Mentors Teams / Gang Name
In DID season 5 have fresh faces of Mentors and their names are as follows: Punit J Pathak, Gaiti Siddiqui & Mudassar Khan below I have shared these mentors team or gang name.
Punit J Pathak – Team Name Punit Ke Panthers
Gaiti Siddiqui – Team Name Gaiti Ke Gangsters
Mudassar Khan– Team Name Mudasar ki Mandali
Dance India Dance 2015 Season 5 Confirmed Fantastic 15 Contestants Name
In today's episode you can see each contestant with their respective team and here I am sharing DID 5 contestants name team wise:
| | | |
| --- | --- | --- |
| Punit Ke Panthers | Gaiti Ke Gangsters | Mudasar ki Mandali |
| Anuradha Iyengar | Anila Rajan | Ashish Vashisht |
| Kaushik Mandal | Nirmal Tamang | Haroon Rao |
| Saddam Hussain Sheikh Razak | Priya Varunesh Kumar | Pankaj Thapa |
| Shruti Sinha | Sahil Adanaya | Proneeta Swargiary |
| Vicky Alhat | Shweta Poojary | Sadhwi Majumder |
Well it's not the end if you are unable to identify these Dance India Dance 5 contestants with their name no need to worry below I am sharing each team contestants name with their image/photo/pic.
DID Season 5 Contestants Name with Their Photos / Pic / Image
Punit Ke Panthers Team Member Name with Photo
Gaiti Ke Gangsters Team Member Name with Photo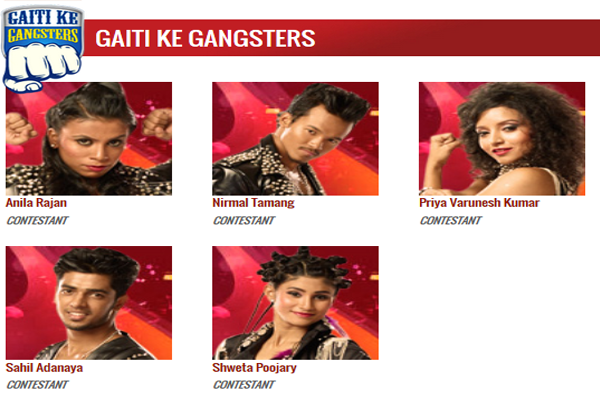 Mudasar Ki Mandali Team Member Name with Photo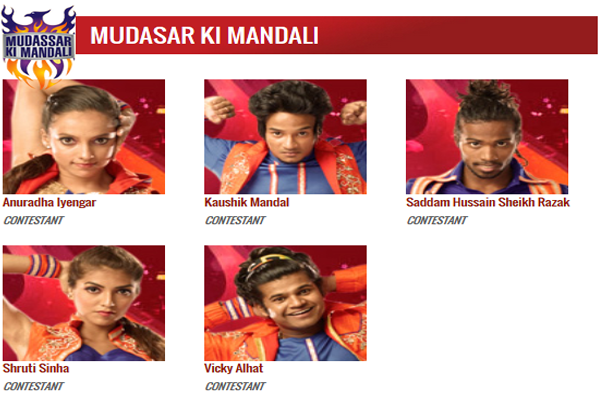 You can share this post with your friends, colleague on Facebook, Twitter, & Google+ and also don't forget to show who is your favorite contestants in these fantastic 15 contestants of DID season 5.