Exchanging the old Rs.500 & Rs. 1000 note becomes the first priority in these days to common people and for the same they are standing in long queue on the some places people spend the night to get rid-off this problem. If you are one of those who don't want to stand in long queue and want to replace your old rs. 500 & 1000 notes with the new one then you can follow any of the steps mentioned below.
The current limit of exchanging rupees is 2000 per week therefore central govt. and RBI taken an important action that every person who exchange money in banks or post office will mark with ink on the figure. So that, maximum people can exchange their money and can fulfill their basic needs and I assume that you already know about the other transactions like how much you can withdraw in a week from your account and what is daily atm withdraw limit. But the question is how you can exchange your note faster with Aadhaar Card the answer is described below in details.
How to Change Old Rs. 500 & 1000 Currency to New Currency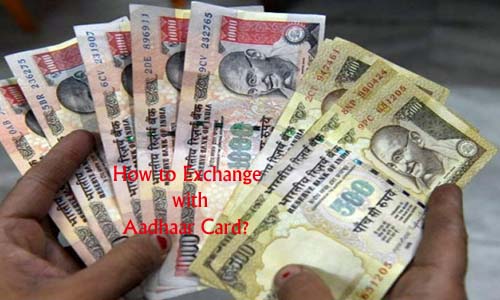 Well we all know how much important and aadhaar card in today's life and several people already linked their bank account with aadhaar card as well incase you have not done then do it for complete information regarding this could be found here "How to Link Aadhaar Card to Bank Account".
Aadhaar card is one of the best Valid address ID as well as photo proof if you go with this Id into the bank then officials of the banks or post office will replace your old notes to new one in case you don't have an aadhaar card can apply for it read here "How to Apply for New Aadhaar Card?"
May be you have no much time to wait for aadhar then no need to worry can carry other valid photo and address ID proof as well such as Voter ID Card, Pan Card, Passport, Driving License these documents also work on Kendriya Bhandar where you can buy the grocery item with old notes.
For the "List of Kendriya Bhandar Click Here" or wait for the 24th November and deposit all your cash into the bank via visiting the nearest branch or submit cash through ATM machine and can withdraw you money via ATM but the limit is still same.
If you have any query or suggestion just drop it in below box, Thanks for reading.