Auditions for "Talents of India" is schedule and all those contestants are interested to participate in it can register online for the ground audition &  Film Making Round. Here I am going to tell you the complete audition process for Talents of India including "Online Registration", Ground Auditions & Film Making Round.
TalentsofIndia is not a TV SHOW, it's not an AGENCY, it's not a MODEL Coordinating Company. TalentsofIndia is a Real Film Production House. TalentsofIndia makes MOVIES with Fresh Talents and launch them to indian film industry. we produce films with fresh talents only.
Well above I have given the quick overview about the "Talents of India" and here going to tell you how many number contestants they need in different categories.
2 cinema scripts
10 Directors
20 lyric writers
10 music composers
10 Editors
15 Singers
12 Cinema photographers
100 technicians
12 Fashion & Make-up artists
300 Actors and actresses, supporting artists, Comedians, Child artists character artists
More will be updated soon if you think you have talent to impress judges with your talent then must apply for the show. If you have interested in any of the categories then you can apply for it Acting, Dancing, Singing, Direction, Script writing, Lyrics writing, Music composing, Photography, Film editing, film making and all other movie making crafts etc.
How to Apply for Talents of India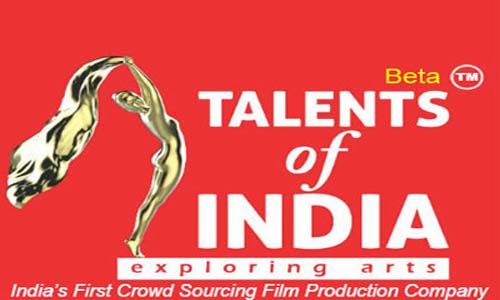 The procedure is pretty simple for this there are 3 sections "Online Registration", "Ground Auditions" & "Film Making Round". Below I am describing about it step by step
Online Registration Entry Form for TalentsofIndia
To register online for Talents of India you have to access the official site here: http://talentsofindia.in/choose-registration-plan/
After clicking on it you will be redirect to official page of the TalentsofIndia where you have to choose your choice of category and then click on continue. Then you have to fill the details are marked with the star on the form please fill accurate and current details like your working email and phone number and upload only original photos otherwise you will be rejected.
What is the Last Date of Online Registration for TalentsofIndia
Last Date of Registration for Auditions – 30th Nov'16. So register as early as possible and also share it with others so that they can also get a chance to show their talent to the world.
Talents of India Ground Audition Date & Venue Details
For the ground auditions only those contestants will be contacted who already registered online and the details will sent on their provided email ID, mobile numbers. The audition date and venue details will be also confirmed via email, sms, messages.
Here are the list of cities where auditions will schedule…
Mumbai
Delhi
Hyderabad
 Chennai
Kolkata
 Ahmadabad
Bangalore
Bhopal
Bhubaneswar
Chandigarh
Patna
Guwahati
Jaipur
Lucknow
Pune
Ranchi
Shimla
Trivandrum
Raipur
Visakhapatnam
Final Round "Film Making Round"
After finalizing the script, cast and crew, Talents of India will go for shoot. Our movie will have all the ingredients that are required for a regular commercial cinema Mainly Fresh strong story, amazing performers, beautiful, heart touching music, new, awesome shoot locations, stylish, suitable costumes, Realistic Stunts, and excellent screenplay. And we will also have mentoring by the renowned directors of Bollywood and Tollywood. It will be equivalent to a full fledge top starrer movie. Finally, the output will not any lesser than the regular commercial cinema with a difference and that is we will see the fresh talent, fresh faces and technicians who work behind the scenes to give us a wonderful movie. Our movie will be released in all major Indian languages like HINDI, TELUGU, TAMIL, BENGALI, PUNJABI AND MALAYALAM.
Hope I have described everything here instead of this you have any query regarding the talentsofindia auditions can ask it via below comment box or call on the provided help line number: 8099 22 33 66.