As all we know that subsidy for the LPG cylinder is directly credit in the bank account of consumers and lots of consumers wanted to link their Aadhaar Card or Aadhaar number to their LPG connection but due to busy life schedule they can't do it.
If you are one of those who don't have time to visit to your distributor office to link or connect your Aadhaar card to your LPG connection then it's worth reading article for you here I am going to tell you how you can add or link your Aadhaar card to LPG connection online without any hassle of queue.
Linking Aadhar card to LPG connection online is very easy you just have to follow these step by step and at the end you will you have successfully linked your Aadhaar number to your LPG connection.
Easy Steps to Link Aadhaar Card to LPG Connection Online
Step1: in the first step you have to access this website by clicking on it https://rasf.uidai.gov.in/seeding/User/ResidentSplash.aspx
Step2: As you are UIDAI website, now click on the "Start Now" button as mentioned in below mentioned image.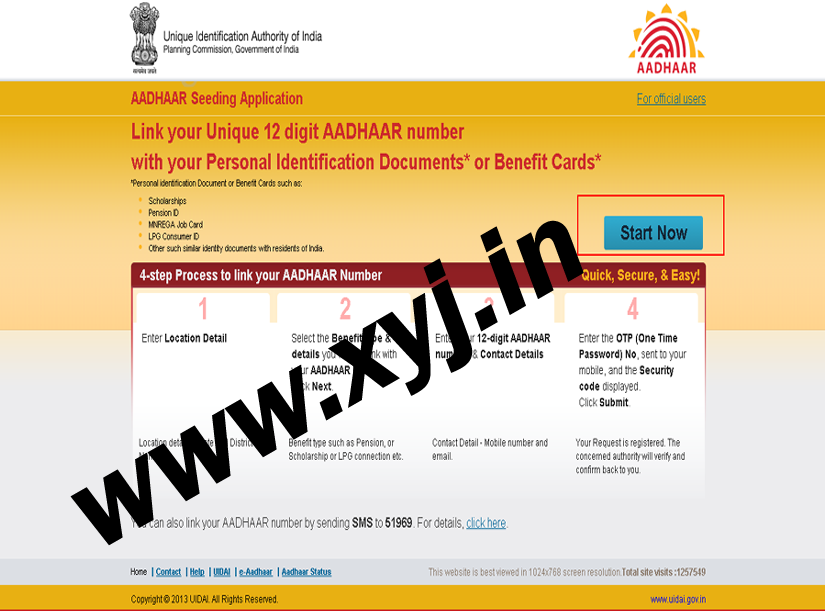 Step3: In 3rd step you will see "Aadhaar Seeding Application" which is looks similar as mentioned in below image.

Fill your state & district accordingly. In next column namely "Step 2" in the form
Benefit Type – LPG
Scheme Name – Here listed 3 LPG providers or Oil companies choose which LPG Cylinder  you are using for your help the name of LPG companies are as follows:
BPCL stand for Bharat Gas
HPCL stand for HP Gas
IOCL stand for Indane Gas
Distributor Name – Choose your distributor name from the list
Consumer Number – fill your consumer number after filling the consumer number your name will appear next to your consumer name it means you fill the form correctly so far.
In the column third name "Step 3" fill your correct & working email ID, Mobile Number & Aadhar number.
Now, click on the Submit button if all the details are correct.
Step 4: As you have clicked on the submit button in step 3 you also received an SMS on your mobile or message on email ID which you have used while filling the form. This message is 4 digit OTP enter this password and also enter the "Captcha" alpha numeric shown in picture, manually in blank box and at the end click on "Submit" button.
Congratulation you have successfully linked your Aadhaar number to your LPG connection however it will take little more time and will approve within couple of days and the LPG cylinder subsidy will directly credit in your linked bank account.
You can also track that is your AADHAR Card linked to your LPG connection or not to check this please read How to Check is My Aadhaar Linked to LPG Or not.
Why Consumer Need to Link Their Aadhaar to LPG Connection

As per the Bhaskar news on 23rd of Feb Budget session will start and that's why Govt. going to close DBTL scheme on temporary basis and will start after the 31st collecting all the data. If you did not linked your Aadhaar to your LPG connection then do it fast don't be lazy because after 23rd of February consumers who did not linked there Aadhaar could be in trouble getting the subsidy.
So, link your Aadhar to both LPG connections as well as to your bank otherwise you will not get the subsidy. If you have not linked your Aadhaar to your LPG then follow above said steps and link Aadhar to your LPG connection and Bank.
How to Link Your AADHAAR to Bank to Get Subsidy

To link your Aadhar to bank you have to take form from your agency and have to fill it accordingly. There are two type of forms 1st for those who don't have Aadhar card and 2nd for those who have Aadhar card. As per the guidelines consumers all the consumers who did not fill the form till 23rd of February will not get DBTL scheme benefit and will not get subsidy in their accounts, however they will get time to link their Aadhaar to bank.
Hope you find this article worthful if yes then don't forget to share your comment in below box as well as like us Facebook & Twitter. If you have any query or doubt you can also mentioned in below comment box.