Are you looking for the best job website for Fresher or Experience in India? Then here is the solution as, I am going to share with you top 10 most popular job portals of India through which you can find the job as per your educational qualifications & work experience basis. As we all know finding a job via news paper or classified ads become old and time consuming as well via online job portals you can view the complete details about the job and can apply for the several job in a single click just upload your update resume / bio – data / curriculum vitae (CV) on the below mentioned sites and get the right job for you.
I am not going to tell you how you can make the impressive CV or not going to share any format for the same you can find it via google search so let's move to list of top 10 best job portals of India.
Top 10 Best Job Websites in India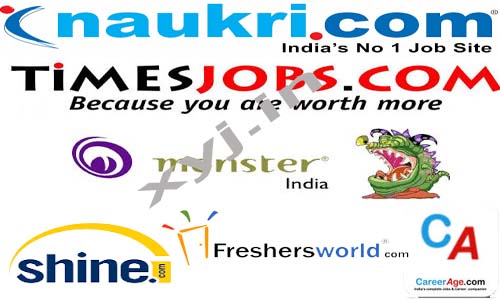 Naukri.com
How popular this job portal is we all know if you ask someone in general life that which one is the best job portal in India the first recommendation will be "Naukri.com" the website was founded in 1997 the website has simple and easy format for its user. If you are not so tech savvy and don't know how to upload the CV on this website don't worry you can provide your personal details, work experience and education qualification and you will see all the jobs related to your field and can easily apply via clicking on apply now button and now wait for the interview call that's it.
TimesJobs.com
This website is started in 2004 by Times Group and become popular in short term either you are fresher of experience you will get the job accordingly. The function of the website is quite similar to Naukri.com you can upload and can create your resume on the portal yourself and you will receive the notification on your email as well regarding the latest jobs.
Shine.com
Shine.com get immense popularity in very short term as the website was started in 2008 and with the passage of time it become more popular and people from varied industries getting jobs through this portal but this portal is much beneficial for the experience job seekers.
MonsterIndia.com
The USA based job portal monster got popularity in India as well the job portal is very famous around the world and it's primarily used to help those seeking work to find job openings, for lower to mid-level employment, that match their skills and location.
LinkedIn.com
It's job portal cum social networking website for the students, employees, founders, CEO's, HR etc. it helps professionals to share their experience on the web through which they can easily get the job and it work like as search engine as well if you want to find job of any industry just find it in search bar you can also find people via its name.
Freshersworld.com
The registration form of the website is pretty easy while you browse the site on the home page you will find the latest jobs, JOBS BY ROLES, JOBS BY CATEGORY, PLACEMENT PAPERS, TODAYS JOBS, ENGINEERING JOBS and much more. To get the job just register with fresherworld.com and apply for the jobs which fits you.
Jobisjob.com
4,545,057 jobs from 135,130 companies all across the country you can assume how popular this job portal is instead of this if you have already applied through the above mentioned website and still could not find the job why don't try Job is Job hope you will get the right job as per your experience, qualification and salary expectations instead of this you can update your job profile time to time to get the latest jobs related to your industry.
Placementindia.com
One of the pure Indian job portal of India this website was founded in 1997 which is owned by the WebLink.in Pvt. Ltd. The head office and Marketing office of the Placementindia is in New Delhi. The website was started with the aim to help the students to choose their career and to find the appropriate job now it has about 12 million registered job seekers and about 1,60,000 corporate clients.
CareerAge.com
One of the best and leading job portal of India is CareerAge  which provide detail information of various types of jobs for both fresher's and experienced professional. The site was founded in 1996 and online in year 1999 the headquarter of CareerAge is in Noida, UP.
Glassdoor.co.in
Glassdoor is another best website for the job seekers as its job portal and review website. You can also view the review of the website for which you are going to apply so its perfect combination of job portal and review website for both fresher and experience persons so try it once at least.
I am sure via these portals you can find the right job for you so just access the site and apply for job and don't forget to share your experience on any of the job portal like how you get your job one of these portal and how much this article help and stay connect with us via Facebook & Twitter.