Quotes by PM Narendra Modi – Today we are going to share with you all powerful quotes by PM Modi these quotes are taken from the official website of "narendramodi.in".  As we found numerous quotes on the website but here on this page I am going to share only selected quotes by PM Narendra Modi as this website update time to time however if we miss any quote which should include in this list you can inform us via your comments in the below box.
Motivational Quotes by PM Narendra Modi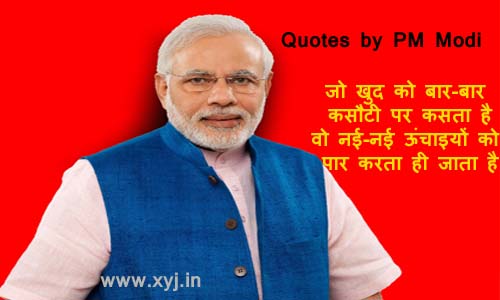 Good days are upon us.
Hard work never brings fatigue, it brings satisfaction.
We do not need ACTS but Action.
Sab kaa saath, sab kaa vikas. This is our mantra.
Once we decide we have to do something, we can go miles ahead.
I am a small man who wants to do big things for small people.
Mind is never a problem. Mindset is.
My struggle is to 'bring' life in 'file'.
Our ancestors used to play with snakes, we play with mouse.
We are proud of 3 things: Democracy, Demographic dividend and Demand.
People ask what your vision is, what is your big vision? I say 'bhai', I got here by way of selling tea (crowd erupts in applause). I am a simple (Chhota) man. I like focusing on simple and small tasks. I want to accomplish big things for the little guy.
We should walk together, work together and progress together. We should move ahead with this mantra.
It is important how we view the youth of our nation. To simply consider them as new age voters will be a big mistake. They are the new age power.
The nation should move towards one target, one direction, one intention and one decision.
I am a very optimistic man and only an optimistic man can bring optimism in the country.
The strength of the saviour is much more than the strength of the person who kills.
Also Read Following Topics
Our mission is skill development. There can be no development with a satiated system.
Only those who keep walking get sweet returns… look at the sun's perseverance- dynamic & always on the move, never dormant… hence keep moving.
Each one of us has both; good and evil virtues. Those who decide to focus on the good ones succeed in life
An opportunity to work is good luck for me. I put my soul into it. Each such opportunity opens the gates for the next one.
Forget if you are rich or poor. All you need is faith in yourself. If you have the passion to work then just get up and set forth and you will find the way!
Dreams must be steady (Sthir). When dreams are steady, they take form of determination (Sankalp) and when you combine them hard-work, they turn into accomplishments (Siddhi)
I will make such a wonderful India that all Americans will stand in line to get a visa for India.
IT+IT=IT; Indian talent + Information technology = India Tomorrow.
Desire +Stability = Resolution; Resolution +Hard work=success.
We are not here for any positions but for a responsibility.
The world has changed. India cannot sit isolated in one corner and determine its future.
We fought for freedom together. We had no government, no weapons to help us. We defeated such a big empire without any government, without any arms.
Can someone tell me, whatever we are doing, have we asked ourselves if our work has helped the poor or come to benefit the nation in any way? We should come out of the 'Why should I care' attitude and dedicate ourselves to the nation's progress.
In my life mission is everything… Even if i was a municipal chairman, I would have worked as hard as a CM.
I might live miles away from you, but I do understand you issues.
A government is one that thinks and hears the voice of the poor. A government must live for the poor.
The greatest quality that a person can possess is the quality of self-belief. If you believe you can, you can. If you believe you won't, you most certainly won't.
There is no reason to be disappointed. India will progress very fast and the skills of our youth will take India ahead.
I did not get an opportunity to die for the country, but I have got an opportunity to live for the country.
Be it caste or communal violence, they stall the growth of the nation. Let us affirm that we will be free from these tensions.
If 125 crore people work together; India will move forward 125 crore steps.
Mahatma Gandhi never compromised on cleanliness. He gave us freedom. We should give him a clean India.
This country has not been made by politicians, kings or governments. It has been made by farmers, labourers, our mothers and sisters and youth.
It is a tribute to Indian democracy that a person from a poor family, an ordinary family, is today addressing the nation from the Red Fort.
I want to ask parents, when daughters turn 11 or 14, they keep a tab on their movements. Have these parents ever asked their sons where they have been going, who they have been meeting? Rapists are somebody's sons as well! Parents must take the responsibility to ensure that their sons don't go the wrong direction.
The world used to think we are a land of snake charmers and black magic. But our youth has surprised the world with its IT skills. I dream of a digital India.
Politics for me is not Ambition… but a Mission.
I can promise you. If you work 12 hours, I will work for 13. If you work 14 hours, I will work for 15 hours. Why? Because I am not a 'pradhan mantri', but a 'pradhan sevak.
Religion to me is devotion to work and devotedly working is being religious.
Entire world comes to us, but Indians live in entire world.
PM Narendra Modi Quotes in Hindi
खुद को बार-बार कसौटी पर कसता है वो नई-नई ऊंचाइयों को पार करता ही जाता है।
खुद के साथ ही स्पर्धा कीजिये, अच्छा करने की स्पर्धा, तेज गति से करने की स्पर्धा, और ज्यादा करने की स्पर्धा, और नयी ऊंचाईयों पर पहुँचने की स्पर्धा।
देश ने पिछले 15 दिनों में दो बातें स्पष्ट देखी हैं। एक तरफ विकासवाद है तो दूसरी तरफ विरोधवाद है। विकासवाद और विरोधवाद के बीच ये जनता जनार्दन है, जो दूध का दूध और पानी का पानी करके क्या सत्य है, इसको भलीभांति नाप सकती है
मैं देश को नमन करता हूं कि 1.13 करोड़ लोगों ने अपनी गैस सब्सिडी छोड़ दी। क्या ये बदलाव नहीं है? देश के विकास के लिए जनभागीदारी का इससे बड़ा क्या उदाहरण हो सकता है। और हमने भी तय किया कि गरीब के घर में जो मां लकड़ी का चूल्हा जलाती है, उसकी चिंता कौन करेगा। हमने पिछले एक वर्ष में करीब 3 करोड़ से ज्यादा परिवारों को नए रसोई गैस के कनेक्शन दे दिए और हमने ठान लिया है कि आने वाले तीन साल में 5 करोड़ गरीब परिवारों तक रसोई गैस पहुंचाएंगे।
देश के पास 80 करोड़ नौजवान हैं 35 साल से कम उम्र के, अगर इन नौजवानों के हाथ में हुनर है तो हिंदुस्तान का भाग्य बदल सकते हैं और उस पर हम बल दे रहे हैं।
इच्छा + स्थिरता = संकल्प।संकल्प + पुरुषार्थ = सिद्धि।
विजय और पराजय दोनों में ही सीख है| जो विजय से सीख नहीं लेता, वह पराजय के बीज बोताहैऔर जो पराजय से सीख नहीं लेता वह विनाश के बीज बोता है |