MTV Roadies X2 the most popular show among the youth of India is going to get it's winner on coming 27th June 2015 as the date is schedule for MTV Roadies X2 finale and this day we could see the Ultimate Winner of MTV Roadies X2 (Season 12). I know you might want to know who is the expected winner of Roadies X2 and who are the contestants who eliminated from Roadies X2? Well I am sharing everything with you with Highlighted point below so bear with this post to know your questions answer.
MTV Roadies X2 Winner Name & Photo
This point will be update on 27th of June with the MTV Roadies X2 Winner photo. So you have to bookmark or save this page for future to know who is the ultimate winner of MTV Roadies X2?
What is MTV Roadies X2 Winner Finale Date & Time?
The answer is that show will telecast on MTV India as usual on Saturday and further details are as follows:
Finale Date: 27th June 2015
Time:
Day: Saturday
Who is the Expected Winner of MTV Roadies X2?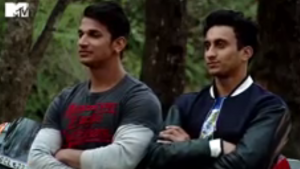 The expected winners of MTV Roadies X2 are "Gurmeet & Prince" from the gang of "Rannvijay & Vijender" as they are the good friends and it's really hard to fight against your best friends. So, it's really going to very interesting what task they have to do to won the title of "Winner of Ultimate Roadies X2". Below I am sharing 20th June full episode video for you. So that, you can know how they become the finalists of MTV Roadies X2.
https://www.youtube.com/watch?v=avVozJ0oQck
Name List of MTV Roadies X2 Eliminated Contestants
In this section I am sharing the name list of the contestants who eliminated I know you already know who are the expected winner of roadies X2 but still would like to share the name list of contestants in case you want to see these contestants photo can click here "MTV Roadies X2 Contestants Photo".
Esha Gang

Mamta
Eliminated
Rajatdeep
Eliminated
Shruti
Eliminated
Neetu
Eliminated
Harsh
Eliminated
Archis
Eliminated
Karan Gang

Ajay
Eliminated
Victoria
Eliminated
Bhuvan
Eliminated
Ishpi
Eliminated
Hussain
Eliminated
Nabila
Eliminated
Nihal
Eliminated
Rizwan
Eliminated
Naman
Eliminated
Vijender Gang

Kajal
Eliminated
Ishita
Eliminated
Gurmeet
Chahat
Eliminated
Amaneet
Eliminated
Mandeep
Eliminated
Jay
Eliminated
Rannviajy Gang

Monica
Eliminated
Varun
Eliminated
Aviral
Eliminated
Madhuri
Eliminated
Divya
Eliminated
Shubham
Eliminated
Prince
Martina Thariyan
Eliminated
Hope you find everything about the MTV Roadies X2 here on this page if anything missing just drop me your thought in comment box. Thanks for reading don't forget to like and share this post as soon we will get the ultimate winner of MTV Roadies X2 but if you want to know who was the winner of previous season then read this post "MTV Roadies Winners List of All Seasons 1,2,3,4,5,6,7,8,9,10,11 & 12"