Do you have an account in SBI but you have not registered your mobile number with it and want to do it? I am going to share how you can register your mobile number with SBI bank account without visiting the SBI branch online. Well before I do proceed with SBI Mobile banking activation & registration process just wanna tell you that "From 15th March 2015 Onwards, No online transaction will be done from SBI Account if your mobile number has not been registered with the Bank Account. So you must link your mobile number with State Bank of India Account so that you can make online payment with ease." Now, you can understand linking mobile number with SBI bank account become mandatory for the users.
There are several benefits of registering your mobile number to your SBI account that you will get sms alerts, can download statement, mini statement through you android phone, every transaction sms on your mobile and much more which you will know after registering and downloading the SBI mobile app and below is the detail information on how you can register & activate your mobile number with your SBI Debit card online.
How to Link / Register New Mobile Number with SBI Account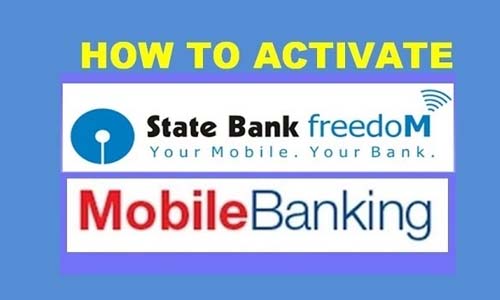 To be very honest it's not a rocket since you can do it yourself just follows the few simple steps which I have described below and everything will be done, so let's start.
Step 1: First send an SMS in below format to SBI
Type "MBSREG" in message box & Send it to "567676"
When you send this sms you will get an SMS with User ID & MPIN
Step 2: Now, Download SBI Freedom app from playstore (android user) or app store (iphone user)
Step 3: Once you installed and activate it you need to fill your User ID & Mpin which you have received recently via SMS remember.
Sep 4: After filling it you are required to change your current pin, so fill your choice of pin which you can remember easily please remember your MPIN should be 6 characters including 1 alphabets, numbers & 1 special characters.
Sep 5: If you have done now click on Activate the app and you are done SBI mobile banking procedure.
But still you have to do little physical work to get SMS regarding your ATM transactions for this you need to visit the nearest State Bank of India (SBI) ATM and follow these steps.
How to Activate / Register SBI Mobile Banking Using ATM Card
Step 1: Visit nearest SBI Atm
Step 2: Insert your ATM card and ATM Pin
Step 3: Select "Mobile Banking" option
Step 4: now choose "Register Mobile Number" option
Step 5: Enter your 10 digit mobile number and confirm the mobile number
Step 6: Bingo now you will see "Successful Registration " on ATM screen everything is done.
Congratulations you have completed the SBI Mobile Banking / SBI Freedom Registration process, now you can enjoy all the features of SBI Mobile Banking.
Hope find this article helpful if yes, please like and share us on social networking sites and don't forget to like us on Facebook as well you can drop your query below in comment box as well, I will try to get back you as soon as I can.
Don't forget to read following
How to Link Aadhaar Card to SBI Bank Account Online / Offline
How to Add / Update New Mobile Number with SBI Bank Account Online / Offline
How to Activate Online SBI Internet Banking